Comedian and presenter Sue Perkins spent 30 hours in total isolation to highlight the plight of loneliness, which she describes as her "greatest fear".
The 50-year-old Great British Bake Off alumna was confined to a house without TV, social media, the radio, and with limited reading time (she was only allowed two hours in total) for a campaign with Age UK.
What she thought would be a "breeze" – a chance to do a bit of writing and reflect on things – rapidly took a turn for the worse, says Perkins, who tells HuffPost UK she was "shocked" by the physical effects of social isolation.
"Within a matter of hours I wasn't able to think very clearly and things started to disintegrate," she says. "I was really shocked at how rapidly a physical and psychological response I had to it."
She experienced symptoms including lack of concentration, tiredness and lethargy. "I felt very cold," she adds, "because you're not moving, you're not going out to shops, you're not popping out to see your mates.
"My appetite decreased, my sense of taste decreased – just imagine the colour draining out of the television set, that's what was happening to my life."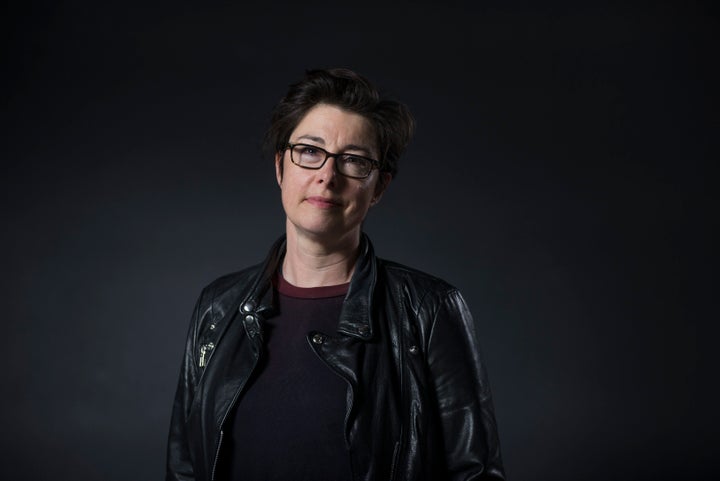 Perkins' experience has been made into a short film by the charity Age UK in partnership with Cadbury. It sees her pacing around the house, filling her time by looking out of the blinds, making a cup of tea, playing cards and sleeping.
"I was in an open ward and there was a geriatric patient, a really lovely woman, opposite me who had been attacked in her own home," Perkins recalls. "She was incredibly stiff from her injuries so I asked if she wanted me to rub her back and afterwards she said that it was the first time she'd been touched in about 15 years.
"It really broke me, that. It really, really made me upset that you should go through your life and not feel that sensation on your skin of another person reaching out to you."
In a typical week almost 2.6 million people aged 65 and over speak to three or fewer people they know, according to Age UK, with over 225,000 often going a week without speaking to anyone at all.
It's something Perkins thinks about regularly. While she has friends, family and a very active social life, she worries about loneliness in her future as a child-free person. "Whilst you shouldn't presume that your children would look after you or visit you, I think that sense of the buck stopping with you and you being your own full-stop is quite profound as you get older," she says.
"Because it's my greatest fear, I make sure that my day is packed out with activities and people to see."
As the experiment neared its end, Perkins said it felt like her brain was shutting down. "It's almost like your brain goes 'well, there's nothing to do so we're just going to power down'," she explains.
"Towards the end of the isolation time, I was only able to complete tasks in about 20 minute slots – so I would eat some food, then I'd sleep. I would pace around a bit, then I'd sleep. I'd look out of the window and then I'd sleep – you just start to give up, and very quickly. And that's awful."
"I couldn't look forward to anything. I didn't have any excitement, expectation, hope."
The mental impact of even a short stint of isolation concerned her. "I started to feel like there was nothing to look forward to," she says, "I couldn't look forward to anything. I didn't have any excitement, expectation, hope. I just had each rolling minute and trying to think how to populate it with something to do."
Studies have found that lonely people are more likely to suffer from dementia, heart disease and depression – and Perkins says she would have begun to feel the signs had she been stayed in much longer.
Her 30 hours in isolation were broken with a knock at the door from 89-year-old Theresa, who sat down to have a cuppa with Perkins and shared her own experience of loneliness prior to joining Age UK's befriending service. "When the doorbell went and ended that period of isolation, the noise was so shocking, so loud," Perkins says. "Everything was so vibrant once I opened the door."
She is now urging others to "be the agent" of that feeling for someone else – and she wants to widen the spectrum of her relationships in her own life as well to accommodate intergenerational friendship.
"I'm very grateful for the experience because it's given me a small window into how it feels," she says of experiment, which forms part of a new campaign called 'Donate Your Words'. The campaign encourages members of the public to reach out and have a chat with older people in their communities and sees Cadbury remove the words from its bars of Dairy Milk.
Perkins adds: "We can all think about loneliness in the abstract, but when you get a window into it... yeah, we're worried for a reason."
Bars of Cadbury Dairy Milk are being sold in supermarkets nationwide, with 30p for each bar donated to Age UK. For more information visit www.ageuk.org.uk/donateyourwords.
Useful websites and helplines:
Mind, open Monday to Friday, 9am-6pm on 0300 123 3393
Samaritans offers a listening service which is open 24 hours a day, on 116 123 (UK and ROI - this number is FREE to call and will not appear on your phone bill.)
The Mix is a free support service for people under 25. Call 0808 808 4994 or email: help@themix.org.uk
Rethink Mental Illness offers practical help through its advice line which can be reached on 0300 5000 927 (open Monday to Friday 10am-4pm). More info can be found on www.rethink.org.