Lyndsey Young is no stranger to loneliness. She's found herself in its grip twice in her lifetime: once after the birth of her son and then when she quit her job to go freelance. "Rather than [it] being a time of joy, [where I was] liberated to shape my life however I chose, loneliness crept in and began to slowly take a hold of me," the 51-year-old from Bottesford, Leicestershire, says.
To outsiders, she seemed happy – living a "busy and fulfilling" life – but this was miles from how she felt. "As time went by, I no longer felt part of life," she admits. "It seemed to be happening around me: out of the window, on my phone screen, in those distant clusters of mums in the school playground. I was present but I wasn't connected."
Young knew she needed to take steps for her own wellbeing. She built up the courage to become a volunteer for the National Trust – which helped her feel less alienated – and later landed a job with The Wildlife Trust, where she learned about the impact of nature on mental wellbeing.
All of which paved the way for The Friendly Bench – Young's idea for a kerbside community garden to tackle isolation in her area.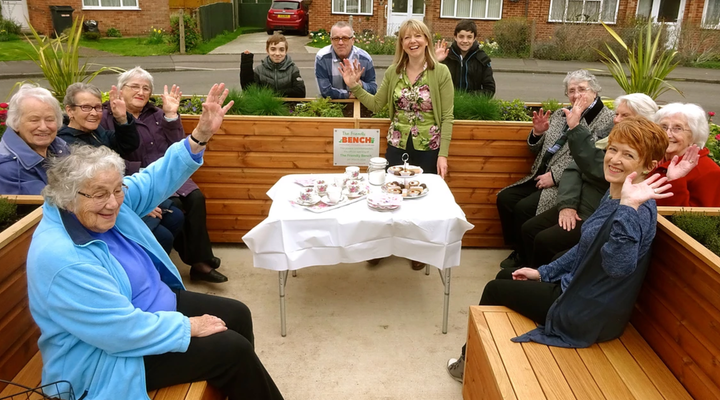 The Friendly Bench is situated in the village where Young lives, within easy walking distance of many elderly residents and providing a welcome rest spot on the way to the village shops. Made from timber, there are built-in oak benches, interspersed with flower beds.
Joyce, who lives nearby, says she often visits with her neighbour, who recently lost her husband. "It's a lovely place, you always get into a conversation," she says. "I can also see it from my window, it's lovely to look out on."
Young's inspiration was a "buddy bench" at her child's school; a place where kids can sit if they're looking for a friend to play with. She used her unique set of skills – as a product designer, communications consultant, and founder of a green living website – to carefully design the structure over the course of six months.
But there were still several hurdles to overcome before launch – she had to consult residents, take the idea to the Parish Council, and seek approval from the County Highways Department. And, once she received the go ahead, Young needed to recruit volunteers, source funding, find someone to actually build the space, and get the word out within the community that the bench existed and was for their use.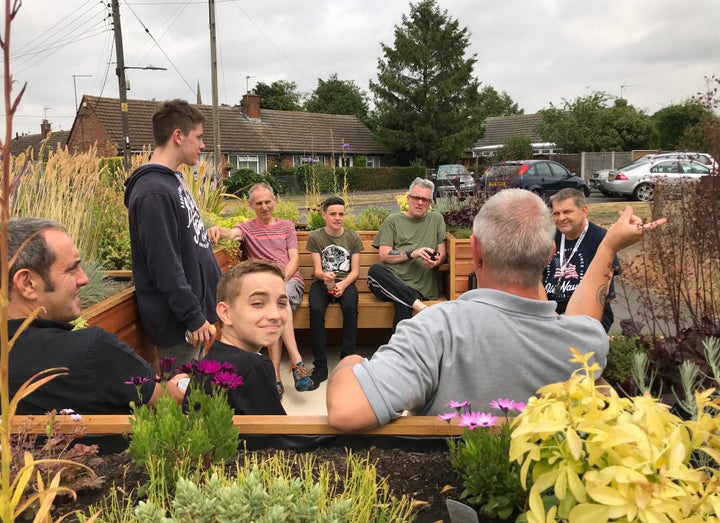 Loneliness is a problem for many in the UK – a study by Co-op and British Red Cross suggests more than nine million people of all ages in the UK are either "always" or "often" lonely – and in March 2018, the Friendly Bench opened as a space to bring together those who felt socially isolated, particularly new mums, the elderly and those with limited mobility.
Not only does it enable them to connect with others, but also with nature through the flowers and herb patches.
A group of volunteers from the local community look after the bench, helping to keep it tidy and tending to the mini garden. They also organise regular events such as tea parties and 'brew and banter' sessions for men, while working with the local Housing Association to identify other residents who might like to attend.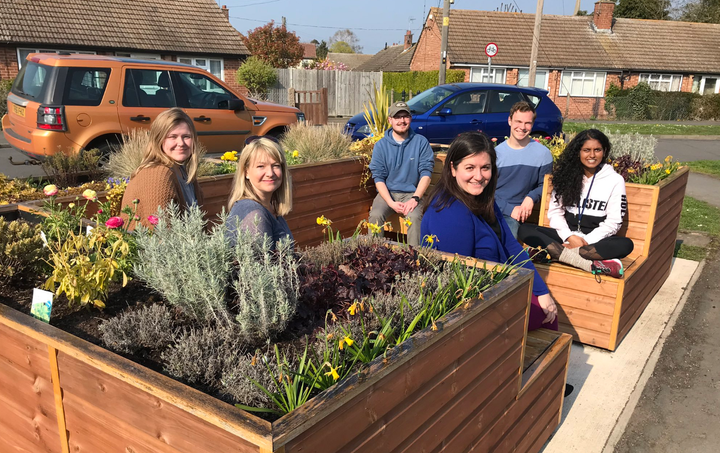 To date, almost 500 people have visited the Friendly Bench. "It enables neighbours from different backgrounds and generations to meet and enjoy a shared activity together," says Young. "Other plans include the launch of a walking group and an intergenerational project bringing teenage girls and older women in our community together in a shared activity."
Local resident Betty, 84, calls it a wonderful scheme: "Now I am able to get outside and meet my friends," she says.
Others have seen firsthand how the bench has positively impacted their wellbeing. "It gives me a boost," says another local resident, Steve, 57. "It takes me out of myself, it gives me something to do and more fresh air."
Young's innovative project has received praise from former loneliness minister Tracey Crouch. "It is such a creative but wonderfully simple idea to help combat loneliness," she said. "It was by far one of my favourite schemes to hear about during my time as Minister, not least because it seems an incredibly cost effective way of creating connections within a micro-community. I would love to see many more Friendly Benches across the country."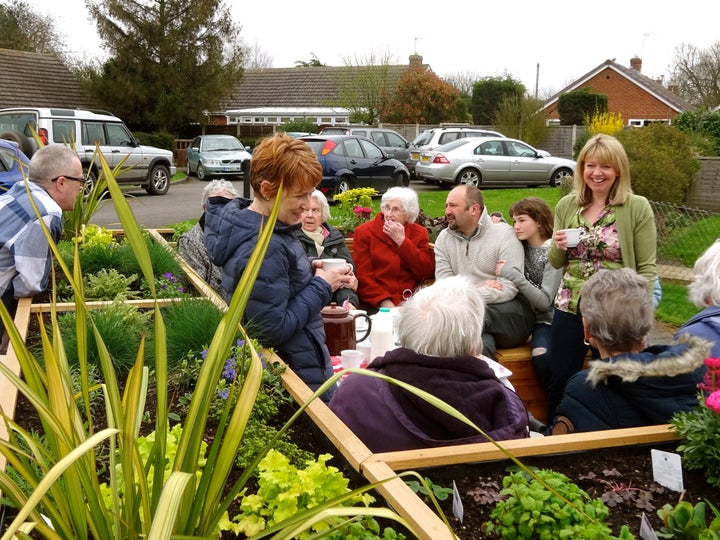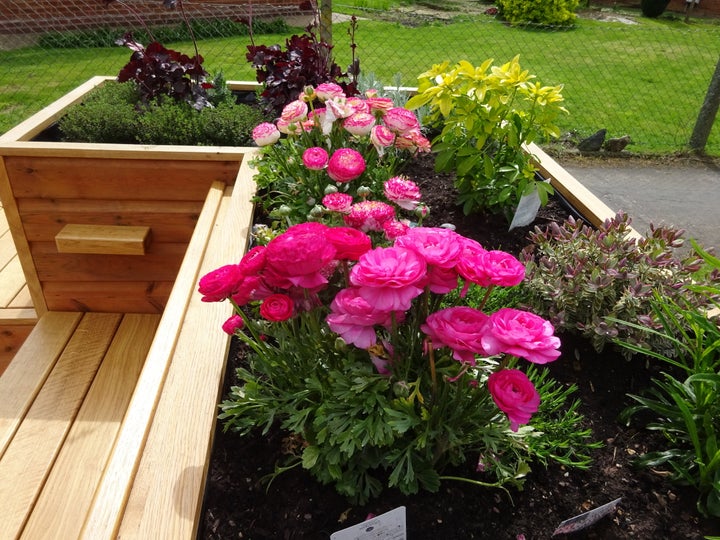 This is exactly what Young soon hopes to achieve, taking the concept to other communities at a time when community spaces are closing – at least 846 public libraries have been shut down since 2010, according to figures from library association Cilip.
The Friendly Bench is now run as a Community Interest Company by Young, and she works with community groups, voluntary organisations, public services and local authorities to try and tackle loneliness across the UK.
"What has also been so rewarding is that residents with limited mobility, who have previously not ventured from their homes unassisted, are now regular users of the Friendly Bench," she says. "They've said it has given them the confidence to go outside independently.
"For one lady this has been particularly life-changing. Since the Friendly Bench has been installed, she is now able to venture out on her own – the first time she's been able to do so for years."