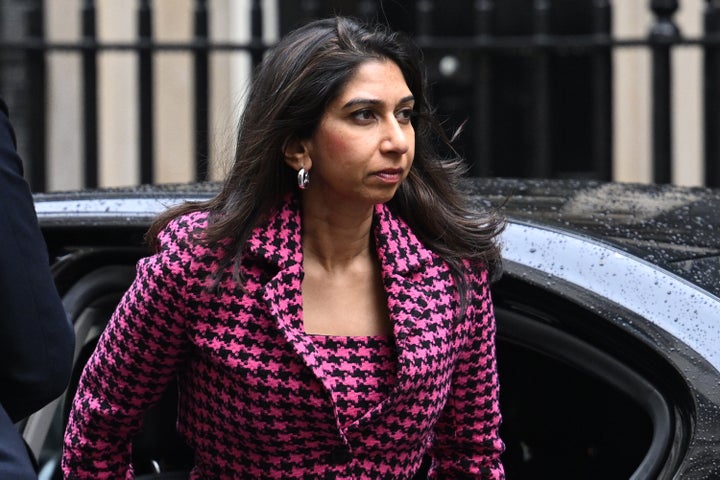 Suella Braverman has defended Rishi Sunak's move to water down some of the governments "unrealistic" climate change commitments.
"We are not going to save the planet by bankrupting the British people," the home secretary told BBC Radio 4′s Today programme on Wednesday morning.
Sunak is expected to delay the proposed ban on the sale of petrol and diesel cars, which was due to begin in 2030. The phasing out of gas boilers is also set to be postponed.
The prime minister is expected to set out his plans to roll back the green policies in a major speech this week.
News of the plan by Downing Street to leaked on Tuesday evening and triggered a fierce backlash from some Conservatives.
Braverman said she would not "pre-empt" what Sunak would say, but defended the change in approach.
"The costs of achieving some of these arbitrary targets has to be taken into account," she said. "We don't want to set targets which are totally unrealistic and punitive."
She added: "It's a prudent and responsible approach he is adopting.
"He is choosing to put the economy first. He is choosing to put sustainability first. He is choosing the put bank balances first."
But Braverman insisted the government was "absolutely committed" to achieving net zero - the goal of no longer adding to the total amount of greenhouse gases in the atmosphere.
Chris Skidmore, the Tory MP who served as the government's former net zero tsar, said: "Rishi Sunak still has time to think again and not make the greatest mistake of his premiership, condemning the UK to missing out on what can be the opportunity of the decade to deliver growth, jobs and future prosperity."
Lord Goldsmith, the environmentalist and former minister, said Sunak's "short stint as PM" would "be remembered as the moment the UK turned its back on the world and on future generations. A moment of shame."
He said: "I know people are frustrated with politics and want real change. Our political system rewards short-term decision-making that is holding our country back.
"For too many years politicians in governments of all stripes have not been honest about costs and trade offs. Instead they have taken the easy way out, saying we can have it all.
"This realism doesn't mean losing our ambition or abandoning our commitments. Far from it. I am proud that Britain is leading the world on climate change.
"We are committed to net zero by 2050 and the agreements we have made internationally - but doing so in a better, more proportionate way.
"Our politics must again put the long-term interests of our country before the short-term political needs of the moment.
"As a first step, I'll be giving a speech this week to set out an important long-term decision we need to make so our country becomes the place I know we all want it to be for our children."