Almost £30,000 has been raised after an Eastern European food shop was damaged in an arson attack in Norwich.
A brick was thrown through the front-door window of the Village Shop in Magdalen Street, and a small fire started in the early hours of Friday.
Police were called at around 3am and said they were keeping "an open mind" following suggestions the attack on the shop was racially motivated.
Two people inside a flat above the shop at the time of the attack were unharmed, but stock was damaged and a window broken, police said.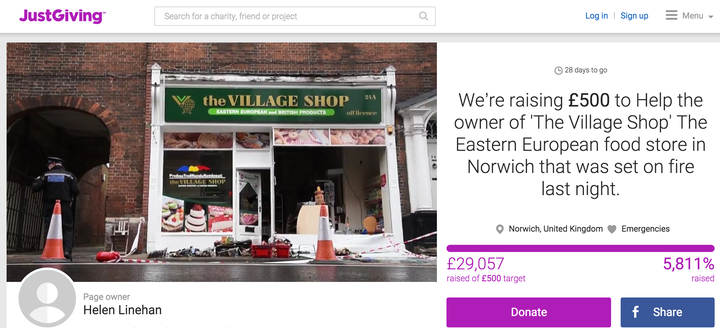 The attack comes amid a recent spike in reported hate crimes and incidents which peaked on the day after the EU referendum result was announced.
More than 3,000 hate crimes and incidents were reported to forces around the country in the second half of June - a rise of 42% compared with the same period last year.
Helen Linehan, from Norwich, set up the page and said the "generosity has been overwhelming".
She said donations had surpassed all expectations and that the shop owners had insisted "they only need a small amount to restore their business".
The rest of the money is expected to go to charity.
Detective Inspector Chris Burgess, of Norwich CID, said: "We are aware of suggestions this may have been a racially motivated incident, and whilst there is currently no information to suggest this to be the case we will of course keep an open mind.
"We are treating this as a deliberate ignition, an arson, at this stage and the investigation is ongoing."
A total of £6,927 has been raised for the Banaszak family since Hannah Brotherstone, a GP in Devon, launched the Just Giving page. She described the response as "incredible".