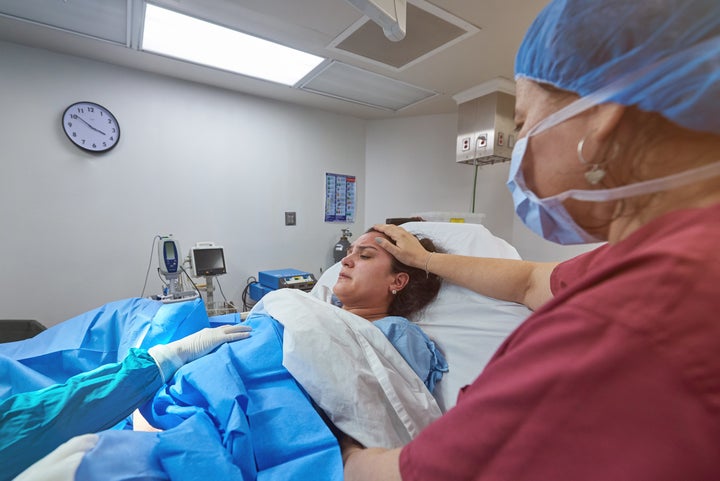 Surrogates are supporting a change in law that would mean a baby's intended parents will have legal responsibility of the child as soon as it is born.
Currently, couples or single parents who have a child via a surrogate must apply to the courts to become that child's legal parents after the baby's birth – with what is called a "parental order" – and this can take six to nine months.
But almost 95% of surrogates would support a change in the law, Surrogacy UK found, so they are no longer recognised as the mother of the child at birth.
These survey results have been published as the organisation calls on the law commission to go further with their proposed reforms to the "outdated" laws.
The current model doesn't reflect the reality of a child's family life, campaigners argue, and risks either party – the surrogate or the intended parents – changing their mind and not going ahead with the arrangement. Current laws around surrogacy haven't changed since the 1980s.
Previously speaking to HuffPost UK, Lisa Charlwood-Green, 41, from Glasgow, who became a surrogate for the first time earlier this year, said she and her wife would remain the legal parents of the baby until he was 10 months old.
"Hopefully this will change," she said. "But my wife and I are still the legal parents... this has meant a whole lot of legal paperwork for the four of us, including several court visits and time with solicitors."
The Law Commission has suggested that a child's intended parents should become legal parents from birth, meaning that surrogates would lose all rights over the child they had carried once it was born. But, it has also proposed that a surrogate could retain a "right to object" for a short period after the birth.
In its submission to the law commission, Surrogacy UK, which represents 150 surrogates and 500 intended parents, said that while it supports a surrogate's right to object, it calls for provision for the intended parents to remain the legal parents unless a court determines otherwise.
The organisation has also proposed that surrogacy be considered a "benefit to society provided by private individuals" and that surrogates be given benefits similar to those of foster carers – such as expenses shielded from income tax, national insurance and means-tested benefits, with adjustments made to recognise the specific needs of a surrogacy pregnancy at work.
Read Surrogacy UK's full response to the Law Commission's proposals here.