The Syrian tourism board has released a promotional video showing packed beaches and jet-skiing- but the chances of Brits being able to holiday there is "practically zero", experts have said.
The video, which ends with the slogan "Syria - Always Beautiful", was released on August 29, and shows the coastal town of Tartus. Panoramic shots show the beach spotted with beach umbrellas and swimmers enjoying miles of calm blue waters along Syria's Mediterranean coast. Upbeat music provides a summery soundtrack.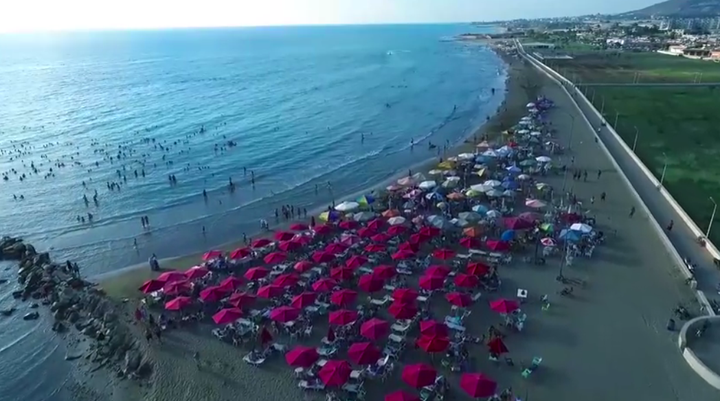 The video is a stark contrast to the Syria depicted in news reports - something commenters on the Syrian Ministry of Tourism's Facebook page pointed out.
Nadia Alkour wrote of the video that has been viewed over 100,000 times: "I've seen it all now FFS."
Ares Kalogeropoulos echoed the sentiment: "Is this a bad joke?"
Brett Williams pointed out the obvious: "Lol, you guys have lost you (sic) minds, are there even any flights to Syria?"
In the five years the civil war has raged in Syria, at least 400,000 people have been killed, according to estimates. Nearly half of the country's 22 million population has been displaced as the war on terror has gone global.
A video more fitting of the Syria-of-today emerged earlier this month and has been widely compared to the tourism video in media reports. It shows a boy rescued after an airstrike on the city of Aleppo.
However, local media outlet AMN (al-Masdar News), contested that the coastal area depicted in the video had "virtually been untouched by the war".
"To put into perspective, Paris and Brussels in Europe have experienced many more terrorist attacks than these coastal regions," it wrote.
AMN reports that Tartus is under the control of the Syrian regime, is home to a Russian naval base, "and among the relatively safer coastal cities where hundreds of thousands of Syrian families have sought refuge".
A spokesperson for the ABTA, the UK's largest travel association, told the Huffington Post UK that no British travel providers would offer Syria "as a destination" and would deter anyone making inquiries about travelling there.
"They would talk them (customers) out of it... and very likely report them to police due to those young girls joining IS."
"The situation remains extremely volatile and dangerous," the FCO's travel advisory says.
The ABTA spokesperson said British travellers could likely reach countries boarding Syria, such as Israel, Iraq or Lebanon, but he suspected security checks there would likely prevent further travel, "no one is going to be allowed there for a holiday".
The spokesperson said the Syrian tourism video "paints a rosy picture that is very misleading".
But while holiday-makers may struggle to make it to Syria, getting there is not impossible for those more keenly determined. Some 800 Brits have made it to Syria since 2012, and half of them are still thought to be there, Foreign Secretary, Philip Hammond, said in January. A further 600 have been stopped from going there to join the IS.
Some five years ago the ABTA estimated that around 20,000 Britons travelled to Syria annually. The spokesperson's current estimate of British tourists there: "The figure would be zero."
Syria, he said, was previously known as a "lovely country, with amazing cities."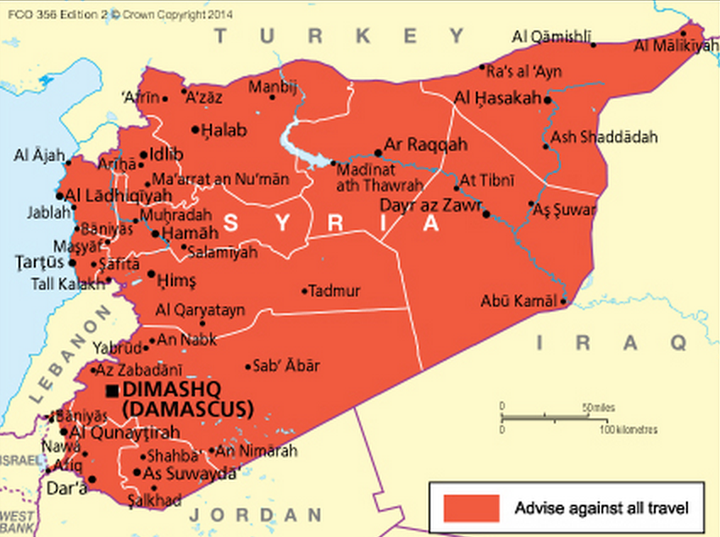 Before the conflict, the old towns and souks of Aleppo and Damascus were famous, as were the ruins of Palmyra and the ancient city of Maloula.
AMN quoted figures from the Syrian tourism ministry showing the number of people entering the country was up 30% in July 2016, compared to the same month in 2015. The ministry, controlled by Syrian President Bashar Assad, had not specified if this number "referred to tourists, foreign visitors or others", AMN reported.
According to the Middle East Eye, foreign tourism accounted for 14% of the Syrian's gross domestic product in 2010.
In 2013, 465,000 tourists visited the country, down from the eight million before fighting began in 2011, MEE quoted Syria's tourism minister, Bishr al-Yazigi as saying.
Searches on Lonely Planet forums show travellers are still keen to travel to Syria's capital, Damascus, and have exchanged tips on how to get there during recent weeks. Lesser-known carriers, like Syrian's Cham Wings Airlines, has been mentioned as flying there.
The most recent search, 17 days ago, from a user called Mattlv, asked fellow travellers about getting to Damascus, which he heard was "reasonably safe".
Mattlv said he was in the "preliminary stages of looking into whether it might be feasible to visit".
Five months ago, another user wrote that he had crossed into Syria, from Iraq, via the Tigris river, and had spent six days there. He wrote: "Had a fixer organise everything. Not cheap but obviously you don't want to skimp on these kind of things."
Another user, a photographer, also detailed his journey through Northern Syria and Iraq, writing: "My trip to Northern Syria and Iraq, walking through the bustling bazaar in Duhok, inspecting a captured ISIS UAV drone in West Kirkuk, avoiding Syrian Regime checkpoints in Qamishli, seeing first-hand the destruction of Kobanî after surviving the onslaught of over 9,000 ISIS militants, looking over into ISIS territory along the frontlines on the Euphrates river and meeting the brave YPG and YPJ fighters leading the battle against ISIS in the recently liberated Al Shaddadah."
Related