More than 120,000 people have urged the British government to air drop life saving aid "into the starving cities in Syria" in a petition that must now be considered for debate by parliament.
It comes as haunting images emerge from Aleppo showing people desperately trying to flee the city as pro-government forces take control of districts.
Today ambulances begun moving towards the eastern part of the city in the first step of a long-awaited evacuation of those wounded, the Guardian reports.
Aerial footage shared on social media on Thursday show a convoy of buses evacuating wounded people from the besieged city.
Earlier on Thursday a member of the Syrian Civil Defence told Al Jazeera that militias loyal to Assad fired on a convoy of evacuees, killing at least one person and injuring more. Medics were among those reportedly injured.
Now a petition that was created last month has been rapidly gaining support.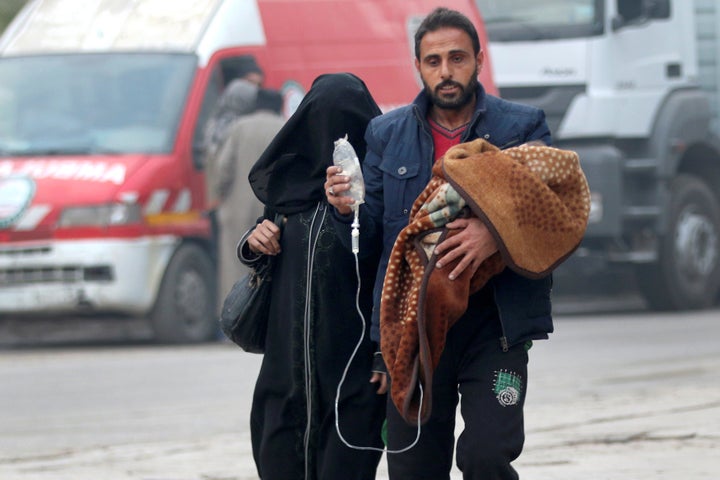 At the time of writing 122,000 people had signed.
"Aid is being blocked from reaching major cities, Russian and Assad forces have heavily increased their air strikes, targeting and destroying the only remaining hospital in Eastern Aleppo. The time to act is now.
"After attending an APPG friends of Syria discussion in the Houses of Parliament today, Raed Saleh, Head of Syrian Civil Defense informed us that within 20 days, a quarter of the people trapped in Aleppo will have starved to death, 100,00 of them are children.
"Aid has been blocked and bombing has increased. British planes use the airspace above these cities on their coalition operations.
"Use this advantage to drop vital aid to the people below. There is no excuse not to act immediately."
The petition was created by Ella Cosgrove, who describes herself as an "activist" on her Facebook page.
Buses waiting to evacuate civilians from the city were forced to turn around after being attacked.
In other parts of the country civilians are struggling to survive as the civil war rages on.
On Wednesday the Turkey-Russia cease-fire crumbled after fighting erupted.
As government forces took over most of Aleppo, rebels are now looking to the Idlib province.
But the Syrian government's allies have demanded the sick and other humanitarian cases in the besieged villages in northern Idlib province be allowed to leave, the Associated Press reports.
State TV quoted Syrian Hama provincial governor Mohammed al-Hazouri as saying ambulances and medical teams are heading to Foua and Kfraya to evacuate some families and critical cases.
Popular in the Community