"My tattoos have always told a story of who I am and where I've been. They are a helpful reminder that I have a history and a future that is not solely about motherhood," says Clare Elcombe Webber, who is now more commonly known as "Nathanial's mum".
"Becoming a mother can completely erase you - especially if you have a poorly baby - the person you were before can become subsumed by this tiny human and their needs."
The 36-year-old charity worker has posed with her favourite tattoo on display - a giant phoenix on her right thigh - for a photo series called 'Tattooed Mamas: Motherhood And Identity' by London-based family photographer Rachel Rimell, which aims to challenge stereotypes about "perfect mums" and how the role can subsume women's identities.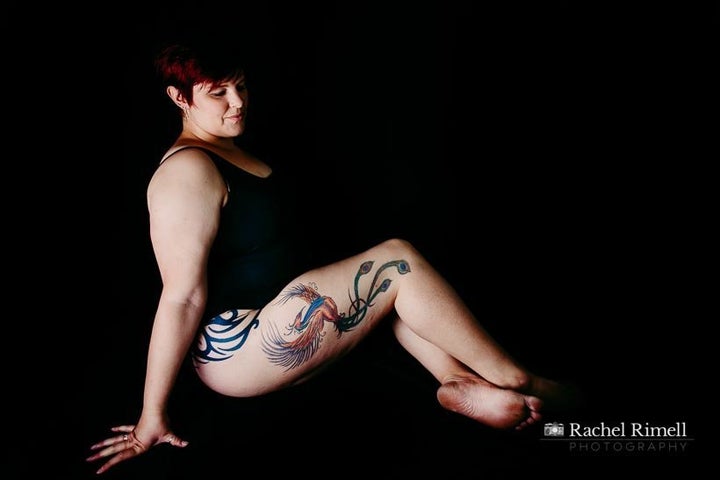 Clare has named the giant phoenix 'Thighmon'. It represents her mental health journey as she was diagnosed with depression at 14 and was later diagnosed with PTSD after Nathaniel's premature birth and subsequent open heart surgery.
The phoenix was tattooed on her after the death of a friend in a mountaineering accident, to remind her not to put things off as life is short, and that every time she goes down in flames she will rise again stronger and wiser than before.
"I really feel passionately that individual expression should be celebrated and that all the facets that make us up create a beautiful and complex definition of modern motherhood," she says.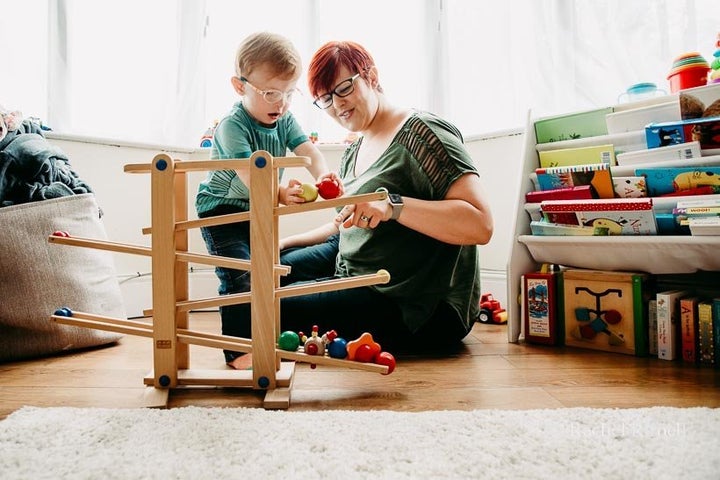 Rachel, who is a mum-of-two, tells HuffPost UK that she was inspired to create the photo series as she hadn't anticipated how much of an impact becoming a mother would have on her sense of self.
"What we don't fully realise, until we actually are mums, is that our entire identity becomes tied up in this new role. Suddenly that's the first thing people - and society - see when they look at us," she says.
"We are no longer Rachel, or Joanne or Natasha - we're so-and-so's mum."
"And that's a big adjustment to make as an individual, especially at a time when you're feeling fragile and uncertain, you may have physical issues to deal with, plus you're on maternity leave, away from your usual routine and having to forge a new one, as well as make new friendships."
Rachel, who doesn't have any tattoos herself, decided to focus on inked mothers for her art project as the stereotypical image of a "perfect mother" rarely, if ever, includes any tattoos.
"The art series is really about looking at who the women are behind this title that we all share of 'mother'," she says.
"During the course of shooting the images I've met women from all walks of life, all shapes and sizes, all of whom have this shared experience of being a mother, but all of whom are very different as individuals.
"Of course their personal identity hasn't actually disappeared but it can sometimes be hidden by the day-to-day routine of being a mum or just go unrecognised or unacknowledged from an outsider's perspective."
Becky Loez, 36, has a tattoo that reminds her of the interests she developed before becoming 'Matteo and Alberto's mum'.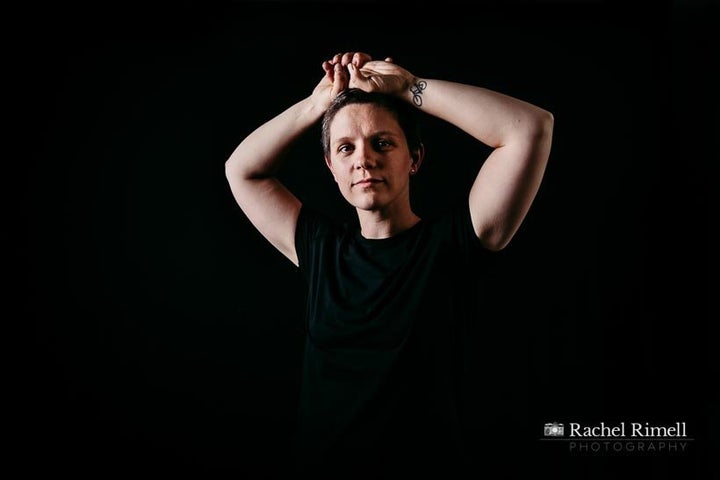 Growing up in the Netherlands Becky cycled everywhere from a young age and when she moved to London she continued to commute by bike, as well as taking part in charity rides. She says she loved the freedom of it - that you could go anywhere you wanted and not be trapped in traffic.
A former teacher, Becky is now a stay-at-home mum and voluntary worker. Despite cycling until she was seven months pregnant with Mateo, who is now three-and-a-half, she has barely cycled since the birth of Alberto 18 months ago.
"So much of who we are before children is wrapped up in what we wear and our other interests and that can become lost in motherhood - even just buying new clothes is too much! I don't know what fits, what suits me, what's in style any more," she says.
"But the tattoo is still there to remind me of my old life. Motherhood has changed my life more than I ever thought it would. I'm still trying to work out who I am now."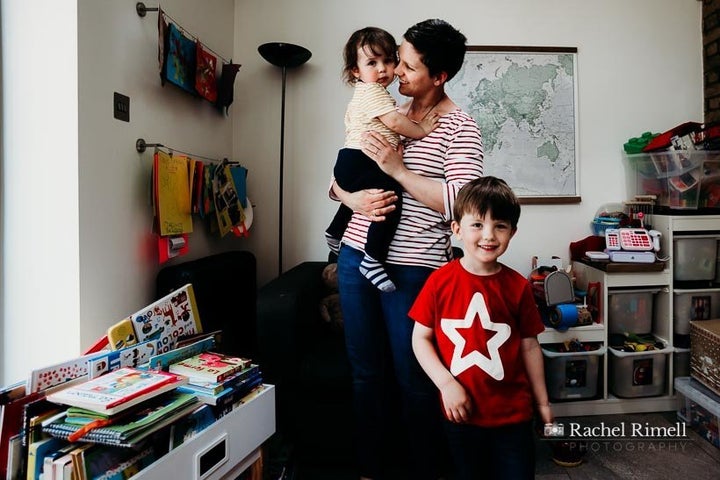 Ruqayyah's mum, aka Nichelle Starr, 33, got her first tattoo when she was just 14 alongside three other school friends.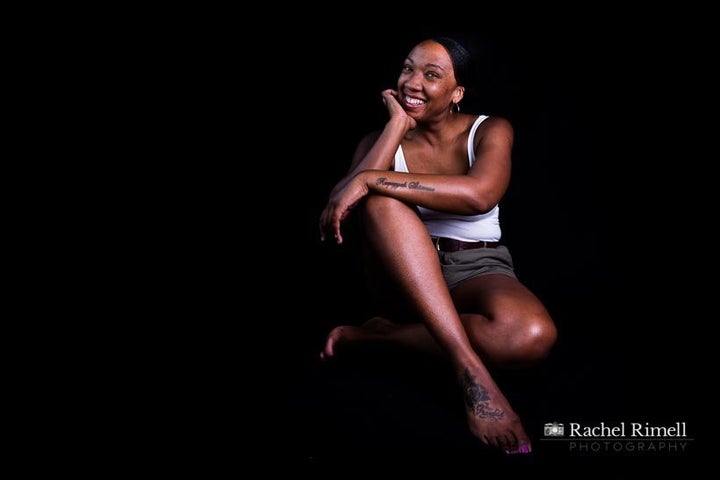 Faded on her lower back it still takes her back to her carefree school days. Nichelle has since added a set of angel wings on her back to guide and protect her; the name of her daughter inscribed on her forearm, which she had tattooed a few weeks after Ruqayyah was born seven years ago; and a large rose on her foot in memory of her grandad.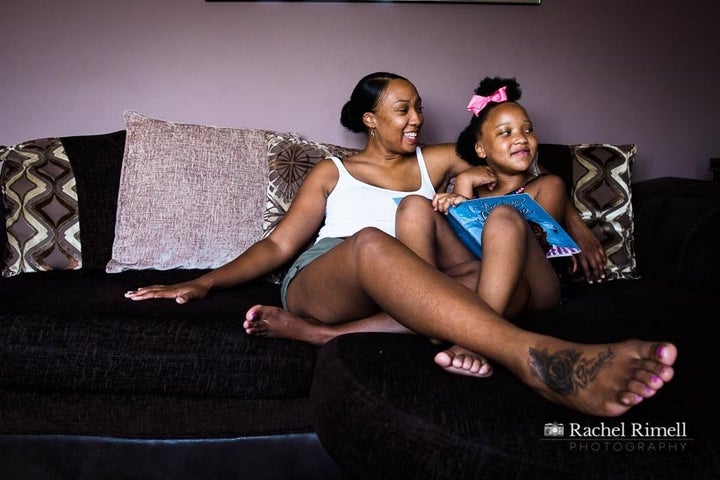 Sonia Heaton, 44, got her first tattoo when she was travelling in Australia, she opted for the eye of Horus - an Egyptian god - due to her love of Egyptian history and theology.
On her return to the UK her Japanese mother hated it as in Japan tattoos are associated with Yakuza gangsters. Undeterred, Sonia went on to have a Celtic knot on her other arm for no other reason than she liked the design.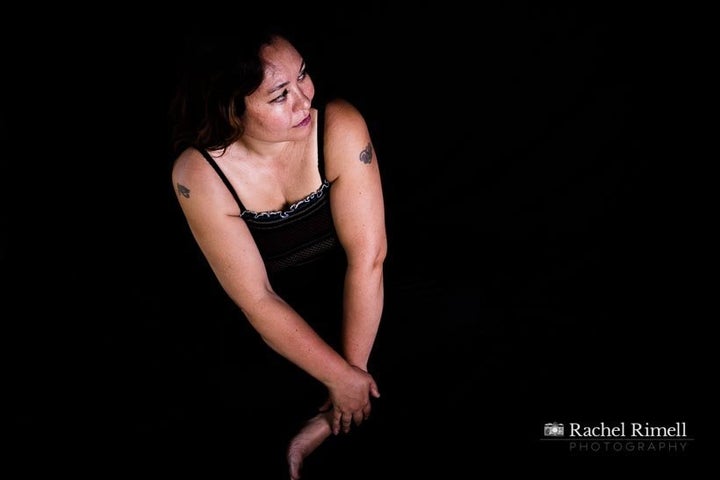 Sonia, who is a teacher, came to motherhood in her early 40s and says that identity was not an issue for her, as when she became a mother she had already led an interesting, varied and well-travelled life, so she didn't feel that she had missed out on anything to become a mother.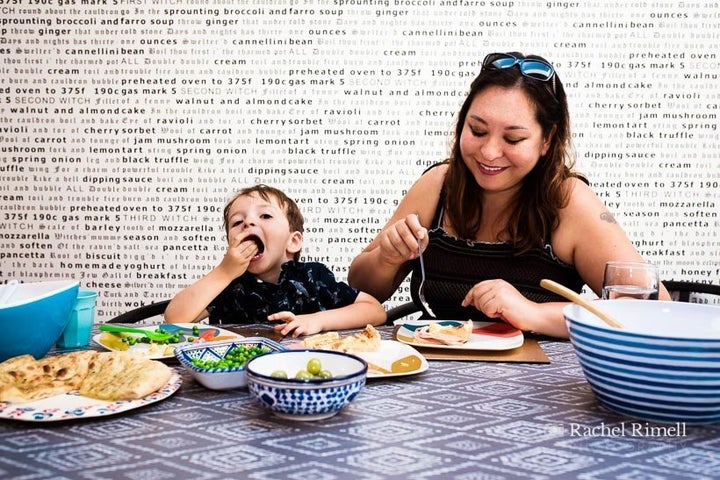 Sharon Calcutt Cheadle, 37, is mum to 21-month-old Elliott who has Down's syndrome. He is affectionately known as Wellie due to his liveliness when he was inside the womb and out.
Her tattoos tell the story of her journey so far: including a feather quill on her right arm, her first tattoo, which testifies that she is the author of her own future having survived cancer.
She has three chevrons on her left wrist as part of her membership of the Down's syndrome community and because Elliott is "rocking his extra chromosome".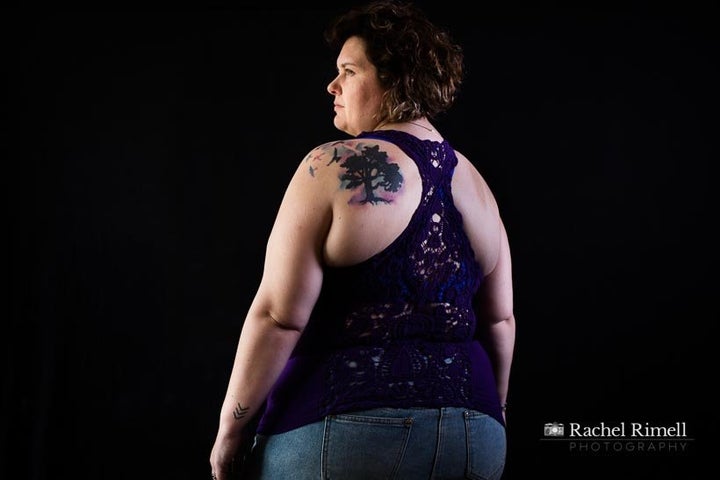 A tree and birds on Sharon's left shoulder commemorate her first pregnancy and miscarriage. The bird flying away in negative space represents her little ones flying away and the tree is grounding her and her family. Since she had this tattoo Sharon suffered two further miscarriages.
When this portrait was taken Sharon was pregnant for the fifth time but shortly after she suffered her fourth miscarriage.