Stanley Palmer is a spritely 15-year-old with a cheeky grin. He loves going to the cinema, grabbing a bite at Nando's and looks forward to the day when he can head to the pub with his mates.
While some people might view Down's syndrome negatively, or as a barrier to independent living, in Stanley's household it's quite the opposite.
The fearless 15-year-old from North London is encouraged to get involved with all manner of activities during the week and it's hoped that, one day, he'll be able to attend college and hold down a job.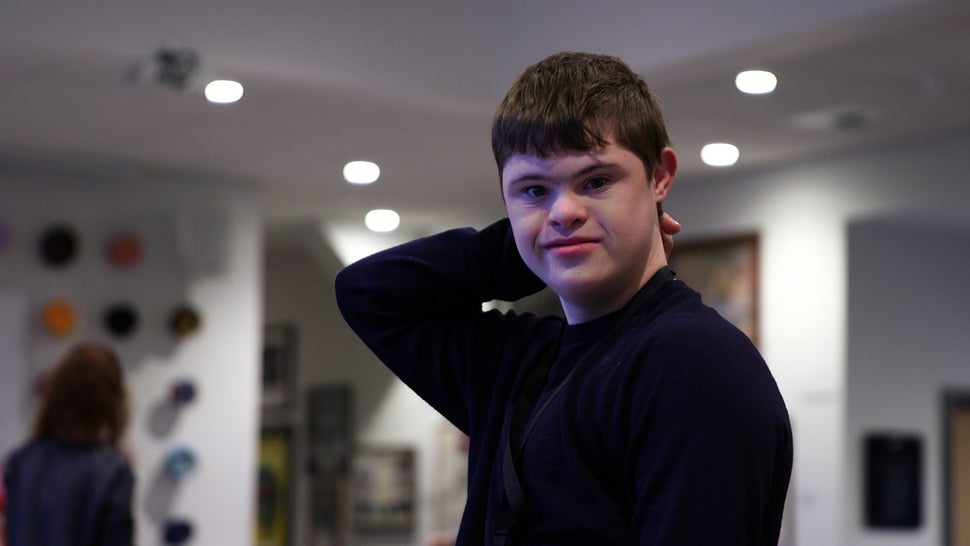 "Stan's busy most nights of the week," said his father Steve. "It gives him a lot of structure and focus, it provides friendships and a social grouping that you might not otherwise have."
The cheerleading session, running for three years now, caters to teens with a range of disabilities including autism, cerebral palsy and Down's syndrome.
"The sessions are about getting active and getting fitter, but they're also about being more social, meeting new people and making friends," said Annabel Hay, dance participation manager.
For half of the hour-long session, participants work directly with a volunteer or member of staff. Then, at the end, they all come together to work on a dance routine.
For Annabel, the sessions are vital in helping bring participants out of their shells.
"They'll come in on week one and they might not talk to you or talk to anyone, but they'll stay in the room," she explained. "And in week one, that's all you can ask for."
But over time, participant confidence grows and the classes begin to impact their lives on a wider scale, particularly outside of the sessions.
For example, Stanley recently starred in a dance show at his school and was stood right at the front performing, whereas a few years ago he probably would've lingered near the back.
"That's because he's come here, he's learned his dance moves and he's more confident," said Annabel. "To see the impact it's having on everyday life shows that what we're doing is important."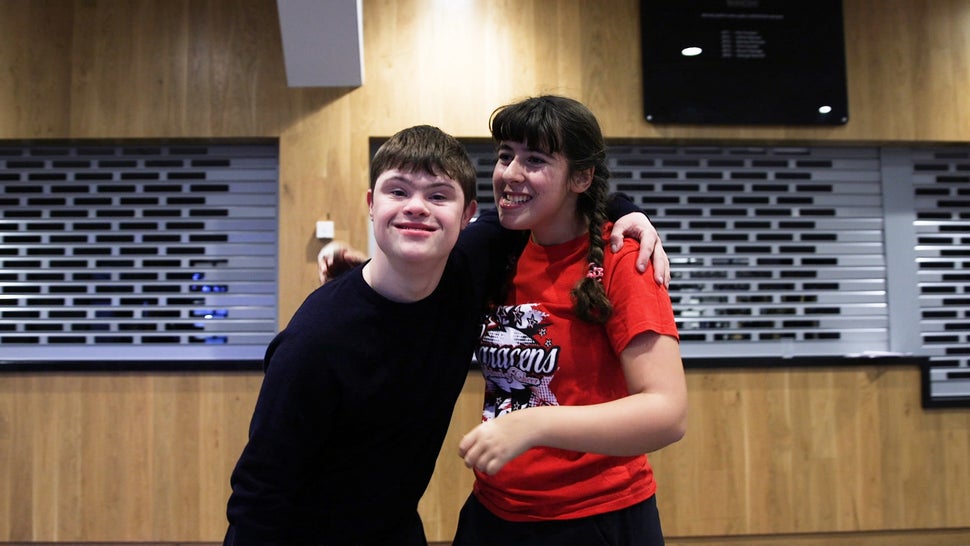 During the week, Stanley also attends horse riding and swimming classes. This colourful and active lifestyle is something that his father Steve never could've imagined 15 years ago.
"It was a big shock when we found out Stan was born with Down's syndrome," he said.
"It's quite common for people to feel negatively at first, because it's daunting.
"It does also depend on how good or bad the medical staff are when they relay the news to you. We had one nurse who sat on the edge of our bed crying, which was highly inappropriate. On the other hand, we spoke to a consultant who came to see us towards the end of the day when he was born, and she was brilliant."
Steve hopes that attitudes towards Down's syndrome will change and the way nurses and medical staff deal with newborns will become consistent, helping to encourage parents and support them, rather than terrify them.
He also wants people to stop referring to the "mental age" of people with the disability. For example, some might say his son has a mental age of seven or eight years old - but it's far more complicated than that.
"Stan's 15 and someone might say 'oh well he's got a mental age of X'. But it's much more complex," he explained.
"Actually, Stan is incredibly sensitive to people's feelings. He knows when someone is upset and he can show a level of emotional intelligence that a lot of other teenagers, older than him, wouldn't even show."
Of course, Stan's disability does restrict him in some ways. For example, a 15-year-old boy would usually have his own house key and be able to travel home from school on his own, whereas Stan can't.
However that's not to say he can't have some degree of independence. And that's certainly not to say he's living an unfulfilled life.
"All parents need to provide opportunities for their children to become as independent as possible," she said.
"Starting to make choices from an early age can help encourage future independence in life and parents can help their child by talking about their choices and supporting them to make changes that are right for them."
She added: "New experiences can provide concrete examples of things to make choices about. For example, a young adult might want to decide between cinema or bowling, swimming or trampolining, Chinese or Italian food - and parents can support them to do so."
Just like any parent of any child or teenager, when it comes to Stanley, his parents are prepared to support him to be as independent as possible.
"We know people who are slightly older than him that go on the bus to college, that are getting jobs, living independently," said Steve.
"My expectation level, compared to the day he was born, is so much higher. I do expect him to do all of those things - including work.
"Yes there are challenges, but with the right support there's no reason why any body with a learning disability can't live an independent, happy and fulfilled life."
For information, support and advice from the Down's Syndrome Association call their helpline on 0333 1212 300 or go to www.down-syndrome.org.uk.