"I would say I have two ways to go home," says one teenage boy from south London. Amid a shocking surge in knife crime attacks in the capital, he's reflecting on his own safety as he walks home from school each day.
"There's either the long way, where there's more light out and there's more houses so there's more people who can see what's happening. Or there's a short way, I would probably go more or less in the daytime rather than in the night time."
On a crisp early evening at a community sports centre, various groups of boys and men are gathered across three pitches to play a game of football to usher in the weekend. Among them stands a squad of around 15 young men, who are here thanks to a scheme by Football Beyond Borders (FBB), a charity working across 35 different schools to help instil values of teamwork and leadership.
The boys are carefree and jovial as they show off their impressive footwork on the floodlit pitch, but off the astroturf, many reveal that the news of recent stabbings has been distressing.
One boy in his mid-teens said the news was beginning to have an impact, and was making him feel differently about his walk home. "I always feel wary of where I'm going and what I'm doing at a certain time, because of everything that I've heard in the news. That 'ah, it's not safe to walk outside at this time, or to be in this area, and be around certain people'."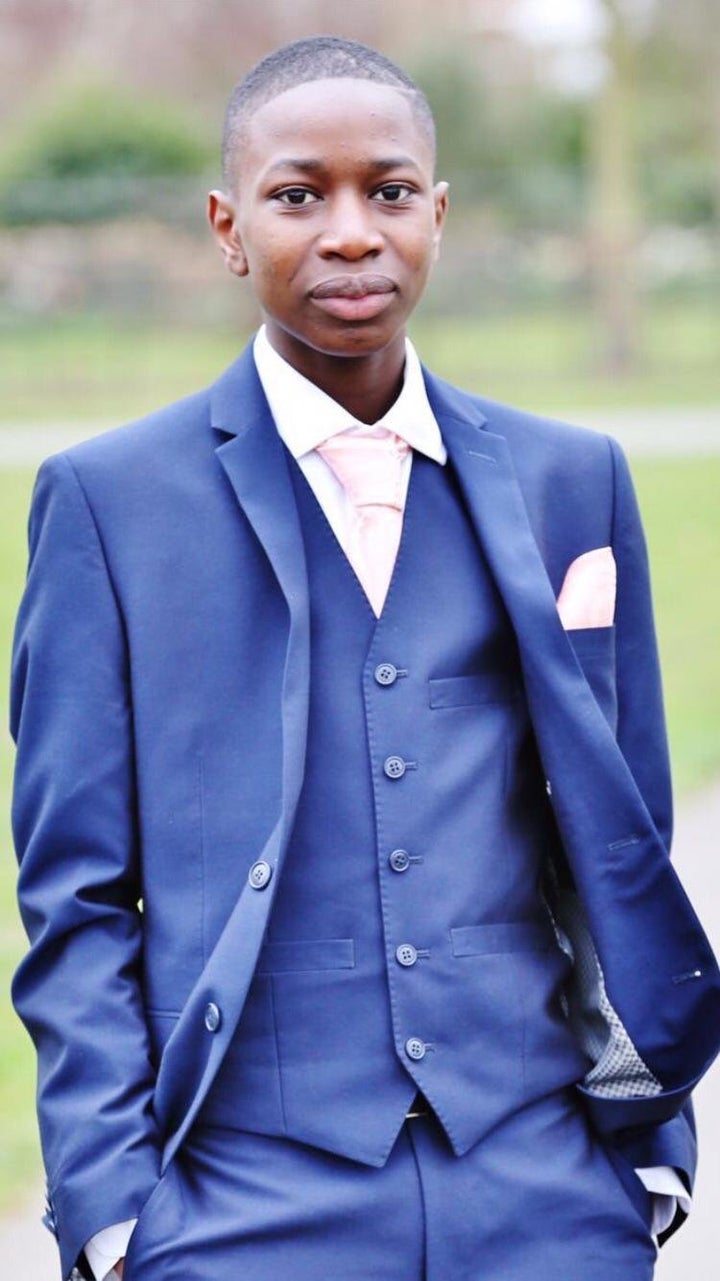 London has seen a jump in knife offences this year, with just under 1,300 stabbings taking place in the capital up to April – a rise of 16%. Nationwide, knife-related offences rose 12% to almost 40,000 in the year up to June – the highest figure since records began in April 2009.
This is against a bleak backdrop of record violent crime across the country, as homicides jumped 14% to 719 in the same period, marking a 10-year high.
The capital alone recorded its 119th homicide a week ago – a boy of 16 named John Ogunjobi. His death in Tulse Hill, tragically witnessed by his mother, was the fifth fatal stabbing in the space of six days in south London, after the killings of Rocky Djelal, 38; Jay Hughes, 15; Malcolm Mide-Madariola, 17, and Ayodeji Habeeb Azeez, 22.
Last week a report by doctors at The Royal London Hospital – Europe's leading major trauma centre – and Queen Mary University of London, found children may be most at risk of being stabbed as they make their way home from school, revealing the frequency of knife-related incidents involving youngsters spikes between the hours of 4pm and 6pm on weekdays. For many of the children at FBB's after-school events, this is on their minds.
"It's a topic that's rarely talked about because it's a topic that people really do feel uncomfortable talking about, because it's not nice," the same young man continued.
"You don't want to be in school – in a place where you want to socialise with people and get your education – you don't want to be talking about the negatives in life, like knife crime. So I don't think it's a topic that you'll talk about in your social groups."
Another said: "I think it's just a lifestyle now. And a lifestyle that people want to live, but they don't actually know the effects and consequences of it when they go into it. They only learn once they're actually in it."
The Mayor of London, Sadiq Khan, this week admitted it could take "up to 10 years, a generation" to tackle the problem, as he warned that primary school children were being lured into gang culture by a sense of belonging.
"I think youth clubs could really help. It gives people opportunities to talk with their friends, so they don't find themselves in bad situations"
Khan also blamed a cut in police numbers, telling the BBC: "The most senior police officers in the country have said it's naive to believe there's not a link to cutting police numbers and violent crime."
Yet members of the group pointed to a mix of sibling influence, media stereotypes, cuts to youth centres, a lack of opportunity for young people, and a distant relationship with the police as drivers for the rise in crime.
One young man said: "Nowadays the youth clubs [hours] have been shortened and there's barely any youth clubs around, and I think youth clubs could really help. It gives people opportunities to talk with their friends, so they don't find themselves in bad situations."
A different boy added that other creative outlets would give young people a chance to express themselves in productive ways. If such opportunities were afforded to youngsters, knife crime would not happen, he said.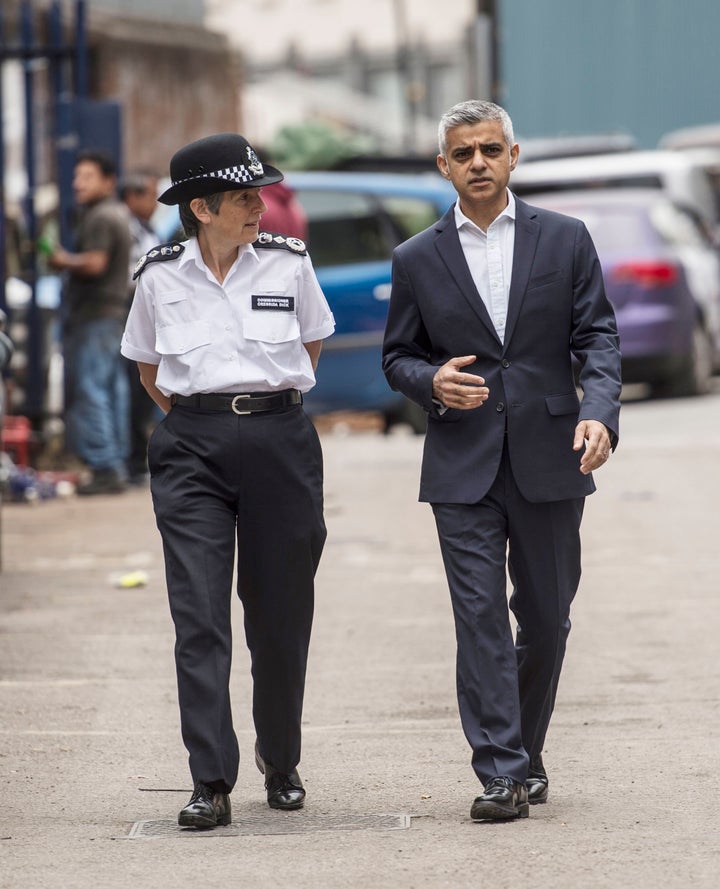 But a "negative" perception of police officers means the opportunity for productive conversation around the issue is often missed, because of the lasting effects of controversial policies such as stop and search. Use of the tactic has fallen from a peak of 1.5 million people searched a decade ago, to around around 280,000 in the year up to March – the lowest number in 17 years.
The practice has come under fire for its disproportionate targeting of black people, who last year were eight times more likely to be stopped than white people, according to Home Office figures. But it may be extended under Home Secretary Sajid Javid, who this week urged the Metropolitan Police to step up its powers to end the violence as he hinted that forces could receive a cash boost.
But the boys in south London are critical of too little action, not too much. One said: "The [officers] that come to my school, they don't do anything, they just walk around the school, they don't even talk to the students about what they're facing and knife crime and things like that.
"In my opinion, my local police really haven't done anything. You only see them once or twice in a whole year, and literally, them being there, I feel like there's no point.
"If you're a policeman who's been trained and qualified on certain topics you know are affecting young people, but you're not sharing your knowledge on that, I think it's pointless you coming to the school and doing nothing."
He added: "I know friends of friends who have been caught up in knife crime, and I know people who have lost their talent and could have been somewhere way better than they are right now due to gang violence and knife crime."
With some taking simple precautions to maximise their personal safety, the topic of staggered school closing times was brought up – an idea which one boy thought could work.
"As it's getting dark now, because we're getting to winter, leaving school a bit earlier, okay, it would be a good decision, but you need to get your education," one boy told HuffPost UK. "But leaving school earlier would be good because people would feel much safer walking out in the daylight with more people walking around."
Schools in the capital are facing increasing pressures to employ measures which are believed could keep students safe. Since October 2017, some 200 state-funded secondary schools in London have signed up for 'knife wands' – handheld scanners which detect the weapons. The £67 devices have been backed and funded by the Mayor as part of his Knife Crime Strategy.
All the boys agreed that a lack of resources for young people left some of their peers vulnerable to being caught up in the dangers of gang-related activity, and one young man was particularly critical of local authorities and central government who "both have a part to play", he said.
"It's clear that at the heart of this problem is an under-investment in young people. If young people were given clear role models and pathways in their lives, then they wouldn't need to go down this road.
"There may be more to it than just a lack of opportunities, however, I do believe that if young people were invested more into by the local council and the government as a whole, then perhaps we would see a decrease not just in knife crime, but the social crisis in London in general with widespread poverty."
A Government spokeswoman told HuffPost UK that as well as taking immediate action to curb knife crime, a longer-term strategy was needed to prevent young people being pulled into a life of crime in the first place.
"That is why early intervention – alongside tough law enforcement – is at the heart of our Serious Violence Strategy. We have launched an Early Intervention Youth Fund of nearly £18m.
"The Fund will support 29 projects, endorsed by Police and Crime Commissioners, that work with children and young people at risk of criminal involvement or who have already offended, and organisations safeguarding those at risk of gang exploitation and county lines."
For one young man on the football pitch, heading off for the weekend, though knife crime is a serious, scary epidemic, "there's a lot more to London than just knife crime and violence."
"In reality," he said "most of us do get along. Despite what the media tells us, we still do have a future and a great wave of up-and-coming young people who are gonna shape the future."