Young people's mental health is of increasing interest and concern to researchers, policymakers, and families alike – but can treating teenagers' mental ill health also improve the wellbeing of their parents? New research suggests that it can.
The study, conducted by Kelsey Howard, a doctoral candidate at Northwestern University, analysed data on depressed teenagers who were either in cognitive behavioural therapy or taking antidepressants, finding, remarkably, that regardless of which treatment teenagers were using for their depression, the mental health of their parents improved too.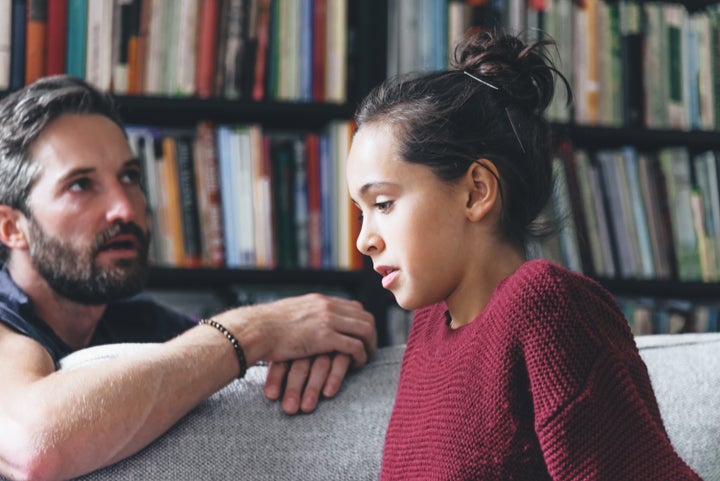 Northwestern's research follows older findings that there is a link between mothers' depression and lifetime diagnoses of major depression in their teenagers, which doesn't seem to be biological. However, the latest research is groundbreaking because it suggests that the relationship between parents' and their children's mental health might work in the other direction too.
Whilst Howard's research hasn't evidenced a clear reason for this trend, she told the Atlantic: "It could be in how the family is interacting with each other: The kid is more pleasant to be around, the kid is making less negative statements, which can affect how other family members think."
Tom Madders, director of campaigns at YoungMinds, the UK's leading charity for children and young people's mental health, told HuffPost UK that for parents, watching their children go through mental ill health can be incredibly difficult; especially if they feel responsible. Madders also noted that parents often make big lifestyle changes to support their children with depression, particularly in cases where their children have to leave school because of their mental health. "[Parents may] give up their jobs to look after them, adding pressure to the other relationships in the family," he said.
The process of getting treatment can also be an added stressor: "Every day we get calls to our helpline from parents whose children have been waiting months for an initial assessment, or left on long waiting lists for treatment that they need...that's why it's crucial that the Government commits to long-term extra investment in children's mental health services."
The new research was presented at the annual convention of the American Psychological Association.
Useful websites and helplines:
Mind, open Monday to Friday, 9am-6pm on 0300 123 3393
Samaritans offers a listening service which is open 24 hours a day, on 116 123 (UK and ROI - this number is FREE to call and will not appear on your phone bill.)
The Mix is a free support service for people under 25. Call 0808 808 4994 or email: help@themix.org.uk