A four-year-old girl has been given mobility for the first time after being gifted a motorised scooter from a group of local high school engineers.
Miley Brochu, from Vermont, USA, suffered a traumatic brain injury in her early developmental years meaning that she has limited movement and is not able to independently get around.
That was until she was chosen by 17-year-old local student, Willem Hillier, from Champlain Valley Union High, for his latest robotics laboratory project.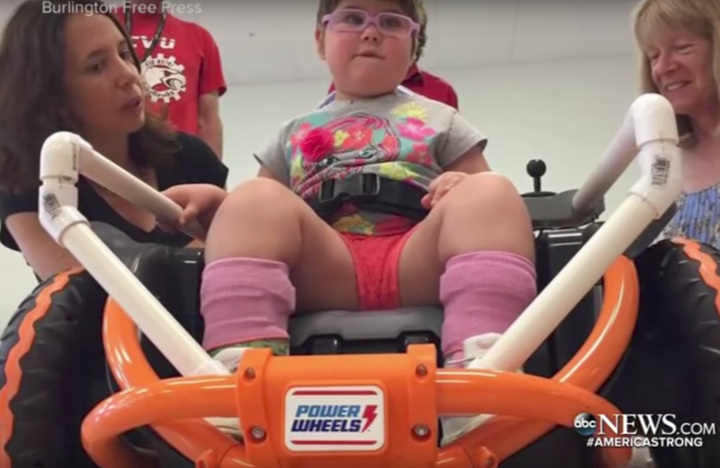 Hillier explained to the Burlington Free Press that the project was titled 'empathy' and asked students to look in the local community for ways that they could help out with their skills.
He said: "She can't really walk, and so this is going to be her first opportunity to be able to move herself."
Over the next few months, the inventor worked alongside Brochu's therapist, Tamra Yandow, to help turn the orange toy car into a mini scooter.
Using a 3D printer, adding a better battery and rewriting the code for the control joystick, the final project is well suited to her additional needs.
Yandow explained that this isn't just about mobility, but will give Brochu lots of other opportunities, she said: "Kids who are unable to walk, if you give them the ability to independently move, then their other motor skills increase.
"Their social skills increase. Their play skills can increase...it just encompasses everything, if you give them that independence."
Since the summer of 2016 the 12 girls "worked tirelessly" six days a week on the project, which also saw them present at the Massachusetts Institute of Technology (MIT).
The final product now has button-powered lights, two USB ports, a micro-USB port, and even plans for a sanitising UVC light on a countdown timer.
They said: "We believe [it] will go a long way in serving the homeless population in Los Angeles."