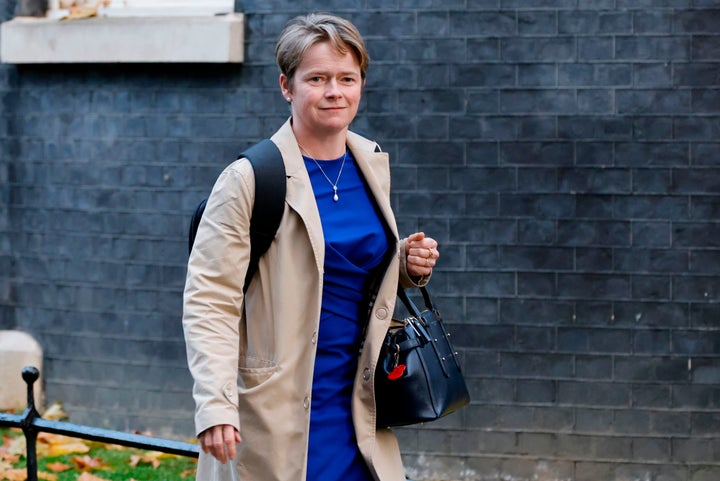 Boris Johnson's test and trace system is paying nearly a million pounds every day to private consultancy firm Deloitte, government officials have revealed.
David Williams, the department of health and social care's (DHSC) second permanent secretary, told MPs that 900 of the private firm's consultants were currently being used at a pay rate of £1,000 a day. That would mean £900,000 per day on one firm alone.
The new figure came as the Commons Public Accounts Committee was also told that the department expects to spend £15bn in the next three months alone on more testing, particularly rapid testing, to combat the coronavirus pandemic.
The much-criticised NHS Test and Trace service, run by Tory peer Dido Harding, has already come under fire for its use of private firms including Serco and Sitel to set up and run its call centres and other services.
"The latest number I've got suggests that's come down to around 900," he told the committee. "We have a plan in place to see that number reduce markedly over the course of the next few months, although there is a dependency on our ability to backfill a number of the roles they are currently doing with permanent civil servants.
"The average cost across our consultancy support, I imagine it's about the same for Deloitte, is around £1,000 pounds a day."
The DHSC official said that because the test-and-trace service was set up from scratch at speed last May, the government had needed to hire external consultants to bring in expertise at short notice.
"We would not have been able to deliver the testing service or the contact tracing service that we have, without the support of a range of external consultants," he said.
In her evidence to MPs, Harding defended the use of consultants. "I think it is appropriate to build a service in extreme emergency circumstances using short-term contingent labour and consultants for some of those roles," she said.
"I think they've done very important work alongside the public servants, the military, the healthcare professionals and members of the private sector who have come and joined us as well. We couldn't have built the service without all of that combined expertise."
Williams said there had been a "reliance on consultancy support, particularly in the operational deliverability of the testing programme".
When asked by committee chair Meg Hillier whether reports that some individual consultants had been paid a day rate of up to £7,000 and she suggested firms were "lining their pockets at the taxpayer's expense", he said he didn't have the "detail" on individuals' rates.
"Generally speaking, what we see is good evidence of a range of consultancy companies, dropping their normal public sector rates to rather lower levels as part of their support to our work on Covid, not only on test and trace but across the department's activity over the past year.
"So I don't think that we are being taken advantage of...in terms of profiteering, as it were, I see no evidence that causes me concern on that front."
Shadow Cabinet Office minister Rachel Reeves told HuffPost UK: "It is scandalous that this incompetent Tory government has chosen to waste enormous sums of public money on 900 management consultants paid £1,000 a day rather than put public health teams in charge of contact tracing like other countries have.
"Ministers have approached this pandemic as a get rich quick scheme for outsourcing companies when they should have invested in local public services instead."
Speaking after the hearing, Hillier added: "By now test and trace should be business as usual. That huge sums are still being spent on consultants while its performance is variable at best is a real concern.
"And there must be plenty of people expert in the delivery of citizen services and logistics who could by now have been recruited to these roles."
Williams revealed that of 207 new DHSC test and trace contracts awarded since November at a cost of £1.3bn, around 30 had been issued without any competitive tendering. The contracts were for "test consumables, laboratory capacity and so on".
The committee also heard that 90% of the huge £22bn budget given by the Treasury to test and trace would be spent on testing rather than tracing and isolating.
To the end of November, just £5.7bn of the money allocated had been spent and Williams said the spending was "backloaded" and his team's assessment was that around £20bn would be spent by the end of the financial year on March 31.
During the session, Baroness Harding played down a warning by scientific advisers Sage that test and trace was having a "marginal impact" on tackling coronavirus, saying their report in September was "now many months old".
"I don't believe we are having a marginal impact. We are having a material impact," she said, declaring that it had cut the R or reproduction number of the virus by up to 0.5 and aimed to increase that impact to 0.8 by March.
Harding also said that her service had coped with the Christmas "surge" in Covid cases, proving it had the spare capacity in a centralised system needed to cater for large changes in the path of the virus.
"In terms of numbers, every minute yesterday 965 people were swabbed or swabbing themselves throughout the day," she said. The service has already hit its target of 800,000 daily capacity by the end of January.
However, when asked why it was still well short of the PM's 100% target to return test results within 24 hours, Harding said that the increase in "volume" had impacted progress.
A Deloitte spokesperson said: "We are immensely proud of our team who have worked tirelessly to support the national testing programme since March. At short notice we provided the capacity, skills and expertise at the scale needed to support this critically important programme.
"More than forty public and private sector organisations have been supporting the programme, with tens of thousands of people across hundreds of test sites processing hundreds of thousands tests a day. The UK now has one of the largest testing systems per head of population in Europe.
"Our digital technology, procurement, supply chain, logistics, real estate and project management teams have worked with the Government to build the largest diagnostics network in UK history."
Tamzen Isacsson, chief executive of the Management Consultancies Association, said: "A large number of consultancy firms have been brought into support critical government projects during the pandemic including on Test and Trace which has required people with expertise in digital technology, supply chain, logistics, procurement and in delivering major government projects.
"All MCA Member Firms used by government in this period have been 'procured through competitively tendered Crown Commercial Service frameworks which evaluate bidding firms against quality and cost criteria. As part of these contracts, consultancy firms are required to upskill civil servants and transfer knowledge to increase capability for the future.
"The cost charged by consulting firms working on Test and Trace will include security system and technical requirements, product development costs, solution developments, legal costs, overheads, training and recruitment costs. The charge from consulting firms includes various operating costs that goes well beyond consultant salaries which are well within the market norms in the services sector."