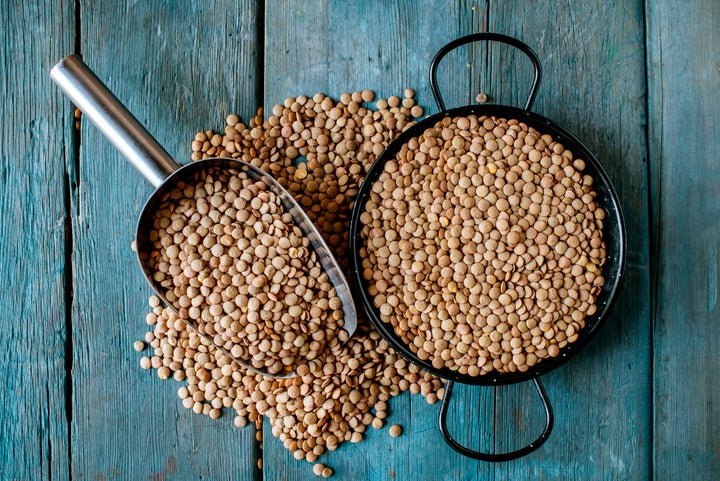 Your stomach is growling, you're beginning to feel hangry and you have no idea what to make for dinner. Then you open the near-empty fridge and realise you didn't make it to the grocery store. You briefly consider ordering take-out but you've already eaten out plenty this week. You open your pantry and see if there's anything you can whip together.
If your pantry is stocked with the right options, there are several possibilities within arm's reach, and the simplest meals can be equally delicious and nutritious.
"When you have a selection of nutritious pantry staples on hand, you're more likely to make healthier meal choices, especially when compared to resorting to fast food or prepackaged convenience meals," said Sam Schleiger, a registered dietitian (RD) and women's health specialist.
And let's be real – with pantry staples, you don't have to worry about food going bad before you get around to making a salad (see: the bag of wilting spinach in the back of your fridge). "Pantry staples have a longer shelf life, reducing the likelihood of food waste and helping you manage your kitchen inventory more efficiently," Schleiger said.
Plus, many nonperishable foods are packed with nutrition. "Many pantry staples are nutrient-dense and provide essential vitamins, minerals and macronutrients," Schleiger added. "This allows you to create balanced and wholesome meals even without access to fresh ingredients."
While shopping for pantry items, here are some factors to consider to make healthier choices.
Read nutrition labels:

Make sure to read the nutrition label and ingredients list to know exactly what you're buying. "Look for options with minimal added sugars, sodium and artificial additives," Schleiger advised. "Opt for those in their natural juices, water or packed in olive oil." Food labels that have minimal and recognisable ingredients are a good guide.

Check expiration dates:

"Periodically check your pantry items for expiration dates and rotate stock to ensure that older items are used before newer ones," Schleiger said. "This practice helps reduce food waste and ensures the freshness of your ingredients."

Choose jars instead of cans:

"For pantry items that are more acidic like tomatoes and tomato sauces, consider purchasing those packed in glass jars versus cans," Schleiger said. "Since tomatoes are highly acidic, they draw out more of the BPA from the lining of the can" into the food, she explained.
Below, nutritionists share the staples they always have in their pantry to make simple and nutritious meals.
Buckwheat
Looking for an alternative to rice as a base for stir-fries or grain bowls? Check out buckwheat.
"Buckwheat is a low-key whole grain that is gluten-free, fibre-filled and plant-rich," said Tracy Lockwood Beckerman, registered dietitian nutritionist (RDN) and author of "The Better Period Food Solution." "Its filling-yet-fluffy texture makes it an elevated substitute for more mainstream meal bases like rice or quinoa and can help to steady blood sugar and even lower blood sugar," she said.
According to the USDA, one cup of cooked buckwheat has over 5.5 grams of protein, 4.5 grams of fibre and minerals, including phosphorous, potassium and magnesium.
And it's easy to prepare, as it cooks similarly to rice or quinoa. "Simply put the buckwheat into boiled water, cover and cook until the water is absorbed," she said. This grain is versatile and you can enjoy it for breakfast, lunch or dinner.
"Make the buckwheat base in either a grain bowl with lots of heart-healthy vegetables, a morning yogurt parfait or pudding with antioxidant-rich berries and immune-boosting honey, or a stir fry with fibre-filled veggies, like onions, corn and mushrooms," Beckerman said. If you want to increase the vitamin and mineral properties in your meal, cook buckwheat in bone or beef broths.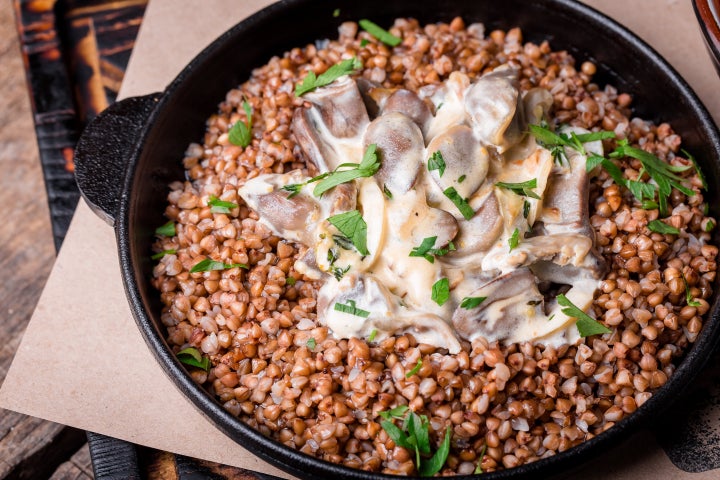 Canned Beans
Canned beans are versatile and can be used as a main or side dish or even tossed on a salad for added protein or fibre. RDN Lorena Drago keeps chickpeas, black beans, kidney beans and cannellini beans in her pantry for a go-to meal.
"I sauté onions, red peppers, tomatoes and grated carrots in olive oil," she said. "When everything is cooked, I add the strained beans, vegetable stock, cumin, pepper and garlic powder to taste and let it simmer for about 20 minutes."
According to Schleiger, "Canned beans are rich in protein, fibre and essential nutrients like iron, potassium and folate. "They contribute to satiety and provide sustained energy." Plus, beans are rich in soluble fibre, which can lower blood cholesterol, Drago added.
Canned beans are convenient and save time in the kitchen. But pre-cooked beans can be high in sodium. Drago suggests opting for canned beans with low-sodium or rinsing the beans first, which can lower sodium content by about 40%.
Canned Fish
Canned fish is trending these days and that's a good thing, because it's easy to make a meal with this protein-packed staple. "Canned tuna and salmon are great sources of lean protein and omega-3 fatty acids," Schleiger said.
RD Rachel Naar explained that protein helps stabilise blood sugar levels and keeps us satisfied until our next meal. "It's also high in omega 3s, selenium, iodine and vitamin D, all of which are essential for our hormones and metabolism," she said.
You can eat it directly out of the can or make a quick sandwich. "Canned fish is great for making quick sandwiches, adding to salads, wraps, rice, and pasta dishes, or just as a quick, portable snack," Naar explained.
One of her preferred quick meals is to mix tuna with avocado mayo and put it on crackers. RDN Grace Clark-Hibbs make a simple weeknight pasta dish that combines canned tuna with garlic, lemon juice or zest, olive oil, capers and sun-dried tomatoes.
Canned Tomatoes And Tomato Sauce
Tomato sauce and canned chopped tomatoes can become several dishes. According to Drago, with a can or jar of chopped tomatoes or sauce, you make tomato soup, a tomato sauce to serve with pasta or even a hardy salsa.
She likes to make a nutritious vegetarian meal — pasta with tomato sauce with frozen vegetables, canned cannellini and grated cheese. Another healthy dish Drago likes to make is salsa. She combines chopped tomatoes, mangoes, frozen or canned corn, canned beans, olive oil, avocado and seasoning and serves with tortilla chips.
RD Susan Greeley, an instructor of plant-based culinary arts at the Institute of Culinary Education, likes to make a tomato sauce with simple ingredients. "You can create a quick marinara from organic canned tomatoes in minutes, just add garlic, olive oil, salt, pepper and oregano."
Tomatoes are packed with lycopene, an antioxidant that repairs cell damage, Drago explained. Plus, they are high in vitamin C, and have considerable amounts of calcium and vitamin K, which help maintain strong bones.
Chia Seeds
Easily found on most grocery store shelves, chia seeds are tiny, black and nutrient-dense. They can be used to make chia seed pudding or enhance other dishes, such as a smoothie.
Want a quick and nutritious breakfast? Make chia seed pudding the night before and set it in the fridge. "All you need to do is mix 1/4 cup dry chia seeds into one cup of your preferred milk or milk alternative, add your desired flavourings, cover and place in the fridge overnight for up to three days," said Clark-Hibbs. "Some of my favourite additional ingredients include fresh berries, full-fat coconut milk and vanilla extract." She encourages creativity and mixing different ingredients together based on your personal taste preferences.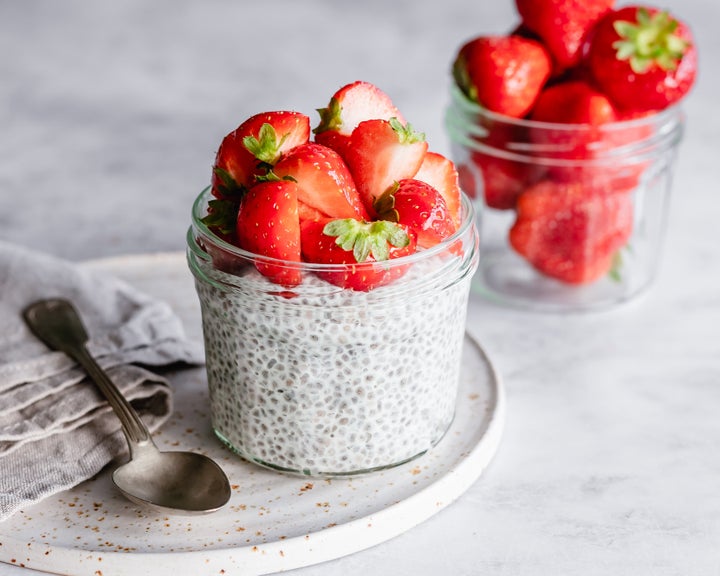 A serving size of chia seeds is an ounce (28 grams) and packs almost 10 grams of fibre and around 4.5 grams of protein, according to the USDA. Chia seeds also have plenty of minerals, including calcium, magnesium, phosphorus and potassium. If you make smoothies for breakfast or as a snack, she suggests "adding two tablespoons of chia seeds to your favourite smoothie recipe to boost the fibre and protein content; This will promote proper digestion, and increase satiety, stabilise blood sugars and help reduce sugar cravings throughout the day."
Chia seeds are also a good source of omega-3 fatty acids, which Clark-Hibbs explains "have been shown to reduce inflammation, support brain function throughout the life cycle, improve joint health, and reduce risk factors for type two diabetes and heart disease."
Dried Lentils
You can make a pot of lentils with your preferred spices to jazz it up or toss in fresh or frozen veggies for an easy meal. For Clark-Hibbs, lentils are one of her favourite pantry staples because they are inexpensive, easy to make, nutrient-dense and versatile. "They are common in Middle Eastern, Indian and North African cuisine, so they go well with spices that are traditional in those cultures, such as cardamom, coriander, turmeric and cumin," she said.
A cup of cooked lentils has 18 grams of protein and 15 grams of fibre. It's an important source of iron, magnesium, phosphorus and potassium, according to the USDA. "They promote healthy digestion, are a good source of lean protein and contain chemicals called polyphenols that have powerful antioxidant and anti-inflammatory properties," Clark-Hibbs said.
Clark-Hibbs likes to make a lentil curry. "You can add all of the spices individually or use a prepared curry paste to make things even simpler," she said. "Add some leafy greens like spinach, chard, or kale and serve over a bed of jasmine or basmati rice and you have a complete meal in 30 minutes!"
Quinoa
Want a gluten-free option that with plenty of plant protein? Consider keeping quinoa in your cupboard. "Quinoa is a good carb and a complete protein that is really versatile — it create a quick and delicious grain bowl to have as any meal and packs well to take to work.
A one-cup serving of quinoa has 8 grams of protein, 5 grams of fibre as well as calcium, iron and magnesium, per the USDA.
For an easy meal, Greeley mixes cooked quinoa with chopped veggies with a fried egg served on top. Another favourite meal is to combine quinoa with a couple of chopped dates, pecans, leafy greens and shaved parmesan, then toss together with olive oil, lemon juice and salt.
Whole Grain And Gluten-Free Pasta
Pasta may get a bad rap for being full of carbs, but choosing whole-grain or gluten-free pasta can make mealtime simple after a stressful day.
"Whole-grain or gluten-free pasta provides complex carbohydrates and fibre," Schleiger said. Having various types of pasta in your cupboard can make it a lot easier to turn nothing into something for a quick, hot meal, such as spaghetti with tomato sauce or even a pasta salad. "I have multiple pastas — organic, imported from Italy, some new non-grain versions that are higher in fibre such as legume pasta. Others are simply gluten-free," Greeley said. "I cook up my pasta of choice and toss it with either a tomato sauce or pesto and add canned kidney or cannellini beans."
Schleiger likes to make a nutritious pasta primavera with whole grain or gluten-free pasta. She sautées assorted vegetables, such as broccoli, carrots, bell peppers, zucchini, minced garlic and sliced canned olives and then drizzles olive oil and lemon juice and seasons with salt and pepper for a nutritious meal. "This pasta primavera dish is loaded with a variety of colourful vegetables, contributing vitamins, minerals, and antioxidants," she said. "Olive oil and olives add healthy fats, and the dish offers a balanced source of energy."