The final print edition of The Independent has been sent to press in a "very sad day" for Britain's print newspaper industry.
The paper's last front page features an exclusive story about a British connection in a plot to kill a Saudi King and a striking image of train passengers being evacuated during an anti-terrorism operation in Brussels.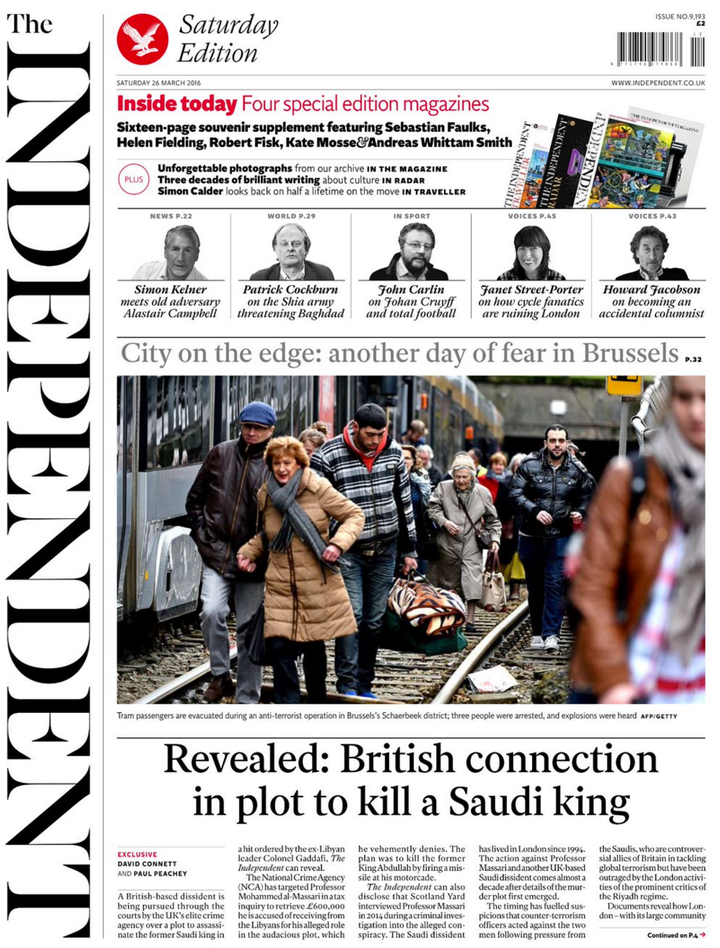 Inside the paper, which was founded in 1986 under the slogan "It is. Are you?", four special edition magazines look back at its history.
Speaking to Sky News on Saturday morning, former editor of the paper Roger Alton said it was a "very sad day".
He said: "The world of traditional news which was represented by The Indy is clearly under some sort of threat."
The former editor said that the paper "ran out of steam, ran out of money".
Journalists for the daily paper posted photos of their final hours working on the print edition and showed editor Amol Rajan giving a speech to a crowded newsroom after it was sent to press for the last time.
Earlier Rajan tweeted a preview of two readers' letters which feature in the last edition.
One, signed by Guy and Caroline Carmichael, from London, told how the pair met and fell in love through the newspaper.
It reads: "While you may disappear in paper form, one edition will live for ever in our hearts: 20 November 1993.
"We found each other through your original Independent Hearts column, and were married in 1995. Thank you."
The second, from J Samuel, from Reading said: "It is difficult to understand how The Independent, which took such a principled stand against Britain's illegal invasion of Iraq, will be out of print before the inquiry into that invasion goes into print."
The Independent was launched by a group of journalists led by Andreas Whittam Smith in 1986. It enjoyed initial success rising to a circulation passing 400,000 by 1988, and claimed it was free from proprietorial influence.
The Independent On Sunday launched in 1990, with Stephen Glover as editor. The final Sunday edition was published last week.
They are part of the group owned by the Lebedev family, who have other media assets including the Evening Standard and local TV station London Live.
Current paid circulation at the daily title is just over 40,000 while its Sunday sister sells just under 43,000 copies.
The i, bought by Johnston Press for around £24 million in February, has a circulation of 275,000 and reported profits of £5.2 million last year.
The newspaper's final editorial said "history will judge" its "bold transition" to online media as "an example for other newspapers around the world to follow".
It concludes: "Today the presses have stopped, the ink is dry and the paper will soon crinkle no more. But as one chapter closes, another opens, and the spirit of The Independent will flourish still.
"Our work goes on, our mission endures, the war still rages, and the dream of our founders shall never die."
In a letter published in the final edition, publisher Evgeny Lebedev defended The Independent's move online saying journalism had "changed beyond recognition" and the newspaper "must change too".
And he extended his thanks to the paper's "most important allies" - its readers.
He said: "I know that today will be the last time you hear this newspaper crash through your letterbox; the last time you swap a smile and a few coins with the man in the corner shop and walk out with our daily bread under your arm.
"Some of you might have done that nearly 10,000 times, since 1986. The depth of our gratitude is impossible to express."
The paper's cover wrap reads: "Stop press. Read all about it (and enjoy four souvenir supplements in this, our final printed edition. 1986-2016."
Related