Alison Phillips, who headed up Trinity Mirror's newest title the New Day, made the comment in an editorial hitting back at commentators "blah-ing" about the difficulties of launching a newspaper at a time when tabloids and broadsheets are suffering a significant circulation decline.
She said staff had "tried everything we could" and admitted the paper had failed to operate financially.
But in a rather blunt message to her detractors, Phillips tackled the criticism levied at her publication head on.
"That's fine," she wrote. "Everyone should be entitled to an opinion. And euthanasia."
But nobody quite knew what to make of the sign-off letter.
Here's Phillips' letter in full:
"You'll probably have heard by now that today we are producing the final edition of The New Day. We tried everything we could but sadly we just haven't reached the sales figures we needed to make the paper work financially.

Yesterday there were commentators blah-ing about how it was ridiculous to launch a a paper in this day and age. Or criticising what we produced, how we produced it, marketed it and delivered it.

And that's fine. Everyone should be entitled to an opinion. And euthanasia.

There were other people saying they were desperately sorry about our failure. Then walking away shuddering with the thrill of schadenfreude...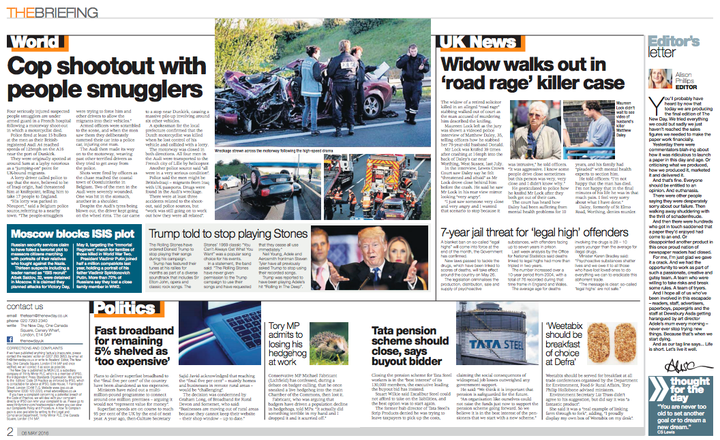 "And then there were hundreds who got in touch saddened that a paper they'd enjoyed had come to an end. Or disappointed another product in this once proud nation of newspaper readers had closed.

For me, I'm just glad we gave it a crack. And we had the opportunity to work as part of such a passionate, creative and gutsy team. A team who were willing to take risks and break some rules. A team of tryers.

And I hope all of us who've been involved in this escapade - readers, staff, advertisers paperboys, papergirls and the staff at Dewsbury Asda getting harangued by art director Adele's mum every morning - never ever stop trying new things. Because that's when we start dying.

And as our tag line says... Life is short. Live it well."
The editorial was included in Friday's paper, marking the last issue to grace newsagent shelves some two months after its inception.
The farewell front page covered teachers being caught in an SATs "cheating scandal".
A post on Twitter advertising the final splash read:
"Our final front page. In the shops now. Sincere thanks from all of us here for all your support. We tried."
Publishers Trinity Mirror said when news of the paper's closure emerged last week: "Whilst disappointing, the launch and subsequent closure have provided new insights into enhancing our newspapers and a number of these opportunities will be considered over time."