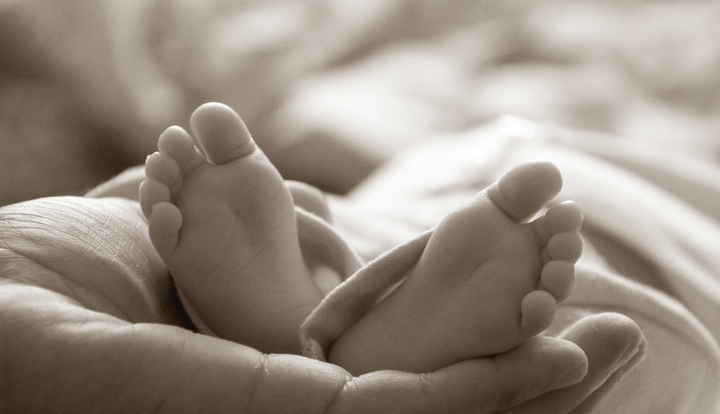 Her name could have been Arya. I could have been her mother. I had already had two-and-a-half years of practice with Izna. My first-born.
But she didn't want any of it. She was upset from the day she was conceived. We never communicated so much in words. But I knew. In my womb. She wasn't happy.
Nine months. That's all I kept asking of her. I was stubborn. And so was she. We both struggled. My first trimester was extremely turbulent. Nausea. Fever. Body aches. Allergic reactions. Headaches. Bleeding.
I was mostly bed-ridden. My best days were when I could fix a decent meal for myself. Still, we made it through those tumultuous times. Together.
A wave of relief set in the fourth month.
Then followed the fat fifth. I was beginning to look quite pregnant. Round belly. Shiny hair. Glowing skin. And breathlessness.
My insecurities had turned into presumptuousness now. I signed up my unborn child at my daughter's kindergarten. For there was a waiting list of three years.
I pictured them holding hands. Giggling. Izna and Arya. Gliding toward their playgroup.
I guess I got too greedy. Or perhaps I asked for too much, too soon. One day before Christmas, my water broke. Arya stopped eating and moving.
"The baby cannot survive without amniotic fluid," said the doctor.
Her heart was still beating. There was hope. She was fighting. For a week, I lay in the hospital. Drowsy with antibiotics that were injected into my body through multiple needles.
Two days before New Year's Eve, I endured contractions. The excruciating labour. The numbness of the epidural injected into my backbone. All of it in a space of few hours.
I relived the experience of childbirth. Only this time, I delivered a child that did not cry. Or squeal. She entered this world like a sleeping Buddha. Not wanting to be disturbed.
I held her gingerly in my arms. She was tiny. Very tiny. But the weight of her sadness was insurmountable.
She wanted to rest. In peace. With all the other babies.
Babies who had struggled in their mamas' wombs.
Babies who fought till their last breaths.
Babies who wanted to stay babies forever.
The spiritual healer at the hospital asked me if I wanted to give her a toy. Something she could hold on to as she lay in a small casket.
I was clueless. I didn't know what her favourite toy could have been. And I will never find out.
That's when it hit me. Like a tidal wave.
I didn't just lose my little baby. I lost an entire childhood. Filled with sweetness of innocence. The erratic moodswings of a teenager. A refreshing youth. A long adulthood. A friendship. A lifetime of memories. And much more.
It reminded me of what Joan Didion said in the opening lines of The year of Magical Thinking: "Life changes fast. Life changes in the instant. You sit down to dinner and life as you know it ends."
This world may not acknowledge Arya's existence. But I know that I am a mother of two children. Even if one of them refuses to return.
You taught me how to be grateful beyond belief. I shall never be the same without you. I love you.