The scene is set for possibly the worst Agatha Christie plot ever invented: an English country house gathering which centres on the merits or demerits of a 'facilitated customs arrangement'. As Cabinet ministers go off into separate rooms for detailed talks, will we see any political deaths? Will it be Boris with the Leadsom piping in the conservatory? Or will it the Fox be shot in the library? Will Mrs May triumph by offering her Brexiteers the pearl handled revolver in the dining room?
Of course, the big advantage the PM has of holding her crunch Brexit summit in Chequers in the Buckinghamshire countryside is that anyone who wants to quit faces a long, long walk down its gravel driveway to the main Missenden road. And, instantly stripped of the use of a ministerial car, they will face the ignominy of having to get a taxi back to London. I'm told that No.10 is also prepared for all eventualities, including a swift reshuffle if any of the Brexiteers decide that they cannot accept May's compromise plan on customs and trade with the EU. The Telegraph's Fraser Nelson adds that the PM has even consulted a 'party grandee' on how to survive a leadership challenge. This is hardball talk indeed.
And that robust tone is perhaps no surprise, given what looked like an extraordinary act of defiance last night, as seven ministers met in Boris Johnson's huge suite in the Foreign Office. David Davis, Penny Mordaunt, Esther McVey, Andrea Leadsom, Michael Gove and Liam Fox all joined the Foreign Secretary. The Magnificent Seven appeared to shrink to the Swinging Six after Fox seemed to peel off, getting assurances from the PM he would still be able to strike independent trade deals. Some of the PM's allies think the lack of solidarity (and personality clashes) among the Leavers is her trump card, with DD, Johnson and Fox never really soul mates. One Brexiteer told me last night that Fox is "a weak fool no one else would give a job to". Other Eurosceptics still doubt whether Johnson is really 'one of us'.
Given the Cabinet is 25-strong, May looks prepared to even hold a vote on her White Paper plans, confident she has a big majority even if the six kick up rough. Sajid Javid and Jeremy Hunt are expected to back the PM, not least as they know their best route to No10 is through loyalty not rebellion. Crucially, May thinks she has a majority among her backbenchers (many of whom are terrified by the threat of a snap election and a Corbyn Government).
Few expect Johnson or Gove or Fox to quit today. But given that Davis thinks the May compromise is 'unworkable', I think he is the highest resignation risk and one that could trigger others. However, it may be that DD will simply put down a marker that the EU will reject the plan. And if they do so this autumn, he can say there is no choice but to go for a Canada-style free trade deal. Officials will be on hand today to help with possible re-writes of the paper, and the real question is whether any amount of clever drafting or tweaking could satisfy the rebels. Let's see if they can beef up assurances that Parliament will 'take control' of any future changes to regulatory alignment or divergence.
Boris is famous for his Brexit bus and its NHS promise. But as business has slowly ratcheted up its demands for a 'soft' exit, it was businessman-turned-Tory-politician Andy Street who yesterday told me that the hardliners should get on their bikes. As part of our week here in Birmingham, the Mayor of the West Midlands took part in our WaughZone Live event. When I asked what his advice would be for those in Cabinet who didn't agree with the PM, he replied: "Get off the bus."
"I think the Cabinet should all support what is agreed because this is a critical point in the UK," he said. He added that warnings of job losses from local car manufacturer Jaguar LandRover should be heeded. "It is definitely at risk if the right conclusion is not drawn. It is very straightforward. And it's not just about JLR itself, it is about the whole supply chain." Ex John Lewis chief Street also praised Business Secretary Greg Clark for saying business should be listened to with respect. "I think Greg's view on this is spot on right..It is absolutely necessary that the government hears what matters to business. I think also that business has to speak up." Many have so far. We'll find out today if the Brexiteers now want to speak up, or walk, too.
More than 23 years ago, John Major told his Eurosceptic rebels to 'put up or shut up'. He then defeated John Redwood and bought himself an extra two years in office. Theresa May would see two more years for herself as a major victory too.
Just a week away from Donald Trump's visit to the UK, he's proving just why changes in tariffs may sound techy and dull but end up affecting millions of people. Yes, at midnight Washington time the first big bazooka was fired in the expected trade war between the US and China, with a 25% levy (worth £25bn) slapped on a range of Chinese goods. Beijing retaliated with its own tariff on American imports of goods like soya beans.
Bank of England Governor Mark Carney predicted the US stood to lose most from protectionism (which centres on Trump's anger over Chinese copyright infringements and steel dumping). "At the moment, protectionism is largely just talk (and tweets). But what if rhetoric becomes reality?" he asked. The stock markets so far have been sanguine about the first shots in the trade war, but that may not last if things escalate rapidly. And the Telegraph's Business Section has a reminder of how fragile the world economy is more than a decade after the last financial crisis. It reports on a French market watchdog warning everyone is still far too much in debt and a 'brutal' stock market crash (or 'correction' in the jargon) could dominate this year.
Meanwhile, if he were somehow to dare visiting central London next week, Trump will get a very visible reminder of the opposition he faces among many Brits. A giant inflatable 'Baby Trump' balloon (with small hands and feet and sporting a nappy/diaper) will fly above Parliament Square after Mayor of London Sadiq Khan approved its use following a 10,000 signature petition. Oh, and the Mayor of Sheffield has 'banned' Trump from entering his city…while wearing a Mexican sombrero. It's all so very 2018.
3. NOT ON THE HIGH STREET
Our event with Andy Street yesterday came live from Birmingham's Bullring, itself an impressive testimony to the way the city has regenerated its centre thanks to big names like Selfridges, Harvey Nichols and John Lewis. The Mayor knows more than most the problems facing retailers, with some 70,000 jobs forecast to be lost this year alone. If this was any other industry, there would be marches in the streets, but it appears that politicians are finally beginning to grasp the scale of the problem. We will report later on Street's own innovative solutions for the West Midlands, to help struggling town centres that lack Birmingham's pulling power and glitzy new architecture.
Street talked yesterday of his strong links to Philip Hammond, yet some Tory MPs worry that the Chancellor is just not seized of the urgency of the retail problem. The Mail, FT and Sun report he has told MPs he won't consider an overhaul of business rates (Primark says it is 'overburdened' by them) until he had determined other corporate taxes first. It wasn't a 'no' to campaigners' demands, but it wasn't a 'yes' either. Former Wickes and Iceland boss Bill Grimsey said Hammond's words were "dispiriting". "It shows a total lack of understanding of the economic challenges that entrepreneurs face."
BECAUSE YOU'VE READ THIS FAR...
Watch Vladimir Putin tickle the ivories as he plays a familiar England World Cup song. Kinda.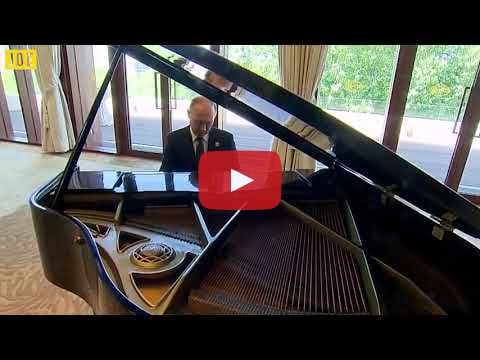 Home Secretary Sajid Javid yesterday told MPs that the UK was "consulting with our international partners and allies" before considering a response to the latest Novichok incident in Wiltshire. The Guardian says it understands that the agent that harmed Dawn Sturgess and Charlie Rowley may have been in a sealed container left following the attack on the former Russian spy Sergei Skripal and his daughter, Yulia, in March. Sources close to the investigation also dropped a hint that they may now know the identity of the would-be killers who targeted the Skripals.
Theresa May's handling of the original Salisbury incident didn't just impress her backbenchers, it also showed that - Brexit or no Brexit - she could corral international alliances thanks to the UK's expertise and credibility on intelligence and security. And the Times and FT have good news for the PM with a leaked letter from German interior minister Horst Seehofer. It warned the European Commission it was putting 'the security of citizens at risk' with an insistence that the UK should be treated as 'a third country' on crime, security and terrorism post-Brexit. Whether Seehofer has any influence in Brussels is another matter.
Labour MPs have reacted badly to a new definition of anti-semitism that departs from an internationally accepted version of the problem. The party's ruling NEC adopted the wording this week but the backlash has been swift after LBC published a leaked version yesterday morning. Among examples of antisemitism omitted from the new definition are "claiming that Israel's existence as a state is a racist endeavour" and "comparing contemporary Israeli policies to those of the Nazis". Former Labour official and rulebook expert John Stolliday tweeted this thread on why the move would at a stroke result in several anti-semitism cases being dismissed.
Labour insists that the definition changes are legitimate and many of the concerns are met in other documents. But the Jewish Labour Movement, which is one of the party's oldest affiliates, says it was not properly consulted over the changes. In a letter for general secretary Jennie Formby it says "should the NEC not move to rescind the decision immediately, we will be left with no alternative than to bring a formal dispute against the Party". Given the NEC may dig in, that raises the intriguing prospect of a long internal disputes process. Given Jeremy Corbyn wants to draw a line under this whole issue and wants to reassure the mainstream Jewish groups he's on their side, if this latest row is down to cockup rather than conspiracy, maybe he will order a swift rethink?
HuffPost is part of Oath and on 25 May 2018 we will be introducing a new Terms of Service and Privacy Policy which will explain how your data is used and shared by Oath. Learn More.
If you're reading this on the web, sign-up HERE to get The Waugh Zone delivered to your inbox.