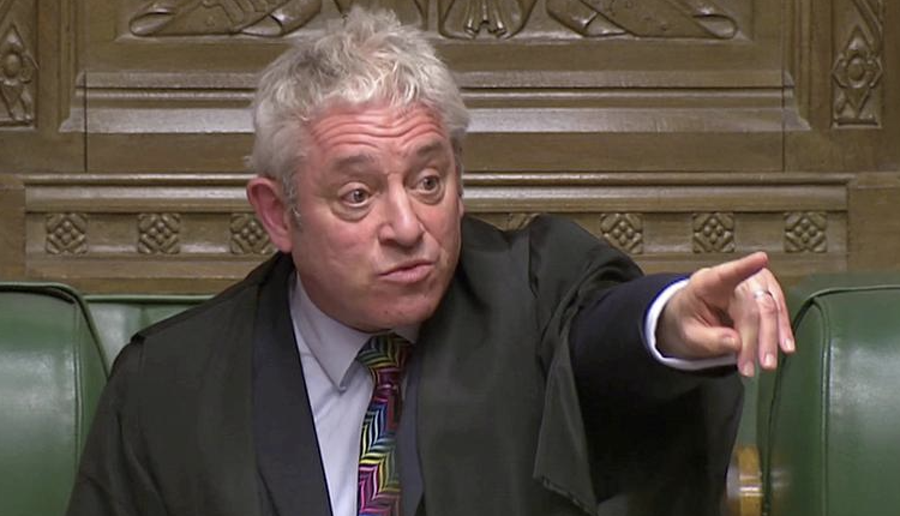 Cabinet meets today and top of the agenda is how to respond to that bombshell ruling on Brexit by John Bercow. The shock and panic caused among ministers and in No.10 by the Speaker's intervention yesterday was palpable (read my account HERE). It took a full four hours for even a blandly worded statement to emerge from the PM's spokesman, and even that was a holding line: "This is something that requires proper consideration".
This morning, Brexit secretary Steve Barclay was given the unenviable task of treading water until his colleagues and the PM finalise their next steps. Although he gave some hints of a government response (see below), Barclay had all the flexibility of a speak-your-weight machine, trotting out holding lines-to-take. The brute fact is that Bercow's ruling means May almost certainly can't put an unchanged Brexit deal before MPs this week. She, and we, will have to wait until after Thursday's EU summit.
It certainly felt yesterday like Bercow wanted his ruling to be truly historic. He's never really been a mere impartial referee in the tensions between government and Parliament, making no secret of his wish to help one side to stand up to the other. Yet on Brexit, it's increasingly clear that he wants to be a player himself, and the effect of his statement could well be that the UK heads towards a long extension of the Article 50 process and either a 'soft' Brexit or no Brexit at all. Don't forget that he broke all convention by admitting to Reading University students in February 2017: "Personally, I voted to remain." He added there had been "untruths" told during the campaign and that "promises were made that could not be kept."
Some Brexiteer Tories felt Bercow had indeed blown up their hopes of leaving the EU on March 29. James Gray told Newsnight: "It's my view that this ruling by Mr Speaker Bercow will mean that Britain will not now leave the European Union at all." Yet several of his Eurosceptic colleagues were pleased that the Speaker had stopped May from coming back with another attempt to bounce them into her deal. Some, like David Jones, felt no-deal was now more likely.
What was striking in the chamber was how swiftly veteran Brexiteers Sir Bill Cash, Peter Bone and Jacob Rees-Mogg welcomed Bercow's statement. Cynics will argue Bercow played to their vanity as self-declared guardians of the constitution. It's certainly a little-noted fact that a clutch of Tories like the Speaker because he does not treat them with the ridicule or contempt shown by David Cameron, Gordon Brown and Tony Blair. Yesterday, Bercow laid on with a trowel his admiration for Cash's 'principled and indefatigable' politics. In a classic Bercowism, he even said he'd told the Queen herself on her visit to the Commons that Cash "speaks and votes only and always as he thinks the national interest requires".
Bercow is in many ways untouchable, as his critics lack the numbers to oust him. I'm told he had planned to step aside on his 10th anniversary as Speaker on June 22, but with Brexit likely to be extended, his speakership will be too. He knows that he is a cult figure in the US (check out John Oliver's TV show), and seen by many in the EU as the last best hope of reversing Brexit. There are even Millennial T-shirts and hoodie tops with the word 'Bercow!' emblazoned on them, Batman-style. And no matter what is thrown at him by No.10 in coming days, he's likely to dig in. As ministers scrambled around yesterday to respond to his ruling, Bercow told MPs: "I am not in the business of panicking myself. I think I can safely say that I have never lost a wink of sleep over any work-related matter."
All those breathless countdown websites are telling us there are just 10 days to go to Brexit. But depending on what the Cabinet decides today and the EU agrees on Thursday, the clocks will have to be reset. So, will the PM seek a long extension from Brussels, or a short one? Or a combination of both? Will we quit the EU on June 30, December 31 or possibly sometime in 2020? Under one plan, May piles pressure onto the DUP and her own party by asking for a year-long extension (before the EU's spring budget-setting begins next year), with the proviso she can get a shorter one if the Commons passes her deal one last time next week.
Last night, junior Brexit minister Kwasi Kwarteng had no real answers as he addressed an urgent Commons question. All he would say was the PM would write to the EU, then change Exit Day by statutory instrument sometime next week. Steve Barclay this morning gave more clues, telling Today that "we will also have to have discussions with European colleagues in terms of a longer extension". He suggested that legally, though not politically, the government only needed a joint EU-UK document to pause Brexit, and Parliament could in theory be bypassed. "International agreements are reached at [European] council level but obviously the government will always listen to the will of the House," he said.
David Cameron and other Tories used to literally look down on the 5ft 6in Speaker and mock him as a 'sanctimonious dwarf'. Today, Barclay had some ideas of how the government could outflank Bercow's ruling. He said "we need to look at it in the context of other rulings the Speaker has made", a hint that ministers may try to throw back at him other areas where precedent has been torn up. Barclay also said "discussions we are having with our confidence and supply partners [ie the DUP" could materially change the PM's deal, a hint that domestic legislation for a 'Stormont lock' would meet Bercow's bar. The minister said Brexiteers were 'clutching at straws' if they felt no-deal was more likely.
EU council president Donald Tusk has been touring European capitals with his own preferred option of a long extension. But May will want to keep alive her own preference of a short, technical extension as she prepares a final heave for her deal next week. One Tory MP told me yesterday that the only real impact of Bercow's ruling was that it meant a 'meaningful vote 4' was now impossible and in fact the PM was always planning a 'make-your-mind-up-time' decision next week rather than this week.
The PM's Brexit battle is like Stalingrad, where taking territory street by street, and just fighting to get to the next day, is the only option. Soviet Russia defeated the Germans by threatening its own soldiers with labour camps or even execution if they didn't fall into line. Let's see how many Brexiteers give in to such tactics next week.
Of course, the reason Bercow has so much power right now is because we have a hung Parliament where Parliamentary procedure is at a premium and can make or break knife-edge votes. And it's of course May's own fault that she called a snap election that squandered Cameron's narrow majority.
Yet as one Tory backbencher put it to me yesterday, at least the PM foresaw that a government needs a big majority to get any Brexit implemented. She was right to try to get a bigger majority, as even Cameron's wafer thin margin of 12 votes would never have been enough either. That's why there's fresh chatter in Whitehall that a general election is the Tories' only hope of getting out of this mess. Ex-No.10 aide Nikki da Costa told Today she felt an election was now 'inevitable' as the system is 'at breaking point'.
But if May's deal fails again next week and there is no election, the next step in this whole process may well be the series of indicative votes on alternatives. Sir Oliver Letwin and his Norway-plus cross-party group of MPs is due to meet Jeremy Corbyn today for more talks. Letwin said this morning "it may take a few weeks to crystallise", but a softer Brexit was now the only real alternative. Corbyn will separately meet the leaders of the SNP, Greens, Plaid and Greens, all of whom want a second referendum.
The Labour leader is never one to normally back centrist compromise, but he still has real clout in this whole process and a softer Brexit is where his heart lies. Still, as much as he may like the fact that Bercow has opened the door to other possibilities, the Speaker himself seems not to be a fan of his own lukewarm campaigning in the 2016 EU referendum. Few spotted this at the time, but in his Reading university Q&A in 2017 (watch from this point), Bercow actually said that one reason for the Leave vote was because Labour voters felt it was a vote against Cameron. "I do think that was damaging to the Remain cause, that the Labour party wasn't striking a very clear, resonant Remain note," he said.
BECAUSE YOU'VE READ THIS FAR...
Watch this latest viral dance craze. Not as easy as looks. In fact, it reminds me of MPs trying to find agreement on Brexit.

Within 25 years England will not have enough water to meet demand, the head of the Environment Agency is warning. The impact of climate change, combined with population growth, means the country is facing an "existential threat", Sir James Bevan is expected to say in a speech. He wants to see wasting water become "as socially unacceptable as blowing smoke in the face of a baby".
An inquiry into Universal Credit has been launched which will investigate the possible link between the controversial new benefit and claimants resorting to exchanging sex for money, food or shelter. The Work and Pensions Committee is calling for evidence amid reports increasing numbers of claimants have resorted to "survival sex". Meanwhile, DWP minister Justin Tomlinson has contradicted his own boss Amber Rudd, claiming that government evidence did not show "a direct link between the increase in foodbank use and the rollout of Universal Credit".
HuffPost is part of VerizonMedia and on 25 May 2018 we will be introducing a new Terms of Service and Privacy Policy which will explain how your data is used and shared by VerizonMedia. Learn More.
If you're reading this on the web, sign-up HERE to get The Waugh Zone delivered to your inbox.