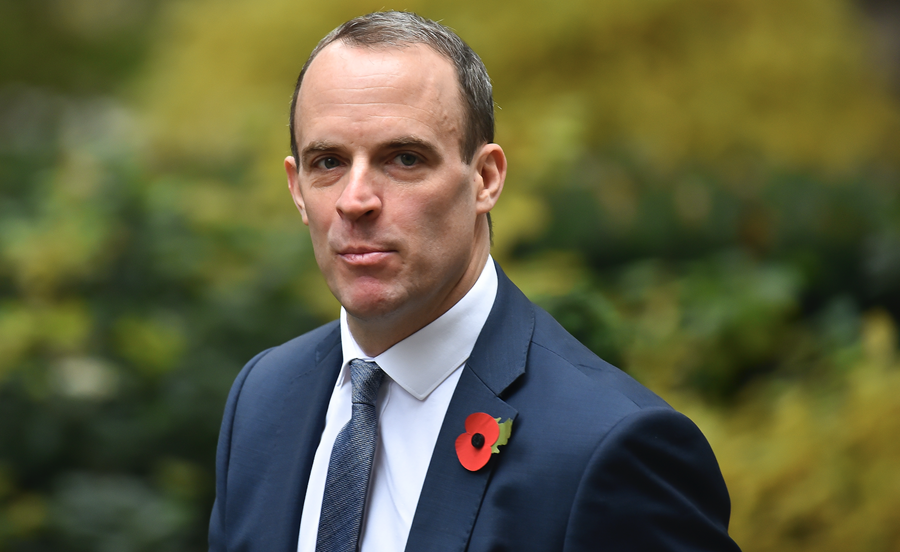 1. BEGINNING OF THE ENDGAME
"The negotiations for our departure are now in the endgame," Theresa May declared in her Lord Mayor's Banquet speech last night. 'Endgame' also happens to be the title of a play by Samuel Beckett, a classic in the 'theatre of the absurd' genre. Set after some unspecified apocalyptic disaster, its characters are trapped together in a single room, talking in a loop about beginnings and endings. Yes, the parallels with the Cabinet's divisions over Brexit are kinda obvious.
Theresa May's de facto deputy David Lidington told the Today programme this morning that British and EU negotiators had 'worked well into the night' again, and he expressed some optimism that a deal was achievable this week. "They are not quite there…[but] we are almost within touching distance now," Lidington said. A breakthrough in the next 48 hours was "still possible, but not at all definite", he added. Beckett would have been proud. Significantly, Lidington hinted at wriggle room on the Wednesdaynight deadline that many have imposed on any deal in order for a special EU summit to take place this month: "I'm not going to ascribe days to particular actions…" There is indeed Whitehall chatter that there could be a special Thursday morning Cabinet meeting to sign off a very complicated Withdrawal Agreement.
As we reported on Friday, for many Brexiteers the remaining sticking point is Brussels' insistence that the European Court of Justice has to have some role ultimately in overseeing the UK's plan for a temporary customs and regulatory partnership with the EU. It's true that, as the FT reports, May's allies think she could tough out the resignation of ministers like Esther McVey or Andrea Leadsom. But the PM would be in deep, deep trouble if Dominic Raab quit, a move that would possibly spark a mass walkout, over the issue of 'trapping' the UK in any future EU links 'against its will'. Lidington spoke for the quiet majority in Cabinet when he said today "nobody is going to get exactly what they want on everything". Yet I know that Raab is determined to urge May to opt for no-deal if Brussels doesn't compromise further.
The main action this afternoon could be Labour's Opposition day motion that seeks to force full publication of the legal advice on May's Brexit plans. In further proof of the power of the backbench Brexiteers' European Research Group, a more likely outcome is the passing of its own amendment (as revealed by Nick Watt on Newsnight) to compel the Government to set out an "outline" of advice instead. The issue is of course secondary to the big compromise calls that the Cabinet has to make on Brexit itself in coming days. The PM is acutely aware of the danger of a long-term split in Tory ranks if she tries to ram through a deal. And once more, Beckett's 'Endgame' could prove rather apt. Written by an Irishman, its original title was delivered in French: Fin de Partie.
Just over a week ago, some in Government were confident they had used clever Parliamentary trickery to see off a potential Tory rebellion on fixed-odds betting terminals. But they failed to take into account just how smart backbench MPs can be in navigating their way around procedure. As a result, this morning Theresa May is facing the threat of becoming the first PM since James Callaghan to lose a Budget vote. And as ever, the threat looks like yet another Brexit battle by proxy as the rebels show just how they can marshal the numbers to wipe out May's fragile Commons majority.
As I reported last night, all of the DUP's 10 MPs have signed a cross-party amendment to the Finance Bill that effectively seeks to force the Treasury into bringing forward the crackdown on FOBTs. By bringing forward the date of a hike in online gaming duty, money that Philip Hammond says he needs to replenish money lost from the betting shop machines, the backbench MPs are really forcing the Chancellor's hand. The vote on the amendments take place next Tuesday, but without the DUP the Government looks screwed. This in turn raises the real threat that the Northern Ireland unionists are breaking their 'confidence and supply' deal with May, whereby they are meant to back her Budgets and other key legislation on things like, er, Brexit.
The scale of the Tory rebellion is similarly worrying for No.10 as much as the Treasury. More than 25 Conservatives, including leading Brexiteers like David Davis, Jacob Rees-Mogg and Steve Baker, last night signed the new clause tabled by Labour's Carolyn Harris, Tory Iain Duncan Smith and the SNP's Ronnie Cowan. Tracey Crouch, the minister who quit over the six month delay to the FOBT crackdown, is of course among the rebels.
If the Treasury is forced into agreeing Crouch's original timetable, the Government will look even more incompetent than ever. It will have lost a valuable minister, prompted a split with MPs it needs on board for Brexit, and tarnished its own radical decision to actually wipe out the 'crack cocaine' gambling machines that ruin so many lives. No wonder Jeremy Wright yesterday pulled out of a meeting of the all-party Parliamentary group on horse racing (strongly backed by the betting industry) yesterday, citing a 'diary clash'.
While some MPs moan and mutter about the idea of investigating 'historical' allegations of sexual harassment and bullying, the House of Lords yesterday showed that strong action can indeed be taken more than a decade after the events concerned. Lib Dem peer Lord Lester was suspended from the Lords for almost four years after a committee found he tried to pressure a woman into having sex with him by promising to make her a baroness. If the Lords upholds the punishment, it would be the longest suspension handed to any Parliamentarian since the Second World War. Now that really would be historic.
This morning, the woman who made the allegations against Lester has waived her anonymity to urge other Parliamentary victims of sexual misconduct to come forward. Jasvinder Sanghera's account in the Times (a must-read piece) is all too typical of the power relations in such cases, as she explains the only reason she encountered Lester was because he was backing her campaign against forced marriage and had planned a private members' bill. On one car journey to his house, Sanghera says he repeatedly groped her thigh. During a stay at his home, he approached her from behind and "put his arms around my waist" and further up her body. "I forced myself away and he chased me around the kitchen until I asked him to stop."
Lester rejects her claims, claims that the investigation was seriously flawed and denied him the basic principles of fairness. Note that a Lords sub-committee actually recommended his expulsion but on appeal this was reduced to suspension, on which peers will vote on Thursday. The Lords code of conduct requires that peers "should always act on their personal honour", but this is the first time that edict has been used to take action on sexual misconduct. The Guardian today reports its own Freedom of Information requests have revealed that more than 551 Whitehall staff have complained about sexual harassment or bullying at the hands of colleagues – but only a fraction of staff have faced disciplinary action.
BECAUSE YOU'VE READ THIS FAR...
The public have raised AUS$100,000 for homeless Michael Rogers after he used a shopping trolley to help police protect the public from a knife-wielding attacker in Melbourne.
Home Office minister Nick Hurd told the Commons yesterday there were "no plans" to "go back to random stop and search", but did reveal the government would look at ways to reduce bureaucracy around it. As Stephen Bush has argued eloquently, there is an evidential problem for those claiming the rise in knife crime is linked to May's own reforms: the current spike in offences has taken place three years after her changes. Today, we splash our front page with the testimony of stabbing victims. From music to youth cuts to austerity, they have their own ideas about why the streets have become more dangerous for young men.
The controversy over Sir Roger Scruton's appointment as a Government adviser (on the 'beauty' of Britain's buildings) finally reached the Commons yesterday, thanks to an urgent question by Labour's Andrew Gwynne. HuffPost reported that the academic had once called the racist National Front an 'egalitarian' movement, and David Lammy pointed out it wasn't very egalitarian for black communities it wanted to 'repatriate'. What was most striking was the way Communities Secretary James Brokenshire staunchly defended Scruton, arguing he was "uniquely qualified" for the post despite his "strong and controversial views". Brokenshire conceded that Scruton had accepted "he got it wrong" on homophobia in 2010, but added that "leading intellectuals are entitled to explore ideas and change their minds where necessary".
HuffPost is part of Oath and on 25 May 2018 we will be introducing a new Terms of Service and Privacy Policy which will explain how your data is used and shared by Oath. Learn More.
If you're reading this on the web, sign-up HERE to get The Waugh Zone delivered to your inbox.