Theresa May has said being transgender is "not an illness" as she promised to "demedicalise" the process of changing gender.
Speaking at the Pink News awards in Westminster on Wednesday evening, the prime minister said her government was also "determined to eradicate homophobic and transphobic bullying".
In her speech, May said: "I am proud to be a member of one of the most diverse Parliaments in the world and of the long way we have come as a country on LGBT+ issues – from the Sexual Offences Act fifty years ago to the Same Sex Marriage Act, which I was proud to sponsor as Home Secretary."
The prime minister said she planned to reform the Gender Recognition Act in a way that would involve "streamlining and demedicalising the process for changing gender".
She added: "Because being trans is not an illness and shouldn't be treated as such".
May also promised the UK would challenge foreign governments who discriminated against LGBT people and "allow or inflict discrimination or abuse".
"The anti-LGBT laws which remain in some Commonwealth countries are a legacy of Britain's colonial past so the UK government has special responsibility to help change hearts and minds," she said.
"Trans people still face indignities and prejudice – when they deserve understanding and respect.
"And when we look around the world, we see countries where the human rights of LGBT people are denied and terrible suffering is the result," May added.
Collecting her award for Politician Of The Year alongside co-winner and Scottish National Party MP Hannah Bardell, Ms Greening thanked attendees and recalled how she had announced her sexuality on Twitter in the wake of the Brexit vote last June.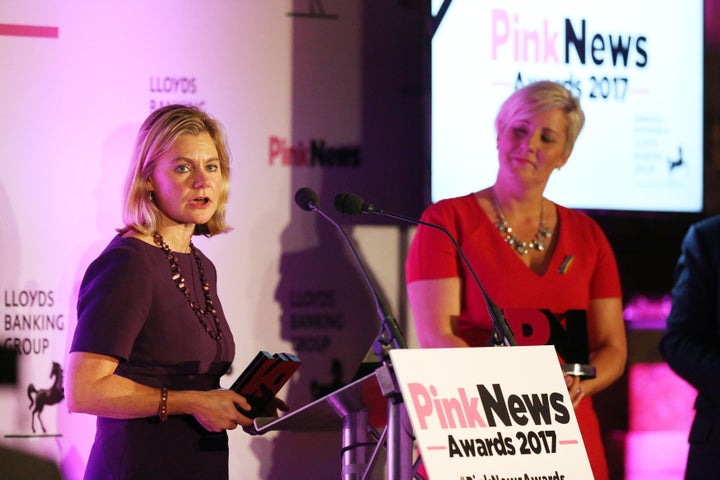 She said: "When I sent that tweet last year I did it because I realised that I needed to be part of the solution and part of helping things move on.
"But I got a huge amount of support from so many people in this room and outside and it really inspired me and encouraged me to do what I can in my own powers, not only as a minister for equalities but as Secretary for Education – which is the best job in Government."
She added: "The best thing is, there are now so many politicians in our Parliament which are part of this cause and part of changing things for the better.
"And that, in the end, is what is going to move things on."
The event was also attended by Jeremy Corbyn, former Labour leader Ed Miliband, London mayor Sadiq Khan and Commons Speaker John Bercow.