Theresa May has told European Council president Donald Tusk that he caused "widespread dismay" when he said some Brexiteers had a "special place in hell".
Tusk yesterday said on Twitter that he had been "wondering what that special place in hell looks like, for those who promoted Brexit without even a sketch of a plan how to carry it out safely".
Speaking after a series of meetings in Brussels on Thursday, May condemned the language, "which was not helpful and caused widespread dismay in the United Kingdom", she said.
The prime minister was holding talks in an attempt to persuade EU leaders to reopen the Brexit divorce deal first agreed in December, after it was roundly rejected by MPs.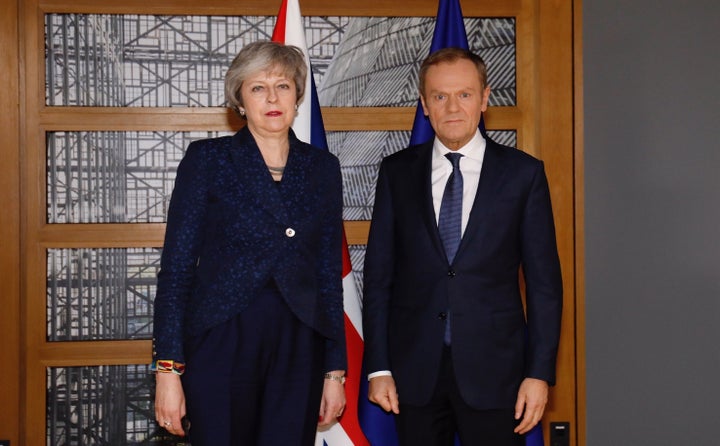 May was hoping to persuade the EU to allow her to introduce some "alternative arrangements" to the Northern Ireland backstop, the fallback position that would see the UK remain closely tied to EU rules if a full trade deal can not be agreed, and prevent a hard border in Ireland.
But during her talks with EU leaders, May was told the deal signed in December could not be changed.
May will next meet European Commission president Jean-Claude Juncker again before the end of February "to take stock" of ongoing talks.
Brexit Secretary Stephen Barclay and EU chief negotiator Michel Barnier will meet next Monday.
She said on Thursday afternoon that on Brexit, the UK "must have legally binding changes to the Withdrawal Agreement in order to deal with Parliament's concerns over the backstop".
"I am clear that I am going to deliver Brexit. I am going to deliver it on time," she said.
The UK is set to leave the EU in 50 days, on March 29.
Jeremy Corbyn has told May he will support her deal if she meets a list of five demands.
The Labour leader has angered some pro-EU Labour MPs who want a second referendum to give voters the chance to vote for continued membership.