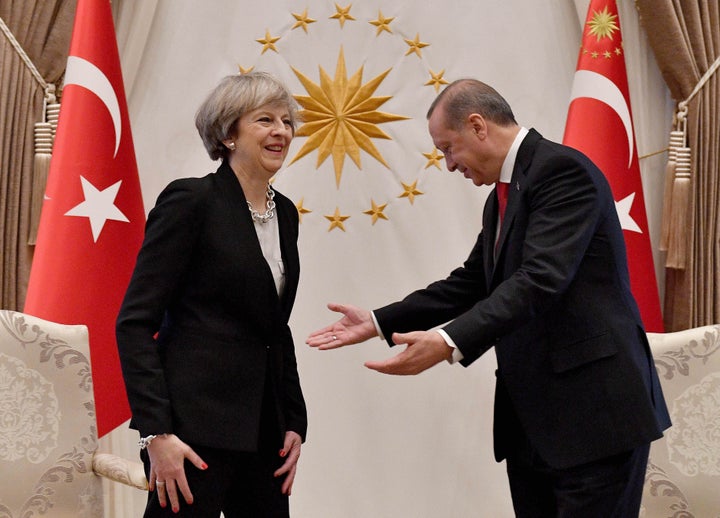 Theresa May has signed a new £100m defence deal with Turkey - just minutes after raising Turkey's human rights record directly with the country's president.
On a trip to Ankara, the Prime Minister told President Recep Tayyip Erdogan that she wanted him to comply with his international obligations in the wake of the failed coup against his government.
The first Western leader to visit Turkey since the bloody events of last year, May prompted a stony-faced look from Erdogan as she raised the issue at a joint press conference.
May said: "I'm proud that the UK stood with you on the 15 July last year in defence of democracy and now it is important that Turkey sustains that democracy by maintaining the rule of law and upholding its international human rights obligations as the government has undertaken to do."
But within an hour, she also announced that BAE Systems and TAI (Turkish Aerospace Industries) would develop a new Turkish fighter jet, with the potential to unlock billions of pounds of future contracts for a post-Brexit Britain.
Progress on the deal had been suspended in the wake of the country's failed coup attempt last year, but May and her counterpart Binali Yildirim declared that the TF-X Fighter programme would now go ahead.
Amnesty International had urged the PM to raise human rights abuses that followed the bloody crackdown by Erdogan, with tens of thousands detained without trial amid allegations of torture.
May moved to find areas of common interest with the Turkish President and his government, unveiling fresh moves to boost defence, trade and counter-terrorism links with the UK.
The fighter jet deal, which will involve BAE designing and helping to build the new generation of home-grown aircraft, is expected to pave the way for an order of 250 planes over 20 years.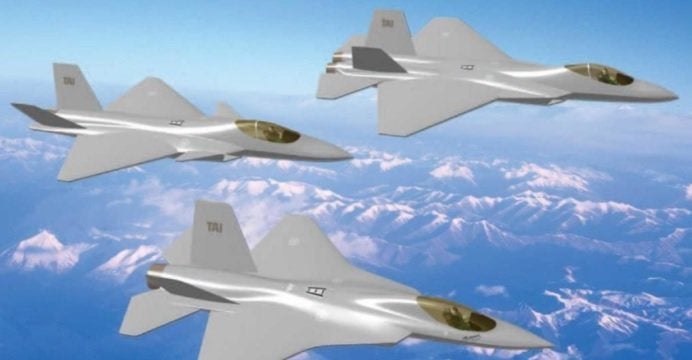 BAE had been competing with the Europe-wide Airbus group for the contract and Downing Street viewed the deal as a huge opportunity to boost defence and aviation jobs in the UK.
The deal also reduces Turkey's dependence on American-made F15 jets as well as German defence hardware.
May said: "This agreement underlines once again that Britain is a great, global, trading nation and that we are open for business."
BAE Systems Chief Executive, Ian King, said it "signals an exciting next step" that could effectively make the UK Turkey's partner of choice on all defence projects. The wider programme could see the UK win contracts to provide engines, weapons, radars and sensors.
Earlier, then asked about human rights claims against the Erdogan government, the Prime Minister's spokeswoman said: "Those are separate issues. Turkey is an important Nato partner, so our cooperation on both security and defence is in line with that.
"She thinks it is in the UK's national interest to engage with Turkey. We expressed support for Turkey's democracy and institutions following the coup. We have been quite clear that we urge Turkey's response to be proportionate and in line with Turkey's human rights obligations."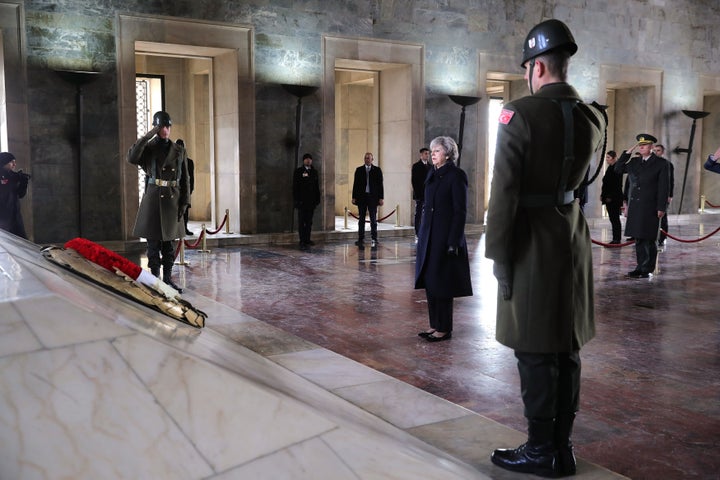 Amnesty International UK Director Kate Allen said: "This visit is a vital opportunity for Theresa May to ask some probing questions.
"Human rights abuses during the attempted coup absolutely must be investigated and their perpetrators brought to justice, but this can't be done at the expense of fundamental rights.
"We've gathered disturbing evidence of widespread torture in the immediate aftermath of the would-be coup, and the rights of detainees have also been severely curtailed in a series of executive decrees.
"More than 40,000 people have been remanded in pre-trial detention since the coup attempt, and more than 90,000 civil servants have been summarily suspended or dismissed from their jobs."
More than 100 journalists and media workers have been imprisoned in punitive lengthy pre-trial detention, and hundreds of media outlets have been shut down as part of a crackdown on freedom of expression.