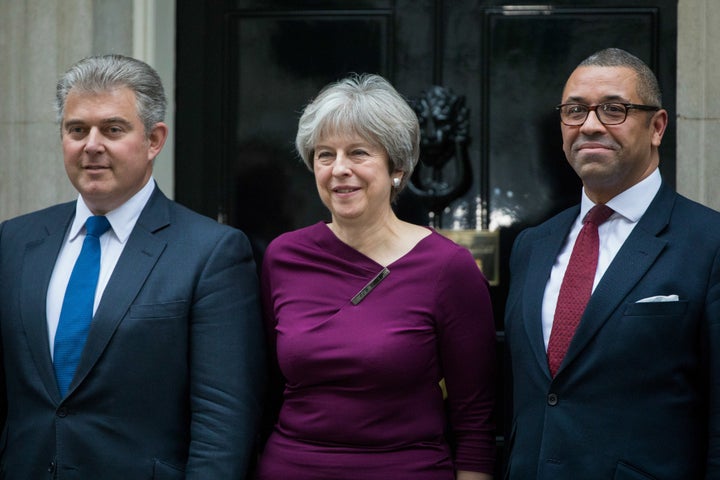 K E Y P O I N T S

Reshuffle has chaotic start as Conservative Party accidentally announces Chris Grayling as new chairman on Twitter instead of Brandon Lewis.
Justine Greening resigns as education secretary after reportedly turning down move to DWP.
Esther McVey appointed work and pensions secretary instead.
Jeremy Hunt keeps job as health secretary but takes on extra responsibility for social care.
Chancellor Philip Hammond, Home Secretary Amber Rudd, Foreign Secretary Boris Johnson and Brexit Secretary David Davis and Defence Secretary Gavin Williamson remain in post.
David Lidington handed Damian Green's old job of Cabinet Office minister - but does not inherit first secretary of state title.
Greening replaced as education secretary by Damian Hinds
James Brokenshire resigns as Northern Ireland secretary due to ill health and is replaced by Karen Bradley.
Sajid Javid remains communities secretary in a renamed Ministry of Housing, Communities and Local Government.
David Gauke appointed justice secretary. Matt Hancock promoted to culture secretary.
Liam Fox remains international trade secretary. Chris Grayling stays as transport secretary.
Penny Mordaunt reappointed as international development secretary. Michael Gove remains environment secretary.
Abortion rights campaigners protest appointment of Maria Caulfield in shake-up of CCHQ.
Jeremy Corbyn attacks reshuffle as a 'pointless PR exercise'
S N A P V E R D I C T

From HuffPost UK executive editor, politics, Paul Waugh
One week into 2018 and Theresa May had clearly been reading all those 'New Year! New You!' magazine features. She wanted to freshen up the image of her Government, promoting talented women and minority ethnic MPs, while rewarding quiet competence.

But so far this isn't a reshuffle, it's a re-brand. And a badly botched one at that. Competence seemed far away when the Conservatives themselves wrongly tweeted Chris Grayling had got the party chairman post, for all of 27 seconds. And as for diversity, some of the party vice-chair appointments smacked of tokenism, given none are paid or ministerial posts.

The first big jobs went to men, not women. Apart from James Cleverly, the men were all white. And Justine Greening's resignation left the impression that the only person who had been fired was a woman.

The promotion of media-savvy Brandon Lewis to Tory chairman, and David Lidington's move to replace Damian Green, were shrewd placements of round pegs in round holes. Yet shifting David Gauke from DWP felt like an error that undermined the idea that political effectiveness should be rewarded. The re-badging of the 'Ministry for Housing' and 'Department for Health and Social Care' also risked the charge this is all about spin not substance.

Jeremy Hunt's refusal to budge from Health proves yet again that May lacks even a PM's usual powers of patronage, adding his 'unsackability' to that of Boris Johnson and Philip Hammond. Changing the Tories' reputation on the NHS is probably a bigger challenge than getting Brexit right. And it's far from clear that Hunt will persuade his critics as effectively as he defied the PM today.
T O O M A N Y T W E E T S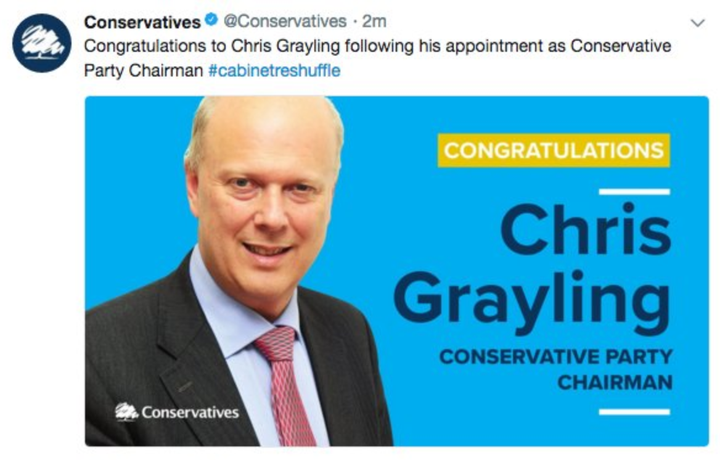 B U R I E D B Y R E S H U F F L E

While everyone's eyes were glued to Cabinet ministers walking into No.10 to, mostly, accept the same job they already had, parliament returned from the Christmas recess.
And the row over Toby Young's appointment to the new universities regulator shows no sign of going away. Tory MP Robert Halfon, the influential chair of the Education Select Committee, said Young had "dark and very dangerous" views on disabilities and working class people.
W H A T N E X T

Theresa May will tomorrow move to reshape the more junior ministerial ranks. It has been reported she will promote more women, ethnic minority and new Tory MPs in an attempt to refresh her government.