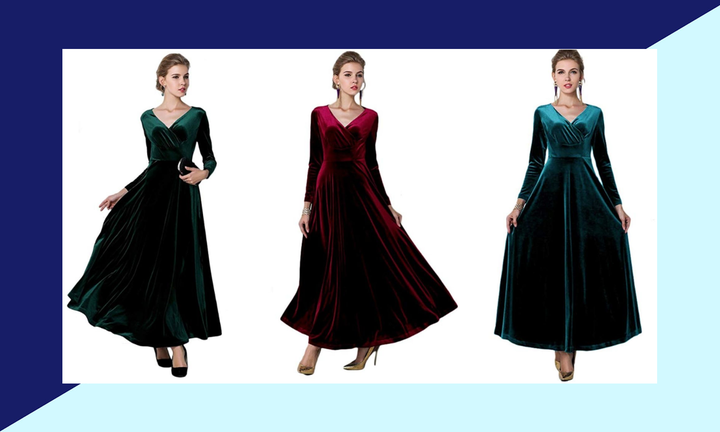 From your boss to your brother, it probably seems like everyone is planning to host a festive party this year. If your inbox is drowning in invitations for get-togethers from Friendsgiving to New Year's Eve, it's time to think about what you'll wear for all those soirees.
Your closet might not be ready for all that revelry, especially after you've already stocked up on and rocked your red ankle boots, satin midi skirts and brightly-coloured suit sets you splurged on for fall.
But with Christmas around the corner, you don't want to keep throwing your wallet down for party outfits. Luckily, we found a velvet dress that'll get you through the season looking ever so elegant.
From £27, this long-sleeved, v-necked velvet midi dress will do wonders to your wardrobe. It's among Amazon customers' favourites — with more than 1,000 reviews, a 4.3-star rating and featured on the site's most-loved fashion. The dress comes in six different colours, including some shades that look like party-ready jewel tones.
Plus, it has a wrap v-neck, high waist and swingy skirt so you can be comfortable all night long while you're sipping on spiked eggnog or carolling around the fireplace.
But it's not just a dress that's only for the festive season. It can transition well into the new year, when winter weddings are still going strong. You'll still love the long sleeves when you're listening to vows while it's snowing.
We all work hard to earn our money – so it shouldn't feel like hard work to spend it well. At HuffPost Finds we'll help you find the best stuff that deserves your cash, from the ultimate lipstick to a durable iron to replace the one that broke (RIP). All our choices are completely independent but we may earn a small commission if you click a link and make a purchase.