Cooking With Kids is a weekly recipe series on getting creative in the kitchen with the family.
With Great British Bake Off firmly back on our screens, we could all probably use a sweet treat pick-me-up right now – what better time to get baking with the family? Plus, nothing says self-care like a giant slab of chocolate cake, right?
Priya Nicholas, communications manager of National Association of British and Irish Millers, who founded FAB Flour, has shared how to make a two-layered chocolate sponge cake covered and filled with silky smooth chocolate ganache. Using only five pieces of kitchen equipment and nine ingredients, it's the ideal cake for bakers of all levels.
"This recipe emphasises the principles of resilience," says Nicholas. "In the beginning the cake mixture doesn't look too promising, but you have to have faith and keep going and you'll produce a light fluffy cake at the end!"
The best thing? The whole mixing process is just one step where you don't even need a mixer and hardly any washing up, which is the dream! "This cake is so quick and easy to make that by the decorating time rolls around, the whole process will be a delight for kids."
Chocolate Fudge Cake
Serves: 8 | Prep time: 25 mins | Cook time: 20-25 mins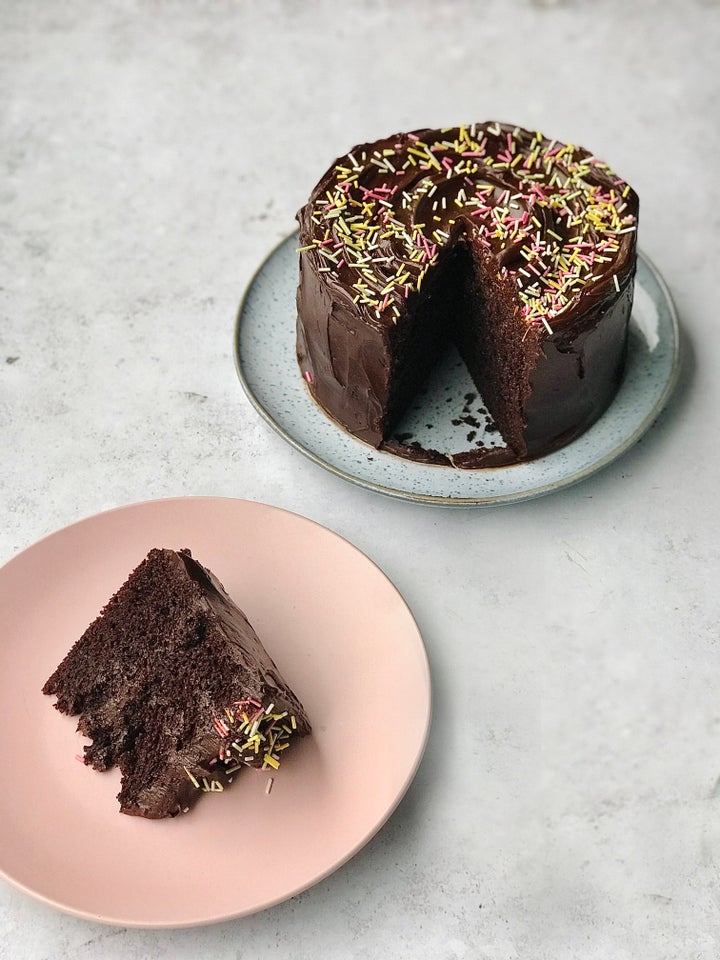 Ingredients:
1 tsp bicarbonate of soda
150g soft light brown sugar
300g dark or milk chocolate
Method:
1. Preheat the oven to 160°C/150°C fan/gas mark 3.
2. In the mixing bowl, combine the flour, bicarbonate, sugar and cocoa powder.
3. Add in the eggs, oil and milk and whisk everything together until no lumps remain.
4. Divide the batter into the two cake tins and bake for 20-25 minutes until springy in the centre. Allow to cool completely before icing.
5. Whilst the sponges are cooling, melt the chosen chocolate for the icing in the microwave (in 30 second increments and stirring to prevent burning). Once it is melted completely, pour in the cold double cream and combine until glossy and smooth.
6.Sandwich the two sponges with the icing before covering the top and sides. Decorate as you wish.