The brutal reality of living with domestic violence has been laid bare with this shocking image.
Tweeted by Inspector Jack Rowlands of the Met Police, it shows a wooden staircase, lined on both sides with at least 21 sharp knives, each plunged hard into the wood.
A bullet or replica lies on one step, as do several pink and orange cards featuring indecipherable writing, at the property in Isleworth.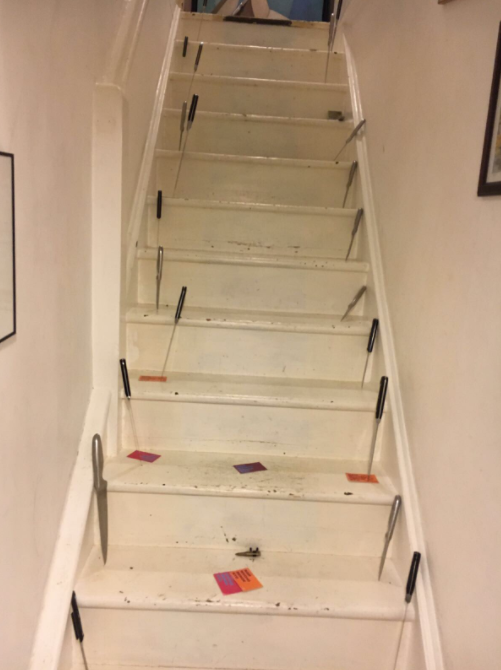 The effect is intimidating and almost cinematically horrifying, but for one woman it was her everyday life.
Inspector Rowlands explained: "A few weeks back a colleague of mine went to a domestic assault and found this when he entered. Male arrested and charged. Life saved."
Responding to the dismay expressed by many, Insp Rowlands added: "Lots of comments and shock about this picture. An image that raises the awareness of domestic violence and how much more is needed to be done."
A Met Police spokesman confirmed a 42-year-old man was arrested and charged with common assault. He will appear before magistrates on Tuesday.
According to Women's Aid, on average two women are killed by their partner or ex-partner every week in England and Wales. Police receive an emergency call relating to domestic abuse around every 30 seconds.
'If people ask "Why doesn't she just leave?" – show them this picture.'
Polly Neate, Chief Executive of Women's Aid told Huffington Post UK: "What this chilling picture shows is the real threat to life that domestic abuse is. The knives represent that threat. They say, very clearly, 'If you try to leave, I will hurt you.'
"This is why many women are unable to leave – for fear for their life or their children's lives. The Femicide Census proved that women are at significant risk at the point of separation from an abusive partner. 76% of women killed by their ex-partner or ex-spouse between 2009 and 2015 were killed within the first year that followed their separation. This picture is a snapshot of the horrific reality of domestic abuse. We hope it raises awareness of the barriers facing survivors who want to flee. If people ask 'Why doesn't she just leave?' – show them this picture."
Refuge - domestic violence help for women and children - 0808 2000 247

Women's Aid - support for abused women and children – or call the National Domestic Violence Helpline, run by Women's Aid and Refuge, on 0808 2000 247

Men's Advice Line - for advice and support for men experiencing domestic violence and abuse - 0808 801 0327