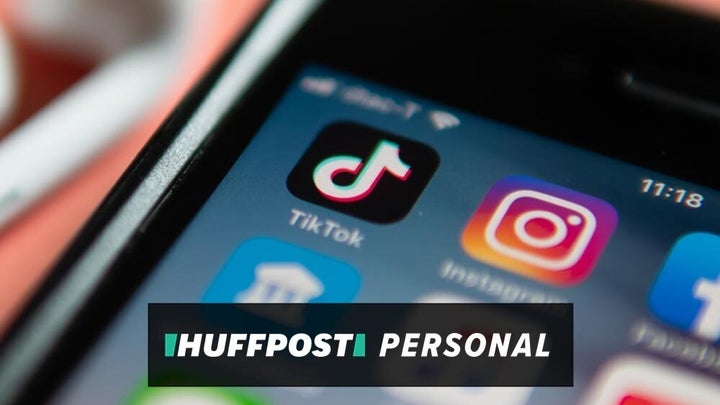 I've never made it a secret that I live with general anxiety.
Strangely, it started at a life stage where my happiness levels soared – I was 19 and travelling the world and, to this day, it's stayed close to me, become part of my identity and been in constant battle with my healthy emotional wellbeing. Panic attacks, stress migraines, dizziness, rapid breathing and irrational thoughts are typical daily symptoms for me and can be triggered by claustrophobia, feeling out of control and even the weather.
I've tried everything from hypnotherapy, Emotional Freedom Technique and cognitive behavioural therapy (CBT) to homeopathy, reiki, meditation, breathing therapy and calming medication (big up Rescue Remedy), but nothing has made that life-changing switch for me.
When the covid-19 pandemic started, I felt even more disconnected from the world than ever. Overwhelmed and upset after every news update and Twitter feed scroll, I was unable to concentrate as the world around me became bleak and blurry. My anxiety had reached a new phase – one that seemed more real, rational and frightening than I'd ever experienced before.
Then when lockdown was announced, I decided to sign up to TikTok on a whim. I knew quite a lot about the platform from a previous work project, but was keen to see if it resonated with me as a user.
"My anxiety had reached a new phase – one that seemed more real, rational and frightening than I'd ever experienced before"
After downloading the app, I was instantly hooked by the weird but buzzy content. The platform, which is blowing up amongst Generation Z (and let's be honest, anyone else who's on social media right now), has 800million monthly users and enables anyone to be a creator. Celebs such as Jessica Alba, Rochelle Humes and Jason Derulo have jumped on the bandwagon too, churning out quarantine content day after day.
TikTok immediately took on a bigger meaning to me as I sat on the sofa, eyes glued to the screen – I saw past the madness of 'smeezing' (have you tried it yet?), kids dancing in supermarket aisles and at-home pranks and found comfort in the uplifting, energising content. This platform for positivity made me laugh and became my go-to app to switch off from all things coronavirus, which was especially effective on days that felt apocalyptic and disorientating. Injecting me with a boost of energy and appreciation, it was just what I craved.
I started following inspirational TikTok psychologists such as Dr Julie Smith and Dr Janine Kreft and searching for videos via hashtags like #anxiety, #mentalhealth and #feelgood. There was so much undiscovered content for people like me here, whether you were looking for a daily mantra or needed support during this tough time. Suddenly, instead of suffering from intense claustrophobia at home and feeling out of sorts on my daily walk, I relied on TikTok to release my nervous energy.
The platform has been key to helping me open up during this time. TikTok encourages users to share their mental health journey, spark conversations and feel part of a wider community. Of course, it's easy to feel like you're the only one feeling up and down, having good and bad days and suffering from intense mood swings (especially when you've suffered with pre-pandemic anxiety), but by hearing other people open up on TikTok, it's inspired me to follow suit, improving my emotional wellness little by little. To my surprise, when I've chatted to my friends about how I'm feeling, they've usually felt exactly the same.
"I may have discovered TikTok therapy accidentally, but I'm certain it's helped me get through these uncertain times"
And let's face it, during lockdown my self-care routine has gone out of the window (cue frizzy hair and no make-up days), so the last thing I want to see is an airbrushed Instagram photo, to be honest. It's easy to compare yourself to everyone around you when you have anxiety, so I've found comfort in TikTok as an unpolished platform that promotes raw, authentic content at a time where filtering is just not welcome on my social media feed.
Finally, I've found the repetition of TikTok videos incredibly soothing and therapeutic. Each video ranges from 15 to 60 seconds and plays on a loop, until you scroll down to discover the next. This surge of calmness has been beneficial when I'm feeling my anxiety creep up on me as it helps me focus and resume a rational mindset. Strangely, this coping technique has been quite a saviour.
I may have discovered TikTok therapy accidentally, but I'm certain it's helped me get through these uncertain times. Yes it's completely unconventional, but in a world where negativity, online trolling and mental health is so prominent right now, maybe TikTok is the escape society needs in Covid-19 lockdown.
And the side effects of my new-found therapy? So far, I can only report on the rapid loss in battery life and extra cost of buying more monthly data.
Lauren Carbran is a freelance journalist. Follow her on Twitter at @LaurenCarbran