It's 'Time to Talk Day' – and for those questioning why we need a day encouraging conversation IRL (in real life), the answer is clear: more than half of Brits say social media updates mean they don't talk to friends in person.
The average Brit has 770 friends on social media, yet nearly a fifth (18%) wouldn't feel able to call upon any of those friends if they were struggling with their mental health, a survey of 5,000 UK adults found.
Almost three quarters (70%) said group chats and social media lead to more "surface level" chats – such as sending funny videos, banter and gossip – rather than deeper and meaningful conversations about wellbeing.
While social media has been vilified plenty in recent times, mental health anti-stigma campaign Time to Change, run by charities Mind and Rethink Mental Illness, says it's a matter of changing our habits rather than ditching it altogether.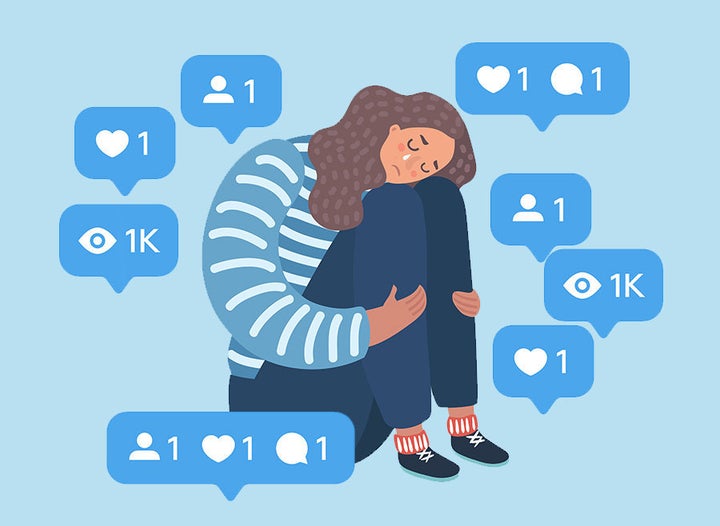 Marium Zulfiqar, 22, has bipolar disorder and said lots of people reached out to her on social media when she was at her lowest. Although she appreciated it, the friends who called her or asked to meet up IRL were the ones who "made the world of difference".
"Social media can be an amazing, connective place but a 'like', or even hundreds of 'likes', can't replace conversation," she said. "To know that [my friends] were there for me 'offline' was so comforting and healing. To have a shoulder to cry on is one of the best gifts I've received from my friends."
Christine Fortune, a psychotherapist from the Counselling Directory, told HuffPost UK we live in a fast-paced society where social media gives us instant access to hundreds of friends, but increasingly many people lack day-to-day physical human contact with real people. This can result in feelings of isolation and loneliness, she said – "a perfect environment to generate depression, anxiety and stress".
People are being urged to use Time to Talk Day to have a meaningful conversation about their mental health, whether that's face-to-face, over the phone, or on social media – because social media isn't always the enemy, but finding a balance between using it and face-to-face interaction is key.
One person who found social media to be beneficial for mental health was Clive Buckenham, 50, who decided to share his experiences of depression with his family and friends online.
"I wasn't sure they'd understand why I shared something so personal as social media can be a very superficial place – full of memes," he explained. "However, doing so connected me with an amazing community of people I'd never met who became great friends and a great support."
Nearly 4,000 workplaces and thousands of schools and community groups will take part in Time to Talk Day. Celebrity supporters include Frankie Bridge, Dame Kelly Holmes, Dr Ranj Singh and Matt Johnson.
Useful websites and helplines:

Mind, open Monday to Friday, 9am-6pm on 0300 123 3393

Samaritans offers a listening service which is open 24 hours a day, on 116 123 (UK and ROI - this number is FREE to call and will not appear on your phone bill.)

The Mix is a free support service for people under 25. Call 0808 808 4994 or email: help@themix.org.uk

Rethink Mental Illness offers practical help through its advice line which can be reached on 0300 5000 927 (open Monday to Friday 10am-4pm). More info can be found on www.rethink.org.