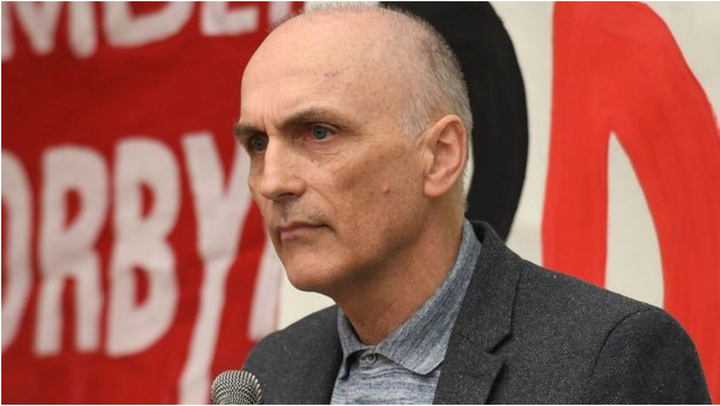 A group of 90 Labour MPs and peers – including the party's deputy leader Tom Watson – have signed a letter demanding Jeremy Corbyn remove the whip from Chris Williamson.
Williamson – the MP for Derby North – was suspended from the party in February after a video emerged of him saying Labour had been "too apologetic" over anti-Semitism and had "given too much ground" to accusations of racism.
"We cannot overstate the depth and breadth of hurt and anger felt about the readmission of Chris Williamson into the Labour Party," the statement published on Thursday read.
Labour's disciplinary process "remains mired by the appearance of political interference", it continued, with Labour MPs calling for a "truly independent process".
"We call on Jeremy Corbyn to show leadership by asking for this inappropriate, offensive and reputationally damaging decision to be overturned and reviewed.
"Ultimately, it is for Jeremy Corbyn to decide whether Chris Williamson retains the Labour whip. He must remove it immediately if we are to stand any hope of persuading anyone that the Labour Party is taking anti-Semitism seriously."
The statement has been signed by the likes veteran Jewish MP Margaret Hodge, influential backbencher Stella Creasy and Jess Phillips.
The names of Lord Dubs, Yvette Cooper and Bed Bradshaw also appeared on the list.
Speaking at an event in Hartlepool earlier in the day, Corbyn said he hadn't been involved in the decision to lift Williamson's suspension "at all".
"It was an independent panel set up through the National Executive, they examined the case and they've decided to let him back in, albeit with a reprimand," the Labour leader said.
"They went through the case, they interviewed him and they went through the case in great detail. The three of them on the panel made that decision."
Williamson was suspended in February after saying the party had been "too apologetic" about anti-Semitism.
Asked whether Labour's anti-Semitism procedure was fir for purpose, he added: "We deal with anti-Semitism very very seriously, there is no place for anti-Semitism in our society and obviously not in our party as well.
"Anyone that makes anti-Semitic remarks can expect to be at the very least reprimanded and, if they are very serious and they engage in anti-Semitic activity, then they are expelled from the party."
It comes after the Jewish Labour Movement slammed the decision to readmit Williamson on Wednesday.
Mike Katz, the national chair of the Jewish Labour Movement, said: "How dare the Labour Party deny it is institutionally racist against Jews when it decides to take no action against Chris Williamson?
"It seems the decision to let him off is because he represents a marginal seat and there might be a snap election. It's good to know that a Party of anti-racists, led by an avowed anti-racist decides its OK to ignore anti-Jewish racism if there's a vote to be won.
"This decision stinks and shows the moral turpitude the Party finds itself in."