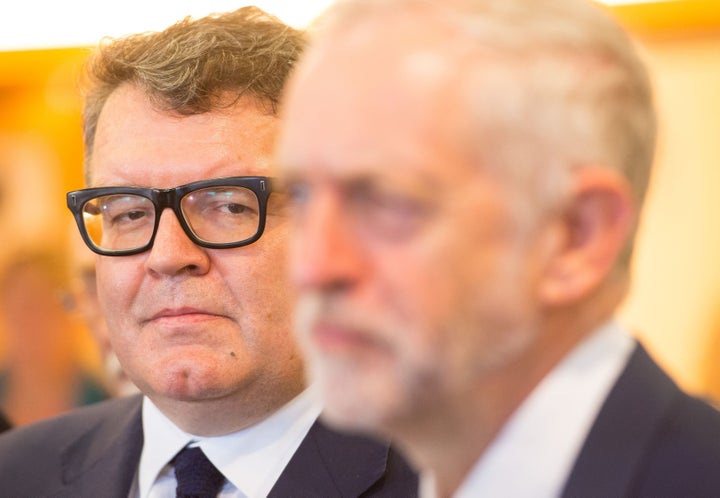 Tom Watson has warned Labour Party members Jeremy Corbyn will struggle to effectively oppose Theresa May's new government if they re-elect him as leader.
Corbyn is facing a leadership challenge from former shadow cabinet ministers Angela Eagle and Owen Smith.
Watson, the party's deputy leader, told BBC Radio 4's World at One programme today he "can not be certain we will be able to form a frontbench again" should Corbyn stay in office. "To lead a party in parliament you need the authority of your MPs," he said.
A flood of resignations from his top team has left Corbyn unable to fill every shadow ministerial position.
Former shadow energy secretary Lisa Nandy today said she could not see "any way" how she could return to Corbyn's frontbench.
Watson said he tried to broker a "negotiated exit for Jeremy" that would have "provided a platform for Corbynism but not necessarily Jeremy Corbyn himself" - but failed
Today, shadow chancellor John McDonnell said it would not be appropriate to have an all-male battle for the top job as he dismissed claims the party was in chaos.
Corbyn, who will automatically appear on the ballot paper, will face down his rivals as they canvass support among the Parliamentary Labour Party (PLP) at a hustings in the Commons.
Smith, who has promised to rewrite Clause IV of Labour's constitution to ensure it contains a commitment to tackling inequality, said he would happily bow out if Ms Eagle had more support from MPs to give her the best shot of toppling Mr Corbyn.
The former shadow work and pensions secretary said the leadership contender with the most support among Labour MPs should become the unity candidate to take on Corbyn, a view shared by senior colleagues.
But Eagle refused to give the same assurance, instead insisting that she was in the best position to beat Corbyn to become leader in a national ballot of members.
During a visit to Sunderland, McDonnell said: "Jeremy is running, I'm chair of his campaign committee, but I think there should be a range of candidates and I don't think it would be appropriate if there wasn't a woman on the ballot paper.
"So I welcome a range of candidates, last year I nominated Angela Eagle for deputy because I wanted her on the ballot paper."
He added: "Last year the candidates got on really well and I think we'll have the same atmosphere this time as well."
Related