A partner at a law firm in Luton has resigned after a Twitter spat with Tommy Robinson led to him fearing for the safety of not only himself but that of his workmates and their families.
Ian McLoone, who was formerly in the commercial real estate team at Taylor Walton, tweeted a letter confirming his decision on Monday night.
His resignation came after Robinson confronted him on camera at his office and home last week suggesting that the lawyer had endangered the lives of his family by "leaking" their home address on social media.
McLoone denied doing so, but has admitted he mentioned the name of Robinson's "home village" which he claimed had previously featured in media reports about the 33-year-old.
Robinson has not responded to a request for comment from the Huffington Post UK but has expressed frustration on Twitter that McLoone was "becoming the victim in this". He also tweeted that the videos of his encounters with McLoone showed he was "reasonable and not threatening".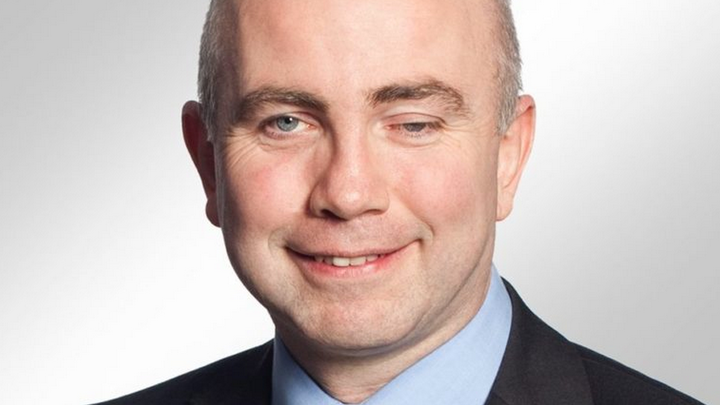 Robinson, whose real name is Stephen Yaxley-Lonnon, visited McLoone's former Alma Street workplace on November 16 after the pair had been jousting over Twitter about Luton for a number of days.
"My children have been in a hotel the last four days because of you," the founder of the English Defence League can be heard telling a bewildered looking McLoone.
"Are you aware there's a threat against my life... of course you are... everyone knows there's a threat against my life... so at what point do you think it is a good idea to put my children's address online?"
McLoone can be heard telling Robinson that, "I disagree with your political stance", before the Pegida UK leader continues: "It's not a computer game... it is my life... I've got three babies at home and you think you can tell terrorists where I live."
A short time later Robinson is taken into a private room as the firms' alarm sounds. Police arrive and join the meeting. Video uploaded of the incident ends a short time later.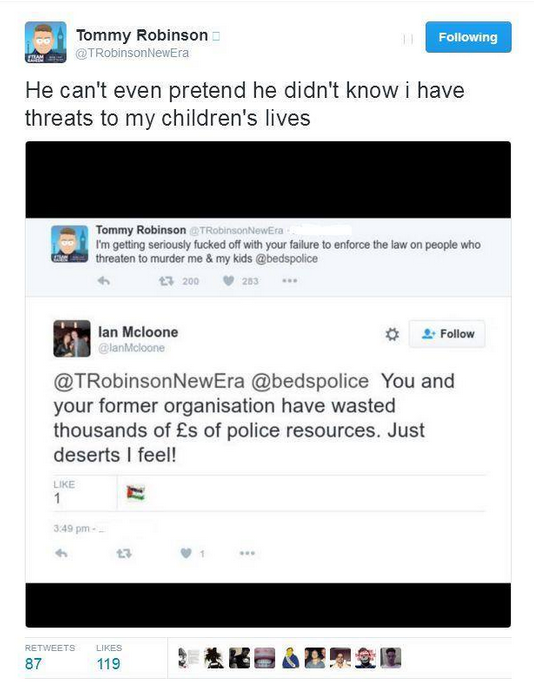 Later Robinson attempts to confront McLoone at his home to seek "an apology", before returning to his office for a third attempt on November 17. A video recorded by Robinson shows him being arrested by police outside the law firm on suspicion of harassment.
In another clip Robinson shared online on the same day he is heard receiving a call from James Carpenter, a partner at Taylor Walton, where he is informed that the firm is applying to the High Court for an injunction to prevent "further acts of harassment".
In a statement shared by McLoone on Twitter detailing his resignation the lawyer writes that "events have continued to escalate and the safety of staff and the families of staff at my work place (both in the workplace and outside) have been put at risk".
It continues: "Whist I have already apologised both to Mr Robinson in my previous statement, and to partners and staff at Taylor Walton for my previous actions on Twitter, in light of recent circumstances. I believe that I should resign in order to safeguard the firm I hold dear, and its staff.
"This began as a private matter and on reflection. I realise that my passionate views about my birthplace and home town may not have been best voiced to Mr Robinson via social media. I would like to reiterate that the views and statements made via my Twitter account are not representative of the firm or any employee working there. Accordingly, I have tendered my resignation as a partner of Taylor Walton. The Management Board have accepted my resignation with immediate effect."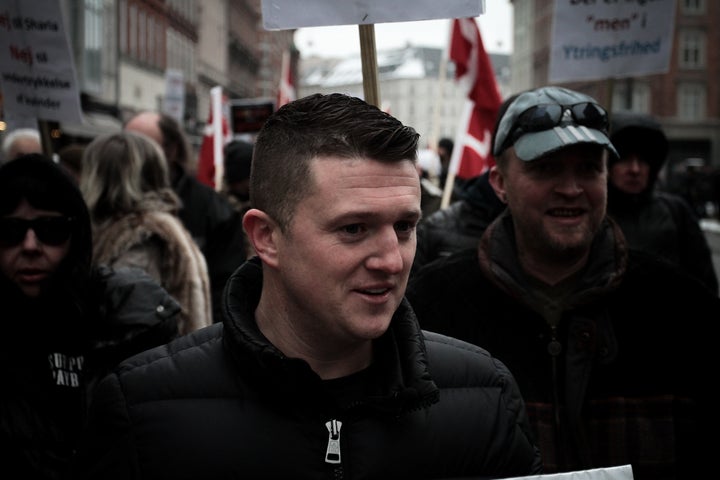 McLoone ended his statement by saying he hoped his resignation would "draw a definitive under our altercation and, crucially, allow all the staff and families of staff at Taylor Walton to continue with their personal and work commitments without feeling any threat to their safety".
Taylor Walton also released a statement saying that on November 17 the firm had to call Luton police after Robinson visited the office for the second time in two days "following a series of social media attacks on the firm, including allegedly libelious statements regarding Mr McLoone".
The firm said it had contacted YouTube, Facebook and Twitter requesting the removal of "any communication which is deemed to be inciting hatred or causing harm or offence to any of Taylor Walton's staff and their families".
Taylor Walton confirmed it had accepted McLoone's resignation for incidents sparked by views expressed on his "own private Twitter feed" and hoped that all parties involved could now move on.
Before resigning McLoone released a personal statement attempting to "set the record straight" following a "flurry of inaccurate claims on Twitter regarding a brief Twitter conversation" he had with Robinson.
The lawyer said the feud began as a result of several tweets Robinson had sent which he deemed to be "negative statements about Luton".
"I sent a response to this statement from my personal Twitter feed, where all my views are mine and not representative of any other person, my professional status or anyone in my workplace.
"I asked Tommy why he felt the need to continually make remarks about the town notwithstanding that he had now moved to another part of Bedfordshire.
"As someone who was born in Luton, lived there for most of my life and feels a strong tie with the community, I felt a need to defend what I believed to be offensive remarks. In hindsight, I realise I should have refrained from being so passionate about this In such a public forum."
McLoone said he took down the Tweet Robinson took issue with after being confronted the first time, and had hoped at that point the "matter was resolved".
He said Robinson had then visited his workplace on two further occasions along with his home and videos of those incidents uploaded online had led to a "series of social media attacks on myself, my family, my firm and Its clients from a variety of sources which were deemed to be inciting hatred or causing harm or offence".
It claimed the lawyer had breached a number of principles of the code of conduct set by the SRA. The group also suggested Taylor Walton, by not suspending McLoone, had also breached their standards.
The SRA would not confirm if it had received any complaints about McLoone as the it does not "comment on individual cases", a spokesperson said, adding that it only comments if investigations lead to disciplinary action being taken.
Bedfordshire Police are yet to respond to a request for comment.