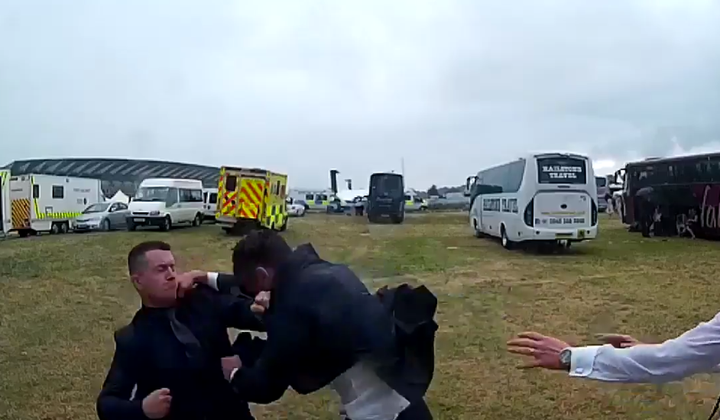 The video, shot on a coach's dash cam around 7pm on Saturday, begins as Robinson, whose real name is Stephen Yaxley-Lennon, appears to push a man to the ground in an incident being investigated by police.
Robinson, who is smartly dressed in a black suit and shirt, then appears to punch the man about the head several times before three other men step in and break-up the incident.
Journalist Assed Baig, who shared the footage online, claims that a witness told him that Robinson, who is now involved with Pegida UK, threw the first punch after a "verbal with the man".
He claimed he was told the other man was "not aggressive".
Replying to Baig's tweets, Robinson joked "your eye witness is a Muslim".
He then proceeded to issue a statement about the incident on Twitter, referring to himself in the third person, while claiming the man he had an altercation with had "followed" him to his coach and called him a bigot.
Robinson also tweeted an account of the incident from a supporter who suggested the father-of-two has been provoked while trying to leave the races with his wife.
The activist says his wife and he were being harassed and he only acted in self defence.

The activist had been at the Berkshire racecourse yesterday when dash cam footage caught the fracasfootage has emerged of former EDL leader Tommy Robinson which Mr Robinson says was in self defence.

In a tweet, Tommy said that he had been acting in "self defence".He said: "This is regarding an edited video being shared online regarding Tommy.

"Tommy was at the races with his wife. This man followed them both to their coach abusing them.

"Tommy and his wife went to board the coach but the man was not finished, he attacked Tommy and dragged him from the coach.

"The man followed, instigated and attacked Tommy when he was with his wife. Tommy acted in self defence."
Thames Valley Police told HuffPost UK on Sunday that they had not received a complaint over the incident, but were aware of the video and were investigating the circumstances.
The spokesperson added that no arrests have been made "however if anyone involved in the incident wishes to report the incident to officers, please call Thames Valley Police's 24-hour enquiry centre on 101 quoting URN 855 (25/6)".
Robinson said earlier today that he had a recorded interview with the "Muslim" bus driver who released the video "that contradicts" claims that he was the aggressor.
On Sunday afternoon Robinson released video of him speaking to the man on the phone. The bus driver suggested that Robinson had been followed and "harassing" before the altercation.
Piers Morgan, who in the wake of the Finsbury Park mosque attack had a bitter exchange with Robinson on Good Morning Britain, couldn't help make light of the fight video on Sunday, contrasting Robinson's behaviour at Ascot with his comments about Islam.
Robinson took issue with the journalist's intervention, commenting on the tweet that he was "out with my wife when I was attacked".
Later, after making Morgan aware of his interview with the bus driver, Robinson added: "Some context Piers, next time I'm out with my wife I'll just let people beat me up."
Morgan described Robinson, 34, as a "bigoted lunatic" and accused him of "stirring up hatred" in an appearance on the ITV breakfast programme on Tuesday morning.
As Robinson waved a copy of the Koran, an angry Morgan said: "Show some damn respect for people's religious beliefs.
Robinson hit back saying: "We're in this mess because people take Islam, they are terrorists and they abuse the nature of Islam and [they] perpetrate evil."
He added: "There's no such word as Islamophobia. A phobia is an irrational fear, it's not irrational to fear these things."
Robinson's fight is the second at the races to make headlines after video emerged of a bare-chested man shouting "let's finish it off" while preparing to throw a punch during Ladies day.