The man arrested over the murder of MP Jo Cox was described as a "loner" by locals.
The BBC reports Nazi regalia was recovered at his home.
Thomas 'Tommy' Mair, 52, lived in a small semi-detached house on Lowood Lane, Birstall, West Yorkshire, and is said to have been in the Leeds area for "30 to 40 years". The address was last night searched by police.
Neighbours spoke of him as being "a quiet bloke who keeps himself to himself", but has been linked to a far-right group that campaigned against the EU.
Mair was previously a client of the Mirfield-based Pathways Day Centre for adults with mental health problems.
It is not clear whether Mair was currently attending Pathways.
The centre states on its website:
We take an activity-based approach because we know that often some support is needed to get back into doing the things you need and want to do. You may have stopped doing the things that make you feel good about yourself and give you a sense of purpose and routine.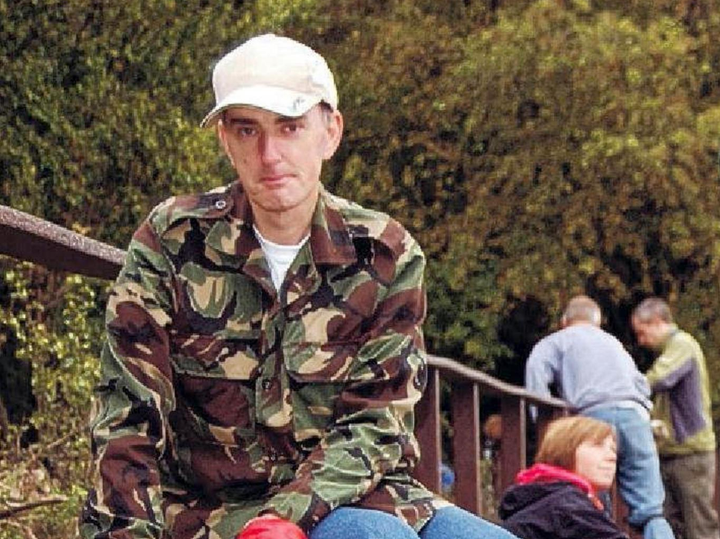 Whilst at Pathways, he volunteered at Oakwell Hall, a local park.
Mair, then 46, told the Huddersfield Daily Examiner in 2010: "I can honestly say it has done me more good than all the physiotherapy and medication in the world.
"Many people who suffer from mental illness are socially isolated and disconnected from society, feelings of worthlessness are also common mainly caused by long-term unemployment.
"All these problems are alleviated by doing voluntary work.
"Getting out of the house and meeting new people is a good thing, but more important in my view is doing physically demanding and useful labour.
"When you have finished there is a feeling of achievement which is emotionally rewarding and psychologically fulfilling.
"For people for whom full-time, paid employment is not possible for a variety of reasons, voluntary work offers a socially positive and therapeutic alternative."
"Many people who suffer from mental illness are socially isolated and disconnected from society"
The following year, Mair was quoted in the Batley & Birstall News whilst volunteering at Birstall park, and was pictured at the time.
Mair's bother, Duane St Louis, said on Thursday Mair has "never been in trouble in his life, he's not like that, he wouldn't hurt a fly".
When asked if his brother was racist he said "no chance".
Mair has been identified as a supporter of the Springbok Club, an organisation that has in the past defended the white supremacist regime in apartheid-era South Africa who publish S.A Patriot magazine and Springbok Cyber Newsletter.
A newsletter from the organisation in 2006 sought to find the address of "MR THOMAS MAIR of Batley".

The latest edition of the Springbok Club newsletter addresses the EU referendum, outlining the case for Brexit.
It says: "On Thursday 23rd June 2016 all British voters will have the opportunity to vote on the future of their country.
"They can vote either to remain entrapped in the artificial and retrograde European Union, or to regain their sovereign independence."
A statement from the magazine released yesterday sought to distance it from Mair.
It reads: "We were of course appalled and sickened to learn of the murder earlier today of Ms. Jo Cox, the Labour MP for Batley and Spen.
"We understand that a gentleman named Thomas A. Mair has been arrested for this crime though, though as the case is sub judice we will have to be very careful what we say.
"It is true that a Mr Thomas A. Mair from Batley in Yorkshire subscribed to our magazine S.A Patriot when we were still published in South Africa itself."
It goes on: "We can confirm therefore that we have never met Mr Mair, and apart from brief contact way back in the mid-1980s when he briefly subscribed to our magazine we have had no contact with him.
"All attempts to try to link him to our magazine during more recent years are therefore completely without foundation."
According to the Southern Poverty Law Center (SPLC), a group that monitors hate crimes and racist activities in the US, Mair was also a supporter of the National Alliance (NA), a once-prominent neo-Nazi organisation in the United States.
Receipts published by the SPLC appear to show Mair had literature detailing how to make homemade guns and bombs.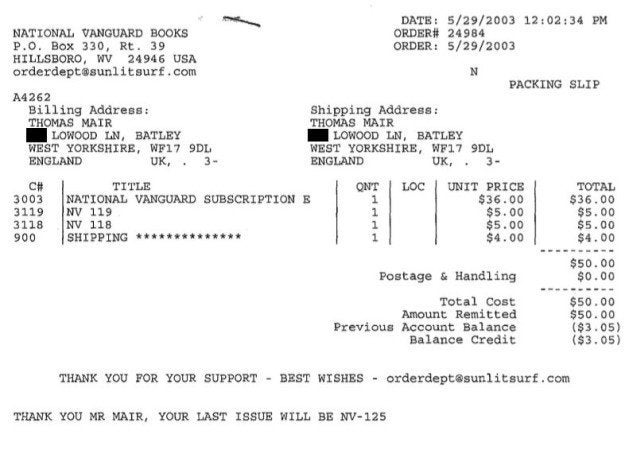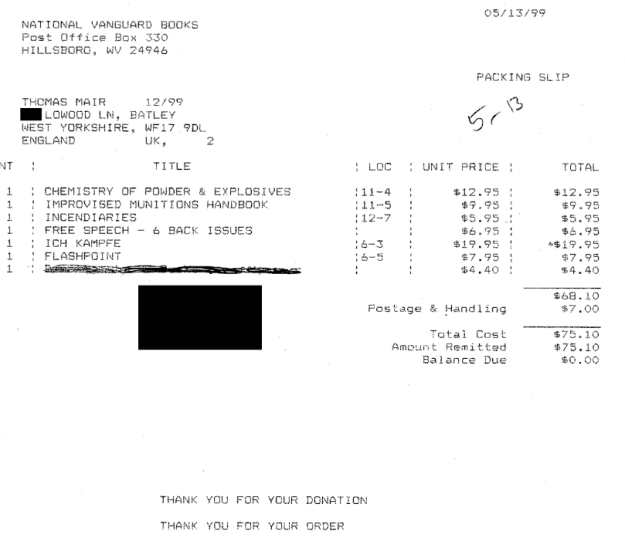 Far-right group Britain First released a statement on Thursday distancing itself from Mair after reports circulated he had shouted 'Britain first' or 'put Britain first' during the attack on Cox.
A senior member from the group, which has in spoken of a hatred of white left-wing politicians, said they "were as shocked as anyone" and the that suspect was "categorically not a member" of the group.
In a video posted to Facebook before the MP's death was announced, Britain First leader, Paul Golding, strongly denied any connection.
"We had nothing to do with it, we would not condone actions like that. We carry out protests and we stand in elections - I recently stood in a London election and received over 100,000 votes - so that's the kind of political activities that we carry out," Golding said.
"Yes we do direct actions sometimes, we invaded a Halal slaughterhouse because we disagree with halal slaughter, but this kind of thing is disgusting. it's an outrage.
"I hope the person who carried out this heinous crime will get what he deserves," he added.