Brexiteers are scared of fighting a second Brexit referendum campaign based on facts, Tony Blair has said.
The former prime minister said a so-called People's Vote on the final deal is now inevitable despite Brexiteers' fears the vote to quit the EU will be reversed following nearly two years of tortured negotiations.
In a central London speech, Blair said another vote may be "improbable" but that all the other options, including Theresa May's "hodgepodge" deal, a "pointless" a Norway-plus arrangement or "painful" no deal, will be rejected by MPs.
He said May and Jeremy Corbyn currently hold "weird" positions on Brexit but stressed that "in the end Parliament is in charge of this" and MPs currently discussing a second referendum across parties would "find a way" to make it happen.
The ex-Labour leader said the opposition to holding another referendum was "partly because I think some of those Leavers fear fighting a new campaign where we have so much more fact to base our decision upon".
Appearing to quote Sherlock Holmes, he went on: "When you exclude the impossible what remains, however improbable, is the answer.
"Parliament will find a way to do an iterative vote on the options."
He went on: "I don't think there's a majority for any of them because some parts of parliament will vote against a pointless Brexit, another part will vote against the painful Brexit.
"If that happens you are left with a very simple choice – you have no deal or a referendum."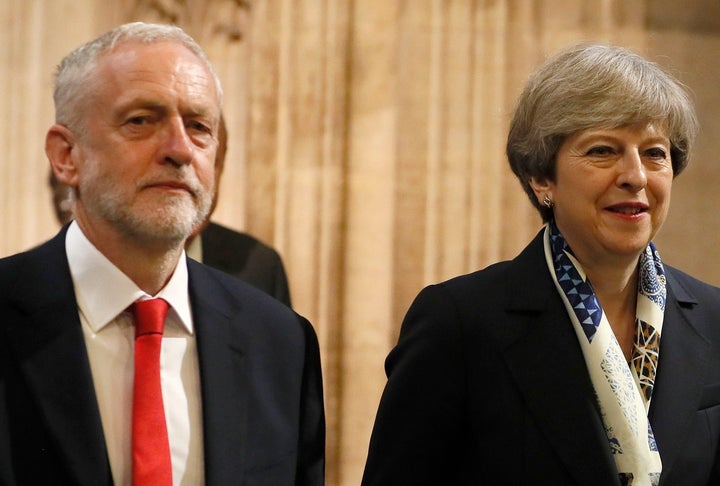 Ever the strategist, Blair sketched out how he sees a second referendum campaign being conducted in which both sides can make their case in the "context and experience" of the negotiations.
To be "fair" to Brexiteers, Blair said there was not a recession following the vote to leave and added unemployment has carried on falling and wages have risen slightly.
On the other hand the pound has been severely devalued, investment and growth badly affected, "and no one can credibly stick £350m for the NHS on the bus next time", he said.
EU immigration has fallen since the referendum and "we understand much more about what such migrants actually do", while immigration from the rest of the world has gone up.
"The point very simply is that claim and counterclaim are this time going to be influenced by fact," Blair said.
"As for the charge that such a referendum would divide the country or produce and explosion of popular anger I say we are divided now and are people really going to be angry to be asked to give an answer when parliament cannot?"
The former PM also expressed his sympathy for May, who after surviving a confidence vote of Tory MPs has seen her plans to win fresh Brexit concessions from the EU rejected by leaders at a bruising Brussels summit.
He said his advice for the prime minister would be "stop digging", adding: "I've done the job and I know how difficult it is and I really do have admiration for the way she just gets up every day and carries on – but there was never any possibility of going to the European Council last night and getting changes on the backstop.
"My advice to her is there's no point literally in carrying on banging your head against this brick wall."
He went on: "My advice to her is there's no point literally in carrying on banging your head against this brick wall. It's sensible to take your head off the brick wall and think creatively."
Blair was mocked by Tory Brexiteers over the highly controversial claim in a government dossier that Iraq could use weapons of mass destruction within 45 minutes.
Asked to respond to Blair's claims that leavers fear another referendum, a European Research Group source said: "Give me 45 minutes to think about that."