With the majority of us confined to our houses for the foreseeable future, the need for brilliant TV has never been greater, especially at the weekends.
That's why HuffPost UK has launched Something For The Weekend – a weekly feature recommending one series for you to devour when you haven't even got work to occupy your mind.
This week, our entertainment editor Ash Percival is bringing you a massive dose of reality, as Netflix's "new Love Island" debuts on the streaming service...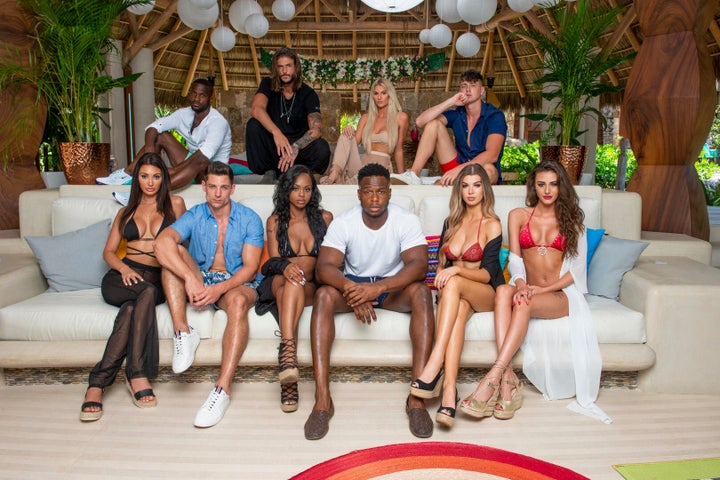 I don't know about you, but right now I've never missed the halcyon days of summer 2018 more.
Between the mix of the sweltering weather, England actually doing well in the World Cup and an absolutely banging series of Love Island, as a nation, we'd never had it so good.
That's why in recent weeks, I've turned to rewatching old series of the ITV2 dating show on BritBox as a way of coping with being stuck indoors as temperatures begin to raise outside.
Now, as much as I've loved revisiting some golden reality TV moments (*that* Brexit chat really is a reminder of simpler times), sometimes there's nothing quite like sinking your teeth into something new. But with the summer series of Love Island still up in the air due to the coronavirus pandemic, who knows when a new bunch of Islanders will be moving into the villa for six weeks of cracking on and pie-ing off?
That's why the release of Netflix's new dating show, Too Hot To Handle could not be more perfectly timed.
So, what's it about?
Hot on the heels of the streaming service's recent hit Love Is Blind, this new US series has been making waves on social media after its trailer debuted.
It's already drawn comparisons to Love Island given that it sees 10 young, hot singles come together to live in a tropical paradise, for what they think will be a the most most exotic and erotic summer of their lives.
However, as the name suggests, there's one big twist with Too Hot To Handle – the contestants will actually have to give up all hanky panky for the entirety of their stay if they want to be in with a chance of winning the $100,000 cash prize.
The contestants have been chosen for being known commitment-phobes who enjoy casual hook-ups, which is why they are going to find the house rules of "no kissing, no heavy petting, and no self-gratification of any kind" very hard, if you catch our drift.
The aim of the game is for the singles to find deeper emotional connections with one another, but should they find themselves breaking the rules, it's going to cost them, as the prize fund will start decreasing...
What are the cast like?
Unusually, the contestants come from locations across the globe, including Austria, Ireland, the UK, America, Australia and Canada – but they are also the usual mix of models, influencers, personal trainers and sports players Love Island fans have come to expect.
The two British contestants are Essex girl Chloe, a self-confessed heartbreaker who was once asked to be in a South Korean girlband, and London-based David, who is a semi-professional rugby player.
They'll be joined by Canadian Francesca, who once dated DJ and music producer Diplo; Haley, a business student from Florida who says she is open to building a connection with a boy or a girl; "cheeky chappy" Harry from Australia, who says he turns into a "disco queen" after a couple of drinks; Austrian-born Kelz who is a recruitment consultant now based in London; and former America's Next Top Model wannabe Matthew, who says he's a "deep thinker with a spiritual outlook".
There's also Irish girl Nicole, who has worked on yachts hosting Kanye West, Jay-Z and Justin Bieber; Rhonda from Atlanta, who says she's bored of the dating scene; and Sharron, a personal trainer and kids wrestling coach from New Jersey.
What's been said about it?
Time magazine called Too Hot To Handle "unabashedly trashy" but "also weirdly perfect for right now", with TV Line echoing it was the "perfect guilty pleasure for these quarantimes"
However, Entertainment Weekly was slightly less complimentary, describing it as a "criminally boring slog", which we think is perhaps a little harsh.
You'll like this if you've already enjoyed...
Love Island, Ex On The Beach, The Bachelor, Love Is Blind, Temptation Island, Big Brother.
So where can I watch it?
The series debuts on Netflix in full on Friday 17 April, and with only eight episodes in the series, we've no doubt you'll have finished it by Sunday night.