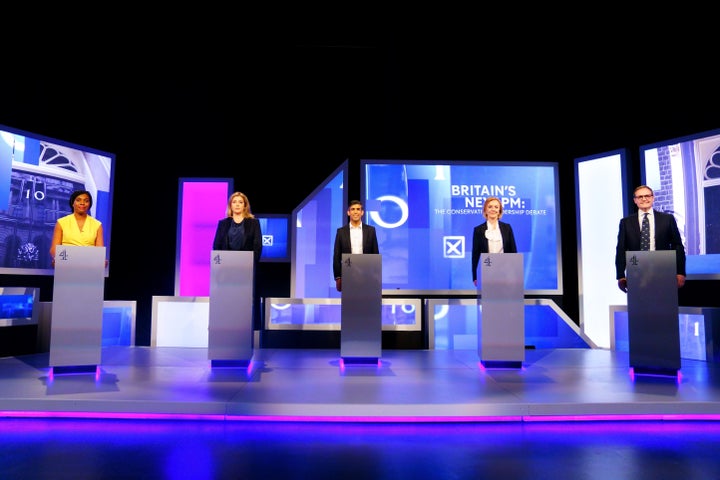 The first live TV debate involving the five people who could be the next prime minister took place on Friday night – when most normal people are in the pub.
For those of you who favoured pints over policies, here are five of the most talked about moments from the surprisingly punchy exchanges between Conservative colleagues.
1. It's the economy, stupid
The battle to succeed Boris Johnson has been dispiritingly free of ideas – apart from one pledge designed to appeal to Tory party members who will ultimately choose who gets the keys to No.10 Downing Street: cutting your taxes.
Only Rishi Sunak has stood apart – mainly because it would undermine his record as chancellor. As such, Sunak defended his record in the Treasury as he attacked Penny Mordaunt and Liz Truss over their promised cuts – warning it would push inflation up further. "Inflation is the enemy that makes everyone poorer," he added.
Accusing her of being irresponsible, Sunak told Truss: "We have to be honest. Borrowing your way out of inflation isn't a plan, it's a fairytale."
Truss responded: "I think it is wrong to put taxes up."
The former chancellor then turned on Mordaunt after she said her economic platform was not based on "tax and spend" but on "growth and competition".
He said promises she had made to cut VAT on fuel and raise income tax thresholds would cost £15 billion.
But Sunak didn't get it all his own way. When he claimed to take a principled decision to raise National Insurance in order to protect the NHS, Tom Tugendhat revealed Sunak told him he did it "because the boss wants it".
2. Culture warriors
In probably what is a harbinger of the next general election if "culture war" issues take centre stage, Mordaunt clashed with Truss and Kemi Badenoch as they challenged her record on trans issues.
Truss and Badenoch accused Mordaunt of having backed self-identification when she had responsibility for equalities issues – something she strongly denied.
The international trade minister said that while she had carried out a consultation of the gender recognition act, she had never been in favour of self-ID.
"I can't imagine why people are not comprehending what I say and have been regurgitating this issue for weeks and weeks," she said.
"I'm a woman, I'm a biological woman in every cell in my body," she said, adding that a man who had transitioned was "not the same as me".
However, Badenoch, the former equalities minister, said she found her rival's account difficult to accept.
"When I took over equalities minister in 2020 what was being pushed was self-ID. I don't understand how that would have changed unless someone else did it. My understanding was the previous minister who had the role had wanted (Mordaunt) self-ID," she said.
Mordaunt retorted: "That is not correct. This will all be on record."
However, Truss, who also had responsibility for equalities alongside her role as foreign secretary, said there had been a plan to move forward on self-ID.
"I believe in women's rights I also believe that transgender should be treated with respect, so I changed the outcome so we made the programme simpler and kinder, but not move ahead with self-ID," she said.
3. Shout out to Dumbledore
Speaking of fairytales, others also dabbled in the fantasy worlds, with Tugendhat appearing to borrow from Albus Dumbledore.
The word "Dumbledore" was soon trending on Twitter when the former military officer quoted JK Rowling's character from her beloved Harry Potter series after being asked by an audience member: "Why should the public trust you?"
He told the audience: "What I've been calling out and what I've been demonstrating over the last few years is I'm someone who fights and I'm willing to call out my friends as well as my enemies.
"It's easy to stand up to your enemies – it's sometimes harder to stand up to your friends. We all know that."
4. Oh no, BoJo!
Snap polling suggested Tugendhat was the "winner" – perhaps reflecting his outsider status (he has not been a minister), and the prospect of making a fresh break from Johnson.
One moment may have been key. The five Tory leadership candidates were asked to give a yes/no answer on whether Johnson was honest.
Badenoch said: "Sometimes."
Mordaunt said: "There have been some really severe issues and I think he has paid a price for that."
Sunak said: "I tried to give him the benefit of the doubt for as long as possible and ultimately I reached the conclusion that I couldn't, and that's why I resigned… There were a number of reasons that I resigned but trust and honesty was part of that."
Truss said "he has been very clear himself that he made mistakes in government" but she had taken his explanation for inaccurate statements over partygate "at face value".
But Tugendhat drew applause from the audience when – alone among the candidates – he answered: "No".
5. Climate change? What climate change?
On the day the Met Office issued its first ever red warning for extreme heat, meaning there is a 50% chance of temperatures reaching 40C somewhere in the UK, the dangers of climate change seemed secondary.
Badenoch dismissed international environment minister Lord Goldsmith's warning that it would be "political suicide" to drop the 2050 net zero target.
She told the Channel 4 debate: "I think he's wrong. The pledge was made in 2018 for 2050, none of us are going to be here as politicians in 2050, it's very easy to set a target you are not going to be responsible and accountable for when the time comes.
"The important thing is to make sure that we do this in a sustainable way. Many of the things we are doing could economically damage our country."
Mordaunt said the new prime minister would have to be "realistic" about what was needed to hit net zero targets.
Green levies were "clobbering families and businesses, that does need to be looked at".
Badenoch and Truss also said that as prime minister they would scrap some green levies to help tackle rising energy bills.
Badenoch said: "We do need to tackle climate change, but I think the crisis that we're dealing with now comes first and we need to make life easier for people."
Truss agreed, saying: "Our number one priority should be getting more economic growth."