A Tory Brexiteer has described the UK leaving the EU without a deal as a "real n*****r in the woodpile" at a meeting of eurosceptics in Central London.
Anne Marie Morris, MP for Newton Abbot since 2010, made the astonishing remark while discussing what financial services deal the UK could strike with Brussels after 2019.
Despite using the racist term, none of her fellow panelists, including Tory MPs Bill Cash and John Redwood, reacted.
After saying just 7% of financial services in the UK would be affected by Brexit, Morris said: "Now I'm sure there will be many people who'll challenge that, but my response and my request is look at the detail, it isn't all doom and gloom.
"Now we get to the real n****r in the woodpile which is in two years what happens if there is no deal?"
After HuffPost UK published her remarks, Morris said: "The comment was totally unintentional. I apologise unreservedly for any offence caused."
Asked about the MP's comments, Theresa May told the Commons: "I think it is beholden on us all to ensure we use appropriate language at all times."
The comments came at the launch of a report into the future for the UK's lucrative financial sector after Brexit on Monday lunchtime.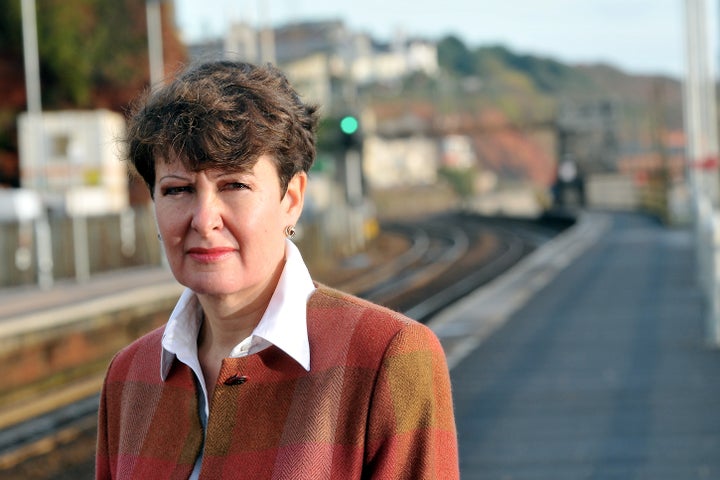 The launch was held at the exclusive East India Club in St James Square, a few hundred yards from the Mall, and organised by the Politeia group - which describes itself as "A forum for social and economic thinking".
Audience member Colton Richards was appalled by Morris's comments.
He told HuffPost UK: "It was disgusting to hear those comments by somebody in public life.
"It was almost as though she felt like she was talking to her friends in a private audience."
Liberal Democrat leader Tim Farron said: "This disgusting comment belongs in the era of the Jim Crow laws and has no place in our parliament.
"The Conservative Party should withdraw the whip from Anne Marie Morris and they should do it today.
"Every hour they leave her in place, is a stain on them and the so called 'compassionate conservatism' they supposedly espouse.
"I am utterly shocked that this person represents the good people of Newton Abbot.
"Even if she misspoke this is the nastiest thing I've heard an MP utter since Lord Dixon Smith uttered the same awful phrase a few years ago."
In 2008 David Cameron came under pressure to withdraw the whip from Lord Dixon Smith after he used the same words in a House of Lords debate.
The peer vehemently apologised, and told fellow members of the Chamber he had "left my brains behind".
Other MPs took to Twitter to express their outrage:
Morris, who studied law at Oxford University, increased her majority at the recent General Election, finishing 17,610 votes ahead of her Labour rival.
As well as MPs, members of the House of Lords were present at the launch, including former Treasury Minister Baroness Neville-Rolfe.
Speaking before Morris' comments, Bill Cash used his opening remarks to launch another attack on the media coverage of Brexit.
"There's a kind of relentless negativity in certain parts of the media," he said.
He added: "There's so little genuine analysis in so many parts of the media.
"They don't seem to have got their heads round what Brexit means."
Related