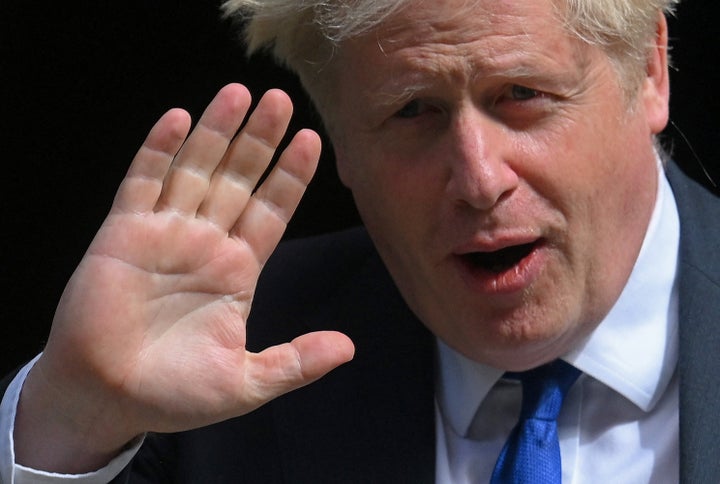 Tory MPs are urging Boris Johnson to stand down with immediate effect and appoint a caretaker prime minister until a new party leader is elected.
Johnson agreed to stand down after speaking with Sir Graham Brady, chair of the 1922 committee.
A new Tory leader is set to be in place by the party conference in October, with Johnson staying on in the interim.
But a number of MPs have expressed their unhappiness at the prospect of Johnson staying on until the autumn and say he must replaced in the interim by Dominic Raab, the deputy prime minister.
George Freeman, who was one of a number of ministers to resign this morning, said a new caretaker prime minister needed to take over "today" so that "ministers can get back to work...to try and repair the damage".
He wrote on Twitter: "Boris Johnson needs to hand in the seals of office, apologise to Her Majesty and advise her to call for a caretaker prime minister.
"To take over today so that ministers can get back to work and we can choose a new Conservative leader to try and repair the damage and rebuild trust."
Bim Afolami, who quit as the party's vice chair on Tuesday wrote in response: "Agree."
Ex-minister Nick Gibb said Johnson had "lost the trust and authority required to continue".
"We need an acting PM who is not a candidate for leader to stabilise the government while a new leader is elected."
North West Leicestershire MP Andrew Bridgen said: "He's lost the confidence of the party and he's lost legitimacy to stay in office - leave means leave.
"If he stays we will be mired in further scandal and sleaze allegations throughout the summer, which will distract from government and the leadership election.
"It's all about Boris Johnson - it's not about the the party or the country. He's not fit to remain in office a moment longer."
Other Tory MPs questioned the feasibility of Johnson staying in post until conference in October, when the party must set out its vision to the country.
One told HuffPost UK: "I think the behaviour of the last 24 hours has made any sense of the prime minister staying on untenable.
"The most logical thing is that the first minister of state, Dominic Raab, becomes a caretaker prime minister until the Conservative Party chooses the person who is best placed to lead the country."
The MP said Johnson would only further erode the trust that has "long gone" with his MPs if he did not step down immediately.
"Never lose sight of the fact that the prime minister put Chris Pincher in a position of power. That's what's done this. The anger relating to this enormous."
Another MP suggested that if there are be two rival leaders in place by recess, "he'll be long gone before October".
Another added: "I think the conference is the long stop date - new leader in place by then."
Johnson will finally quit on Thursday afternoon after resisting calls to do so from his own Cabinet.
Nadhim Zahawi, who was only appointed as chancellor on Tuesday evening after Rishi Sunak resigned, issued a statement this morning in which he called on Johnson to "do the right thing and go now".
So far over 50 Tory MPs have quit their government posts.