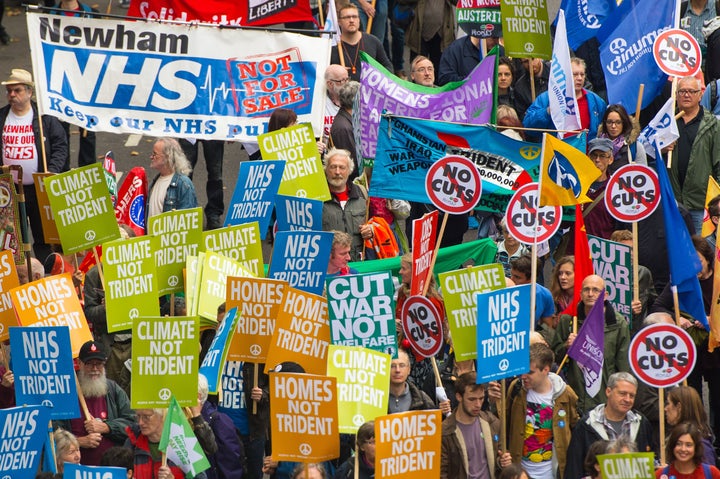 Theresa May is facing fresh pressure to end the public sector pay freeze after a new poll found an overwhelming number of floating Tory voters back Labour on the issue.
A huge GQR poll, conducted in the wake of the general election for the TUC, shows that the idea of ending the pay cap is backed by a staggering 80% of all Conservatives thinking of switching to Jeremy Corbyn's party.
The survey of 3,000 voters, which is being shared exclusively with HuffPost UK throughout this week, also found that 75% of potential Tory switchers backed Labour on a £10 an hour minimum wage and a further 76% wanted to ban zero hours contracts completely.
The TUC commissions its mega-poll straight after every election, in a bid to work out just why voters backed each party, what issues matter most to them and how they could be persuaded to shift allegiances in future.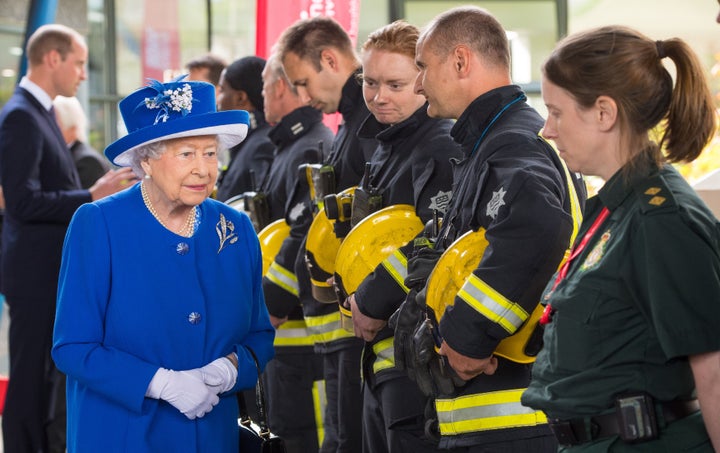 This year's results show strong support for workers' rights, but the most striking is the pressure to end to the 1% pay cap, which has been imposed on all the public sector from nurses to teachers, prison officers to civil servants.
In a blog for HuffPost UK, TUC general secretary Frances O'Grady warns the Prime Minister that it's time for a pay rise for the millions of staff who have suffered a seven-year pay freeze at the hands of David Cameron and then Theresa May.
O'Grady said that the emergency services' reaction to the Grenfell Tower disaster and to the three terror attacks this year underlined the essential and moving dedication of police, firefighters, NHS staff and support staff.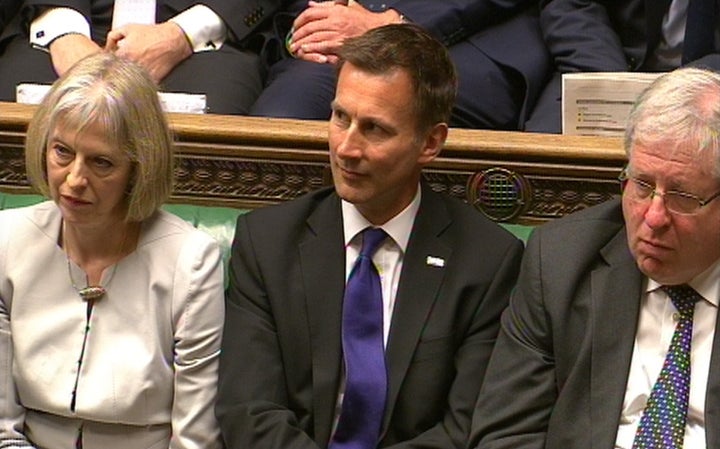 But with Health Secretary Jeremy Hunt hinting recently he would only end the pay freeze for nurses, she warned that it was time to treat all public sector staff equally.
"Rather than being seen as a responsible spending policy, holding down public servants' pay is now an electoral liability," O'Grady writes.
"Changing this unfair policy was supported by 68% of Conservative voters – including a huge 80% of those crucial swing voters who considered switching to Labour during the campaign.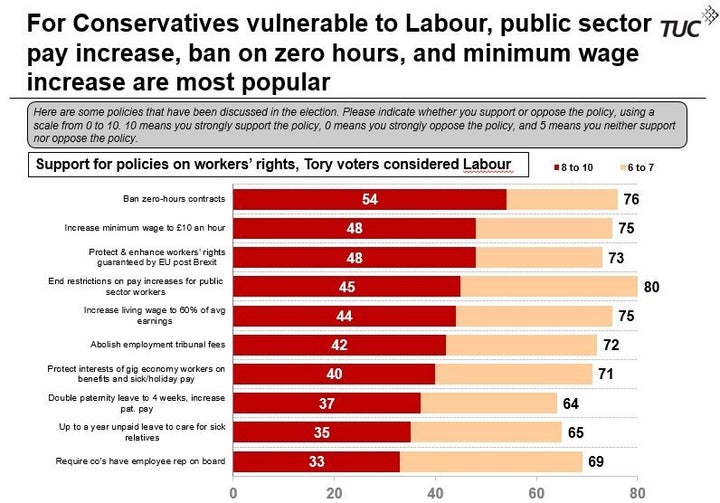 "That's why it's time to end real terms pay cuts for all public sector workers. 5.5m hardworking public servants need it. Labour, the Lib Dems and the SNP promised it. Conservative voters want it. Her own MPs are persuaded of it. The PM should just tell the Treasury to get on with it."
Healthcare staff have resorted to using foodbanks, payday lenders and pawnshops in recent months as the pay freeze continued to bite and rising inflation left many with effective cuts.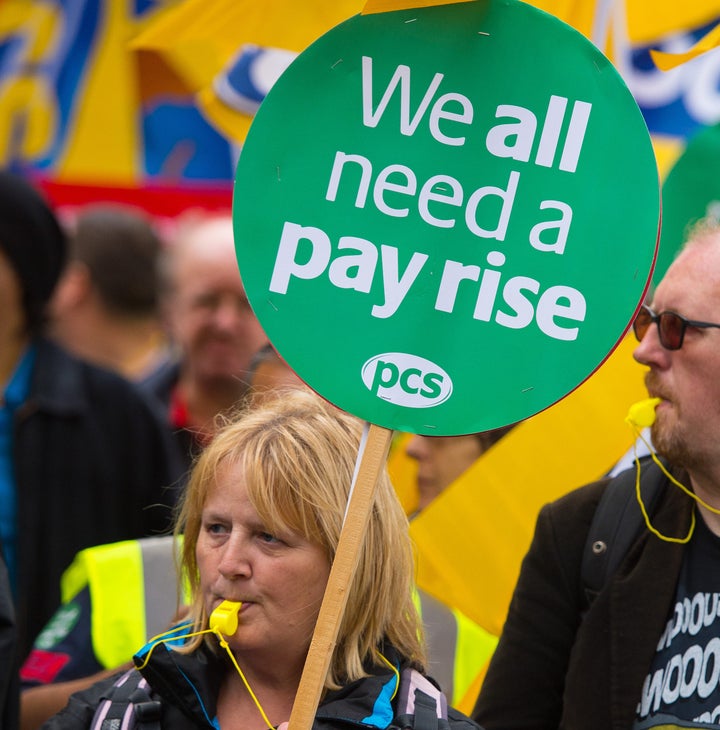 Firefighters are earning £2,000 less in real terms than they were in 2010, while midwives are out of pocket by £3,000 on average.
Tory MPs have told the PM that they got a hammering on the doorstep during the election over cuts to the NHS, school budgets - and to public sector pay.
Her own chief of staff Gavin Barwell revealed that he lost his marginal seat because Jeremy Corbyn had "tapped into" public anger over the 1% cap.
"There's a conversation I particularly remember with a teacher who had voted for me in 2010 and 2015 and said 'you know I understand the need for a pay freeze for a few years to deal with the deficit but you're now asking for that to go on potentially for 10 or 11 years and that's too much'," he told the BBC.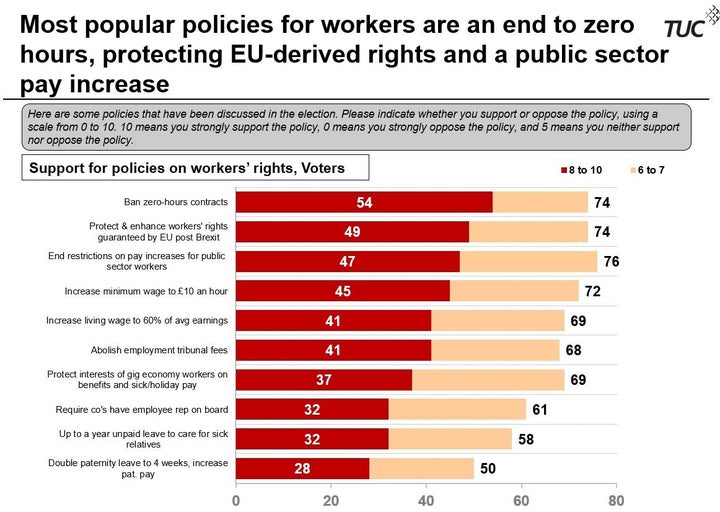 The GQR/TUC poll confirms that Labour's anti-austerity message in the election campaign resonated strongly not just with its core support but also the wider electorate, particularly Conservative floaters.
Across all voters, the party's plans to crack down on tax avoidance, halt NHS private profiteering, and give more cash to the NHS were very popular.
Some 76% of all voters want to end the public sector pay freeze, with 68% of Tories and that 80% of Tory potential switchers in agreement.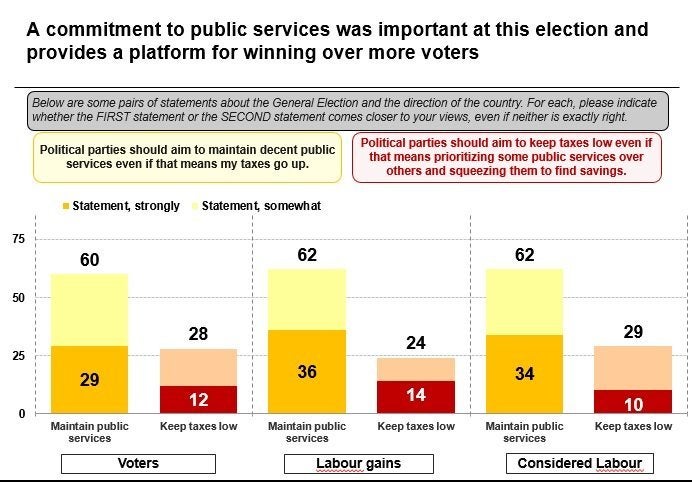 Among the voters who moved to Labour in the election, a huge number (62%) said that it was because they felt public services needed more money, even if that meant taxes going up.
Among those who 'considered' switching to the party, but didn't, an identical percentage said that funding health, education and other services was more important than keeping taxes low.
Earlier this month, a coalition of health unions and the Prison Officers' Association called on the PM to scrap the pay cap for staff or risk driving them away.
Health Secretary Hunt said he would raise the issue with Chancellor Philip Hammond and was "sympathetic" to calls from nurses and others that they deserved a pay rise after seven years of a freeze.
The TUC is hosting a one-day conference on Monday to discuss Matthew Taylor's plans to improve rights for workers in the 'gig economy' and the self-employed.
But the new poll appears to disprove business claims that zero hours contracts are popular with some workers, with many Tory voters backing Labour's call for an outright ban on the employment practice.
* Polling note: GQR polled 3,102 people between Friday 9 June and Monday 12 June. Results weighted to GB demographics and 2017 General Election result
Related