Toyota has warned Brexit uncertainty may force the Japanese carmaker to move some production out of the UK amid fears quitting the single market will disrupt free trade on the continent.
In a blow to the Government, one of the firm's executives signalled the shifting tone from ministers over the direction of Brexit and the timetable for quitting the European Union had prompted jitters.
The Liberal Democrats seized on the shock interview, arguing the UK was heading for a "car-crash Brexit".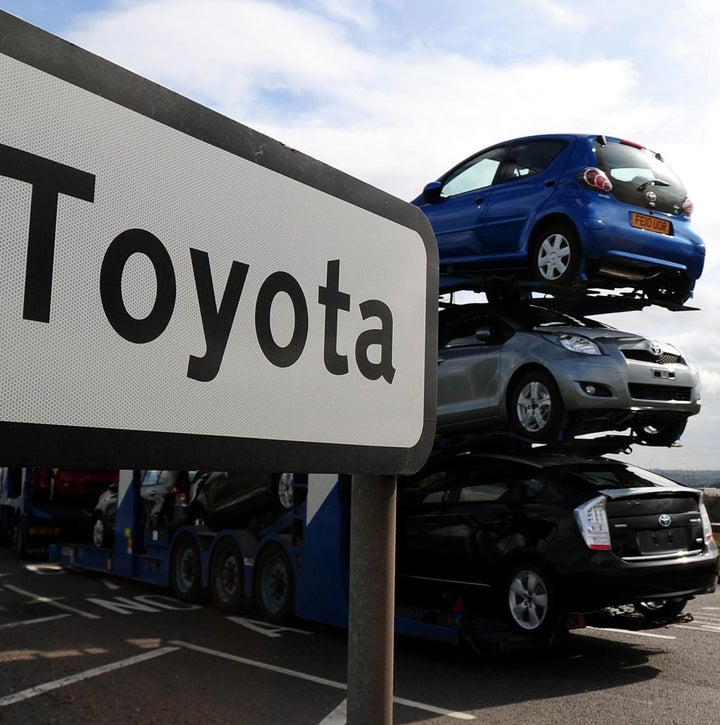 In March, Toyota announced £240 million plans to begin upgrading its Burnaston plant in Derbyshire after apparently receiving written assurances from the government that duty would not be slapped on car exports from Britain.
But the firm suggested pledges over the UK enjoying tariff-free access to the single market post-Brexit no longer appear to be on the table.
Didier Leroy, Toyota's executive vice president, told Reuters:
"A few months ago the UK government was saying, 'We're sure we'll be able to negotiate (a deal) without any trade tax.' They are not saying that any more.

"It's clear that if we have to wait two to three more years to have a clarity on this topic, we will have a big question-mark about our future investment in the country."
The comments come following a bruising set of negotiations between the UK and Brussels where EU negotiators have said little progress has been made, which is disputed by Brexit Secretary David Davis.
Other UK-based car makers have committed to investments in the UK, including Nissan and Jaguar Land Rover.
Liberal Democrat Brexit spokesperson, Tom Brake MP, said:
"The Conservatives are leading us to a car-crash Brexit.

"Ministers must come before the House to explain this dramatic and worrying change of heart from Toyota.

"We must see the written assurances ministers first gave the car company, and we must hear whether ministers can still assure manufacturers that Britain will continue to enjoy full and unfettered access to the single market and customs union post-Brexit.

"These are real jobs and real homes of real people under threat because ministers still don't have a coherent negotiating position.

"If major companies such as Toyota are worried, the British people should be worried. That is why the Liberal Democrats, alone among the major parties, will fight to the very last ditch to stay in the single market and customs union."