Tracy Brabin was heckled by far-right rivals during her acceptance speech on Friday after being elected as Labour MP for Batley and Spen in a by-election triggered by the killing of Jo Cox.
The former Coronation Street actress was congratulated by Cox's widower, Brendan, who said: "Great to see all the purveyors of hate lose their deposits."
The path was left clear for Labour to win the election after the Conservatives, Liberal Democrats, Greens and Ukip announced shortly after Cox's death that they would not be challenging the seat.
Yet far-right groups the British National Party, the National Front and Liberty GB all fielded candidates.
Turnout was just 26% - one of the lowest by-election turnouts since the Second World War.
Brabin secured 85% of the votes, taking 17,506 votes.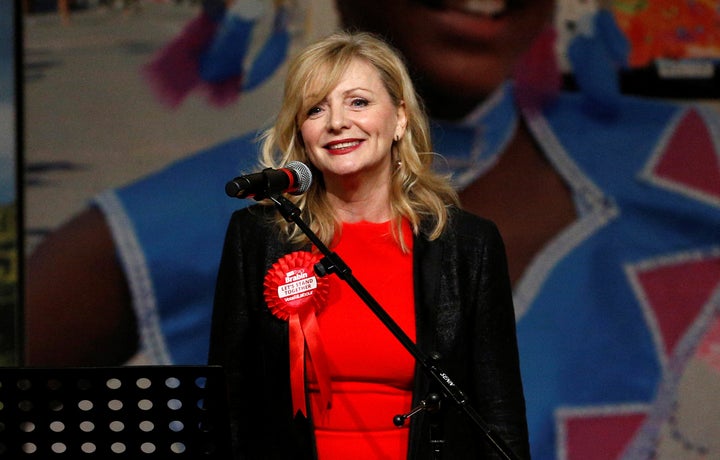 During her acceptance speech, Brabin, who was frequently interrupted by hecklers, said her win was a victory for "hope and unity".
The new representative for the West Yorkshire constituency said: "I want to start by thanking the wonderful people of Batley and Spen – my home community that I'm so proud of.
"This has been a difficult experience for all of us and tonight is a bittersweet occasion for me.
"That this by-election has had to take place at all is a tragedy."
She added: "I hope Jo will be proud tonight of our community.
"We have shown that we stand together with one voice choosing unity and hope."
Following the result, Brendan Cox retweeted a photo of him with Jo at last year's General Election count.
He described the former Labour MP as "calm, serene and full of grace" that night.
Brabin thanked those parties who did not put forward a candidate in the by-election.
She said: "I want to pay tribute to the other mainstream parties for recognising the deeply sad nature of this by-election and deciding not to stand."
Some of Brabin's opponents reportedly shouted "she's a racist", "it's called democracy, love" and "Coronation Street" during her victory speech.
Their behaviour did not go unnoticed, with politicians, including Scottish First Minister Nicola Sturgeon and Labour MP Angela Rayner, condemning the comments.
Others were left in shock by the behaviour coming from the election count.
Asked about the heckling, MailOnline reports that Brabin said: "It just shows who they are.
"The people of Batley and Spen have given me a mandate but they've lost their deposits.
"I get to work and feel very supported. I feel the people of Batley and Spen behind me."
Cox, 41, was killed outside her constituency office June 16. A local man is due to stand trial for her murder next month.
Meanwhile, the Conservatives managed to retain their seat in David Cameron's former constituency of Witney in a by-election last night, but saw their majority slashed by 20,000 votes.
Robert Courts was named as the new MP for the Oxfordshire constituency, winning by 5,702 votes.
The Liberal Democrats came second, surging past Labour to increase their share of the vote from 7% to 30%.