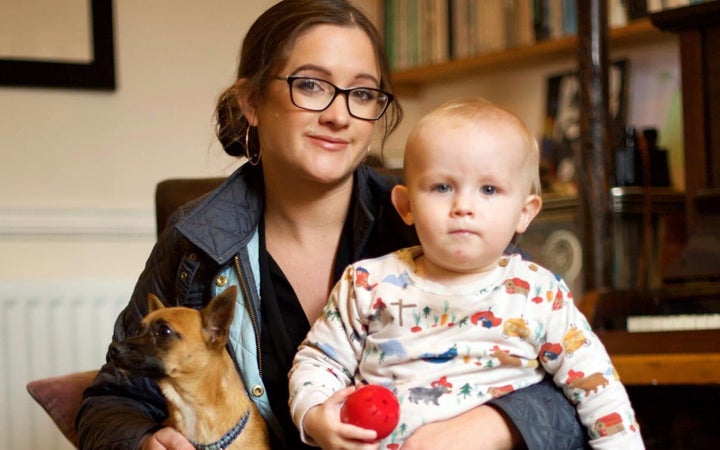 A petition signed by nearly 23,000 people is calling for Channel 4 to cancel a show about using dog training techniques on babies.
Leading child psychotherapists have also said they are "deeply concerned" by the show, which is called Train Your Baby Like a Dog and is due to air on Tuesday evening.
The show, which is a pilot, explores "a brand-new approach" to parents struggling with their child's behaviour: "training your child like a dog", according to a press release about the programme.
World renowned dog trainer and animal behaviourist Jo-Rosie Haffenden, who used dog training techniques on her own children, advocates for other parents to follow suit.
In the show, she works with three-year-old Greydon, whose daily tantrums and violent outbursts are making the lives of his parents, Jo and Garrett, a living hell, the press release says.
Haffenden also test runs her canine training techniques with 18-month-old Dulcie whose refusal to sleep in her own cot and has nightly screaming fits.
The petition on Change.org, which was started by Autistic Inclusive Meets, an autistic-led organisation based in London.
They are asking Channel 4 to consider that using dog training techniques is "dehumanising to children and that it should not be given a platform and to consider cancelling the airing full stop".
The Association of Child Psychotherapists (ACP) has written to Channel 4 and Ofcom to ask to re-consider broadcasting the programme.
Dr Nick Waggett, chief executive of ACP, says: "The suggestion that parents train or treat their babies like dogs is very disturbing. It de-humanises vulnerable infants and could be acted on by parents in ways that might lead them to inadvertently harm their children.
"Frontline psychotherapists and social workers are unfortunately more than familiar with the outcomes for children who have genuinely been treated like dogs.
"We recognise that it is not the intention of those involved in the programme to encourage this type of behaviour towards babies and children but in putting this inflammatory and de-humanising idea into the public domain, with the apparent support of a 'behaviour expert', this may be an unintended consequence."
Liz Bayram, chief executive of PACEY, the Professional Association for Childcare and Early Years, called for Channel 4 to reconsider airing the programme on behalf the 25,000 members of the organisation.
In a letter to the broadcaster, she said she was "appalled" at the decision to commission the show and to "promote this potentially damaging and outdated pseudo-science to families".
"Our understanding of early child development is vast and to ignore this and promote a discredited approach is irresponsible. Whatever your thinking was when you commissioned this, it was wrong and you should not broadcast a programme that suggests children can be trained like a pet," she said.
According to the press release, Haffenden believes that instead of telling kids what not to do, parents should motivate them and help them to understand what "to do".
Promoting the show, she said: "If everyone parented their child the same way we're training our dogs, we'd end up with much more caring and compassionate human beings.
"Our homes could be transformed from exhausting battle grounds into oases of calm."
Karen Plumb, executive producer and head of factual for Plimsoll, which has produced the programme, said: "If everyone trained their children like dogs, I honestly believe they would be happier, more confident and, yes, a lot better behaved. Train Your Baby Like a Dog is a must-watch for any struggling parent."
A Channel 4 spokesperson said: "The programme explores a new approach to childcare, grounded in positive, science-based motivational techniques that are used widely by parenting coaches and animal behaviour experts.
"Throughout filming and broadcast, the welfare of all contributors in the programme is of paramount importance and the process is supervised by qualified child psychologists."