Distressing footage of a triple amputee with his prosthetic limbs and belongings strewn around him after a reported police check has caused outrage in France.
Bakekolo follows the police as they leave the disabled man – named by France 24 as Francois Bayga – calling out and telling them "this is humiliation."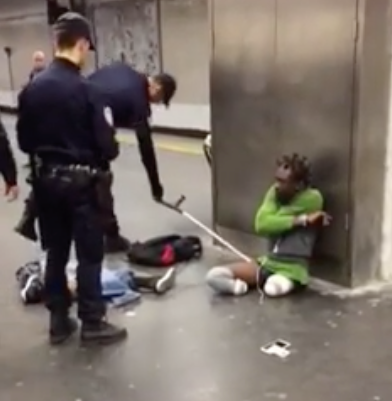 The video has been viewed close to 200,000 times and been shared by close to 3,000 users in just four days, many of whom have left comments remarking on what they interpret as police brutality.
Bayga told France 24 the officers had searched him for identity documents and accused him of stealing, before forcing him to remove his prosthetic limbs and leaving him on the ground with his belongings cast around him.
He said: "They demanded my papers and I took off my back pack and showed them. I gave them my telephone, my medical card and my membership card at my wheelchair rugby club.
"They accused me of stealing my phone. I started to get angry. I didn't know what they wanted. I was pushed up against the wall and one of the policemen pulled at my leg. I explained it was artificial. They insisted on searching me. I felt completely humiliated."
Bayga says he was helped to re attach his limbs by passing commuters in the station.
The Local also cites a police source as claiming Bayga himself removed his prosthetic limbs himself after being stopped by police for urinating in the station.
The Defenseur des droits has confirmed on Twitter that an investigation has been launched into the incident.
It has been signed by 1,374 supporters so far and once it reaches 1,500 it will reportedly be brought to the attention of France's Interior Minister.
It states: "There was a lot of police violence in recent weeks and we thought we had seen everything. But here we hit bottom.
"The bottom of the shame and ignominy. There are no words to describe such contempt, such an affront to the dignity of the human person."
Related