British citizens in Turkey have been advised to avoid public places and stay indoors following an attempted coup.
The Foreign Office said: "There has been large scale military action in Turkey, with the military deployed to the streets and widespread reports of gunfire and explosions in Ankara and Istanbul. The situation now appears quieter in Istanbul, and the bridges across the Bosphorus are re-opening. But there are reports of tank fire and small arms fire in Ankara.
"Some flights to airports in Turkey are being diverted or cancelled. The road between Marmaris and Icmeler remains closed, following earlier reports of gunfire between the resorts of Marmaris and Icmeler.
"We strongly advise you to stay indoors, avoid public places, in particular demonstrations, and remain vigilant.
"Avoid areas of conflict and take sensible precautions if you are in the vicinity of any military or security forces. Roadblocks are in place in some areas."
The FCO said that some social media site appeared to have been blocked in some areas.
it added that Britons who are at Turkish airports should follow the advice of the authorities and contact their airline or tour operator.
Those due to travel to or from Turkey over the next few days, were advised to closely monitor FCO travel advice and check with their airline or tour operator before travelling.
Some flights to and from the country have been cancelled, with British Airways halting all of it flights, according to ITV.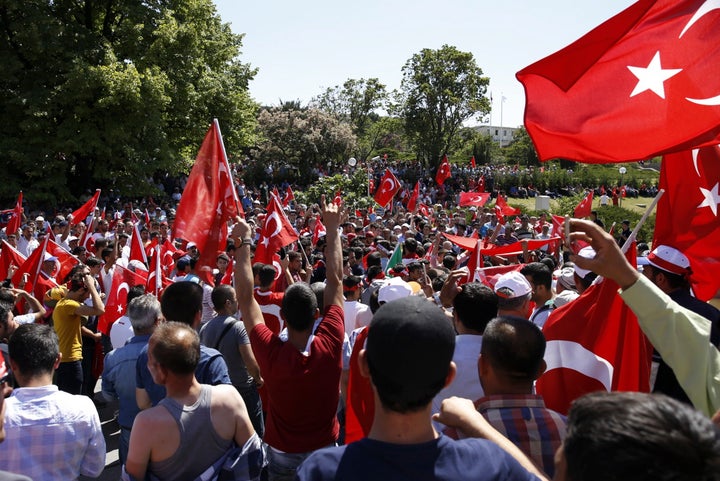 The Association of British Insurers said in a statement: "In light of the coup in Turkey, anyone booked to travel to the country should contact their tour operator, travel agent, or airline for advice. If alternative arrangements are made you should be able to transfer your travel insurance to the new destination.
"You should regularly check Foreign and Commonwealth Office travel advice. Anyone in Turkey should speak to their tour operator or airline for advice."
The failed coup in Turkey has left 161 people dead and more than 1,100 injured, according to Turkey's state-run Anadolu Agency.
Turkish President Recep Tayyip Erdogan landed at Istanbul's Ataturk airport Saturday morning and declared the attempted coup against his government to be a failure, but also a "gift from God."
He called the uprising "an act of treason"​ carried out by a minority within the military, Erdogan said.​ He vowed to "clean up" the armed forces and "eradicate" those who had operated aerial forces against his government.
The Independent reported that the government is now considering bringing back the death penalty to execute those involved.