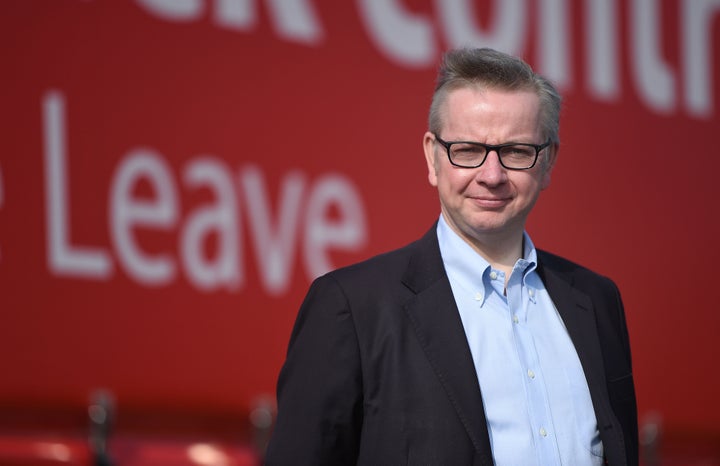 Michael Gove has said the United Kingdom would be able to leave the EU if it votes for Brexit within four years of the vote.
Speaking in Birmingham today, he justice secretary and pro-Brexit campaigner, said he believes the UK could negotiate a new relationship with Europe by the "time of the next election" in 2020.
"We have four years more or less between now and date of next election," he said. "We can easily conclude a new settlement with EU in that period."
However the claim was rejected by the 'Remain' campaign. Will Straw, Executive Director of Britain Stronger in Europe told The Huffington Post: "The Cabinet Office, supported by a range of experts, have suggested that leaving the EU and renegotiating our trade agreements could take up to 10 years. This would result in years of uncertainty alongside job losses and price rises, as our economy went into recession.
"Leave campaigners must come clean and tell us what Britain's future would look like outside Europe. Britain is stronger, safer and better off in Europe than we would be on our own, and leaving would be a leap into the dark."
Today, Gove, Boris Johnson, Priti Patel, and Gisela Stuart stepped up their attack on David Cameron and the 'Remain' camp with a blueprint for an immigration system which would spell the end of the automatic right of EU citizens to come to live and work in the UK.
Instead, the right to come to the UK would be based on skills.
They said: "By the next general election, we will create a genuine Australian-style points-based immigration system.
"The automatic right of all EU citizens to come to live and work in the UK will end, as will EU control over vital aspects of our social security system."
Also today, voters were warned leaving the EU would have a "substantial" impact on the UK and global economy while also sparking turmoil in world stock markets, according to the OECD as it ramped up its warnings ahead of the referendum.
The Organisation for Economic Co-operation and Development (OECD) slashed its forecasts for the UK economy as it said Brexit fears have already "undermined" growth.
It added that Brexit would have significant impact on growth across Europe and rest of the world and trigger turbulence in financial markets.
Related