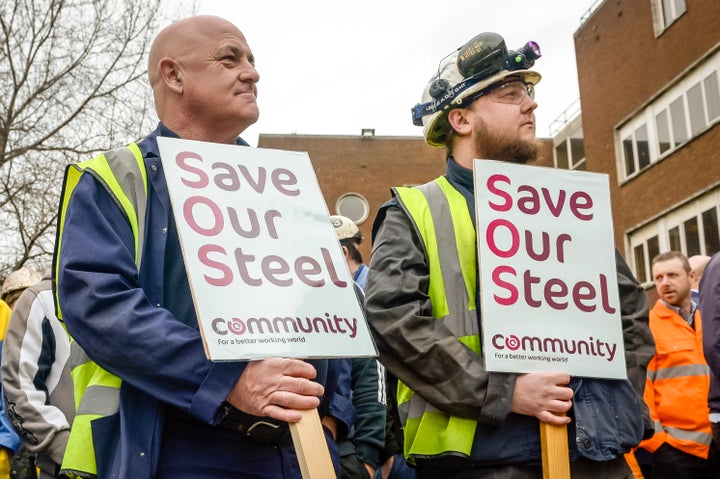 The Government will take a 25 per cent stake in any rescue package of Tata's steel business, it was announced today.
The Department of Business announced it would use public money to help keep the plants open, as it also revealed loans worth hundreds of millions would be made available to potential buyers.
Labour claimed the announcement was a "long-overdue" recognition that the Government needed to step in to help the UK steel industry, which has been struggling to cope with the cheap imports from China.
Tata announced last month it was looking to sell its UK steel division, including its plant in Port Talbot, South Wales, in a move which places thousands of jobs at risk.
"The detail of our commercial funding offer is clear evidence of the extent of that commitment.
"Ministers have visited Tata Steel sites across the country and the pride and dedication of the highly-skilled men and women working there is obvious to see.
"We have already delivered on energy compensation, on tackling unfair trading practices and on procurement of British steel, and we will keep on going further to support this vital industry."
Tata has already managed to sell its Scunthorpe branch, potentially saving 4,400 jobs.
However it has as yet been unable to find a buyer for other parts of its UK steel portfolio.
The Government was criticised for its initial reaction to the announcement, with Javid accused of taking his eye off the ball by being in Australia when the crucial Tata board meeting was taking place in Mumbai.
In the Commons on April 11, Javid announced the Government was prepared to use taxpayers money to help keep the business afloat, but today is the first time a specific plan has been revealed.
Labour's Shadow Business Secretary Angela Eagle "Whether you call this 'co-investment' or part-nationalisation, it is a long-overdue recognition of the need for Government support for the sale process. Labour and the steel unions have been calling for action for weeks; this appears to be a step forward.
"But this alone will not be enough to save the steel industry. The Government must ensure Tata allow enough time for a suitable buyer to be found and they must reassure the customer base and supply chain. Crucially, they need to address the underlying challenges facing the industry; energy costs, business rates, procurement, and most of all, the illegal dumping of Chinese steel."
The announcement was also welcomed by the TUC, and General Secretary Frances O'Grady said: "While today's announcement is an important first step, any rescue deal has to ensure that jobs are protected. As ever, the devil will be in the detail.
"If the steel industry is to be viable in the long term, the Business Secretary must support the European Commission's efforts to tackle China's dumping of cheap steel."
The plan was not welcomed by all, with Mark Littlewood, Director General at the Institute of Economic Affairs, claiming: "The problems of UK steel are structural, not cyclical."
He added: It is severely misguided of the government to gamble with taxpayer's money in the hope that the industry will be revived against all odds.

"Instead of throwing money at the problem, the government should focus on how to reduce the cost of government policies that harm the steel industry – green taxes, for example – and empower communities affected by such economic change to adjust and move on to new economic sectors."
Related