The cast of 'Unforgotten' has been universally praised for their efforts in the second series of Chris Lang's surprisingly moving crime thriller. From Nicola Walker to Sanjeev Bhaskar and Peter Egan, it's been a pedigree performance across the board.
There's one man, however, whose face has become synonymous with the best of contemporary drama - Mark Bonnar, having a busy week with the conclusion at the weekend of 'Apple Tree Yard' in which he also starred, and tonight's finale when we discover whether his hounded barrister Gary was involved in the murder of David Walker.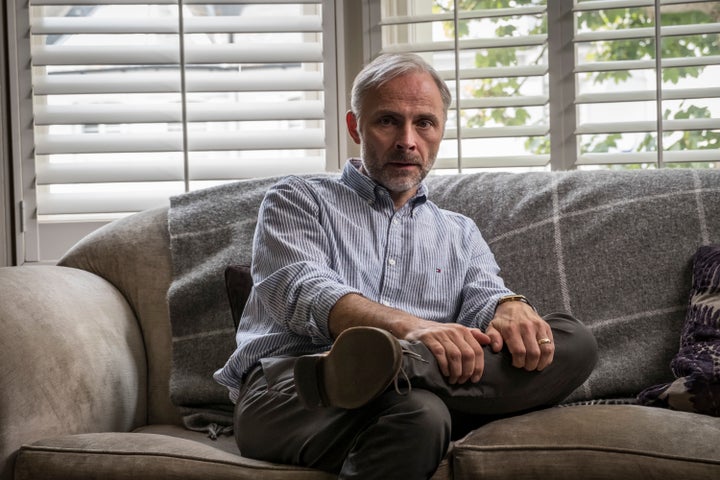 It's been a busy few years for Mark - as well as these two hits, he's appeared in spy thriller 'Undercover', highlands cop serial 'Shetland' and Channel 4's adult comedy 'Catastrophe'.
Mark is the first to admit, if there's one person to thank, it's Robert Lindsay. Why so? Because it was Robert's abrupt departure from the production set of the second series of 'Line of Duty' that left the stage bare for his role of corrupt police officer DCC Dryden.
Robert Lindsay left the production after two days citing "creative differences", leaving the BBC with an embarrassingly empty pocket (Robert Lindsay's services cost a reported £50,000) and a big gap to fill. And Mark Bonnar filled it.
His interrogation by AC-12 officers Arnott and Fleming was the breath-stopping highlight of the series' fifth episode. And his transformation from media-friendly, smooth-haired senior police officer to the shifty-eyed creature in the interview room marked him as an actor to watch.
Mark tells Huffington Post UK he has yet to thank Robert Lindsay for his inadvertent part in Mark's career boost - "I wouldn't know quite what to say."
However, he's been quick to thank the series' writer Jed Mercurio. "I've thanked Jed many times. For taking a chance on me, and for his incredible writing."
With 'Unforgotten' finishing tonight, 'Apple Tree Yard' done and dusted, we'll be seeing Mark next in 'Catastrophe' series 3 and the return of 'Porridge', where he'll be picking up the Scottish baton from previous prison officer Fulton Mackay - "after all that darkness, it'll be good to have some laughs."
'Unforgotten finishes tonight on ITV at 9pm. 'Apple Tree Yard' is available on iTunes now, and DVD & Blu-ray Box Sets are out on Monday 20 February.