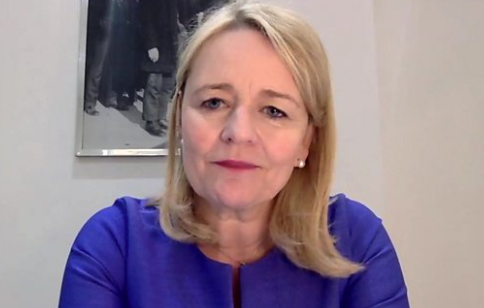 Leftwinger Sharon Graham is on course to pull off a shock victory to become the general secretary of the Unite union, HuffPost UK can reveal.
Extensive sampling of ballot papers in the contest shows Graham, the union's national organiser, is narrowly ahead of both the one-time favourite Steve Turner and centrist candidate Gerard Coyne.
She would become Unite's first ever female general secretary, replacing Len McCluskey to lead Britain's second biggest union and Labour's biggest funder.
Multiple sources said that Graham – who was backed by the Socialist Workers Party and the Socialist Party – was currently ahead of Turner by 1%, and ahead of Coyne by just under 2% of the total eligible electorate.
But with an expected turnout of as little as 12% of Unite members voting in the election, even a narrow margin will prove decisive and her lead looks unlikely to change, one insider said.
The final result of the election is formally due on Thursday, but unless there is a dramatic late change it appears that Graham will clinch the race, another union figure said.
A senior former Unite official told HuffPost UK that the count had been all but concluded and candidates were set to be informed Graham had won as early as Tuesday evening.
One source said that they had seen a sample of more than 8,000 votes and the piles for Graham were larger than both Turner and Coyne. "She's on course to win, no question," they said.
A Labour MP said that the only hope for the other candidates was if either of their regional strongholds, the West Midlands for Coyne and London for Turner, had not yet been included in the count. But others said that was highly unlikely given the number of votes seen so far.
Labour sources said they were "relaxed" about a Graham victory because she had explicitly campaigned on a manifesto to end McCluskey's focus on the party's internal politics and shift instead towards workplace rights and action.
Her campaign slogan was "It's Westminster versus the workplace: Back to the workplace", a rejection of years of Unite getting involved in Labour's battles and mobilising in factories and offices instead.
She said last month: "Labour will likely be in opposition for most of the next decade and workers can't afford to wait...we can be more effective by ridding ourselves of the obsession with fighting yesterday's wars within Labour."
A spokesman for the Graham campaign told HuffPost UK: "The sampling of the vote is going on now. The more it goes on the better it looks for us. Of course we will only get the result when the count is finished tomorrow.
"But we are confident Sharon is going to win it. If she does it will be an historic victory for the campaign and the workers in Britain and Ireland".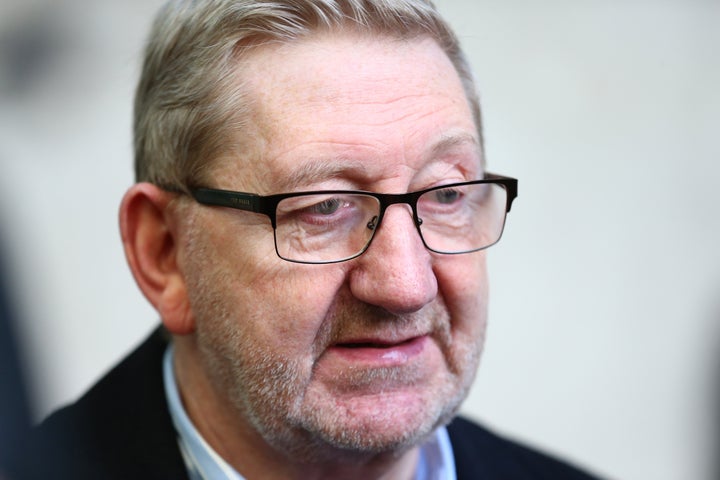 Graham warned during the contest that "there will be no blank cheque" for Labour under her reign, but she didn't go as far as former contender Howard Beckett in threatening to end its donations because of the direction Keir Starmer was taking the party.
She defied intense pressure to quit the race, with figures like Turner warning that the Left vote could be split so much that centrist Coyne – who was narrowly beaten by McCluskey in 2017 – could come through the middle.
One union insider said that Graham's campaign was highly effective at targeting her core vote through social media.
Already well known for her organising, she spent £21,064 on Facebook ads aimed at members whose data had been supplied via her own QR code and scores of workplace meetings.
Turner spent just £7,689 on Facebook adverts, relying instead perhaps on his big lead in nominations by union branches across the country to spread the word.
Coyne spent most of Facebook, but his £41,934 may have been aimed at generic Unite members rather than specific branches, one source said.
"In union elections people active in their workplace are the people likely to vote. Sharon has gone from workplace to workplace, collected data and had dozens of meetings. She's then ruthlessly targeted these people via ads."
Turner was backed by the Communist Party and its newspaper the Morning Star. But Graham was backed by many members in the powerful North West region of the union, with Liverpool in particular a stronghold for former Militant and SWP activists.
"It turns out the SWP are much better at organising in workplaces than the Communist Party," one insider said.
Former Unite joint general secretary Tony Woodley, made a peer by Jeremy Corbyn, was understood to be a key supporter of Graham's.
It appears that Graham also took a chunk out of Coyne's industrial base, with branches like Rolls Royce nominating her and members there turning out to vote for her.
She also has key members of the Unite executive as allies, including its chair Tony Woodhouse.
Unlike her rivals, Graham is neither a former regional secretary nor assistant general secretary. Insiders pointed out that her victory would end the tradition of union officers being elected to the top job, and prove that organisers could beat the system.
One Unite veteran, who was not a supporter of Graham's campaign, said: "She worked really hard to get her nominations and stood up to pressure to quit the race. She's been totally vindicated and has proved she has the two things you need most in a general secretary: judgment and toughness."