A universal flu vaccine that protects people from all strains of flu for up to a decade could be available on the NHS in as little as two years.
The injection, called FLU-v, created by the British company Imutex, has been found to be more effective than other treatments in development in recent UK trials.
In a study involving 123 participants aged 18 to 60 who were exposed to the H1N1 swine flu virus, 80% were prevented from contracting the virus after having the injection.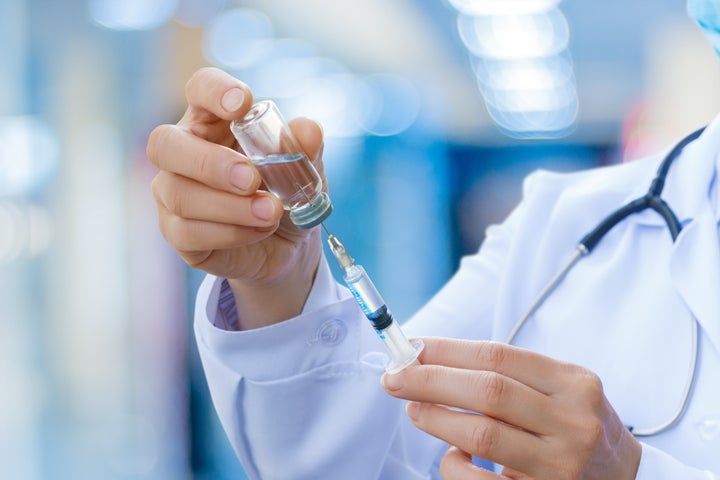 Seasonal flu usually circulates for several weeks each year. The intensity of circulation depends upon the underlying population immunity, the circulating viruses and external factors such as the weather. It is an unpredictable virus and it is not possible to anticipate how flu levels will progress each year.
The latest vaccine is expected to cost between £20 to £50 per person, but will protect against all strains of flu and will only need to be given every five to 10 years.
It works by stimulating an immune response in the body, in contrast to
seasonal flu vaccines currently available, which prevent infection through antibody protection.
For those who did contract flu after having the vaccine in the most recent trial, their symptoms were considered less severe than if they hadn't have had the vaccine.
Commenting on the results, Professor John Oxford, a leading flu expert at Queen Mary University of London, told the MailOnline: "I am enthusiastic about universal vaccines full-stop. It is recognised as being a good way forward.
"If one should have an effective universal flu vaccine, people could relax because you could have a dose of it and it would give years of protection against whichever virus is circulating."
Imutex is a joint venture between two existing pharmaceutical companies, hVIVO and PepTcell Limited. Kym Denny, CEO of hVIVO, commented: "In the real world, ultimately, it is symptom reduction that is a clinically meaningful outcome if it can reduce the more severe flu disease, which is the concern and significant burden of healthcare systems across the world.
"This is, to our knowledge, the first time a universal flu vaccine candidate has demonstrated statistically significant reduction in a symptom score in humans.
As a result, we believe FLU-v could be the most advanced universal flu vaccine candidate in development. With its potential for significant disease efficacy, broad protection against all flu strains, simplified manufacturing and the ability to be administered as a stand-alone vaccine - rather than in combination with traditional seasonal flu vaccine - FLU-v could help provide relief from flu to people across the globe."